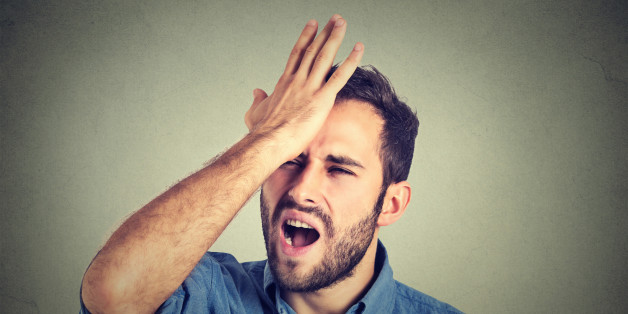 SIphotography via Getty Images
You're almost certainly already aware but in case you've missed it, it's International Women's Day today.
And if you did miss it, it's fine, don't stress about it.
If however, you were fully aware and then went ahead anyway and tweeted something daft like these responses then we have a problem...
Trans women share valuable lessons for their younger selves https://t.co/gaRIu4EEux #IWD2016 pic.twitter.com/WXS6m5TqxE

— HuffPost UK (@HuffPostUK) March 8, 2016
@HuffPostUK it will soon be the only way a man can get promoted

— Jamie Hooper (@jhooper221b) March 8, 2016
Oh there's more...
At the going rate it will take 118 years to close the economic gap between men and women #InternationalWomensDayhttps://t.co/1lrq8UTriq

— HuffPost UK (@HuffPostUK) March 8, 2016
@HuffPostUK well at least the pay gap in the uk isn't real, so that's good, right

— Anonymous comments (@Anonymouscomme) March 8, 2016
'Why it's a good idea to be naked around your children' #IWD2016 https://t.co/bS6M36GiWB pic.twitter.com/nYrYmlAjot

— HuffPostUKParents (@HuffPoUKParents) March 8, 2016
@HuffPoUKParents I'm always reminded of the "Modern Parents" in Viz with articles like this.

— Fdge (@DeathB1ade) March 8, 2016
On a day meant to champion the achievements of women and highlight the work yet to be done, many men simply refused to play ball.
Steve was factually spot-on but perhaps his timing in bringing it up could have been worked on.
Can you be a successful working mum?
My blog @HuffPostUK #IWD2016 https://t.co/fOSvj8Vdyh pic.twitter.com/q19iVoXru6

— Kay Burley (@KayBurley) March 8, 2016
@KayBurley @HuffPostUK No. I'm a bloke

— Steve (@Maxaretunit) March 8, 2016
Thanks for the clarification Steve, I did wonder. https://t.co/tltVtxgn52

— Kay Burley (@KayBurley) March 8, 2016
But Andy was just plain wide of the mark.
@KayBurley @HuffPostUK you are a joke of a woman. I dont know how you keep you job

— Andy Jones (@AndyDjones00) March 8, 2016
Some men still couldn't quite make it past the aesthetic levels...
Happy #InternationalWomensDay pic.twitter.com/HnTJAoLmFJ

— OpTic Alpaca (@OpTic_Alpaca) March 8, 2016
@OpTic_Alpaca pic.twitter.com/Tg4ZxkKuMF

— Chris (@ChrxskG) March 8, 2016
This account is run by "Smithy, Badger, Chris & Cheryl". Poor Cheryl
@SpainUkip 19th November

— andrew bogg (@andrew_bogg) March 8, 2016
Perhaps the lesson Brian should learn is to not tweet at all.
.@VladimirPootang never tweet on a trending # or the hideous libtard feminazis will spew their filth #lessonlearned #internationalwomensday

— Brian Chandler (@VladimirPootang) March 8, 2016
Even world leaders weren't immune.
In #womenday2016 speech, Erdogan says birth control was used against #Turkish women to "dry out" future generations

— Ayla Jean Yackley (@aylajean) March 8, 2016
Fortunately many men did learn a valuable lesson courtesy of Richard Herring and Ricky Gervais.
It's #InternationalWomensDay. Don't embarrass yourself by asking why there's no international men's day. There is. Nov 19th. You're welcome.

— Ricky Gervais (@rickygervais) March 8, 2016
You are wrong. Nov 19 RT @lmaohobbie: Correct me if I'm wrong but we have int women's days but I don't remember international men's day 😬

— Richard K Herring (@Herring1967) March 8, 2016
Working on this with my own international woman (she wants little baby bum back on) pic.twitter.com/GmpLjrxh2n

— Richard K Herring (@Herring1967) March 8, 2016
Maybe use a 21st C search engine. Nov 19 RT @greencalx: searched Alta-vista for International Mens day+got nothing. How's that 4 equality?!!

— Richard K Herring (@Herring1967) March 8, 2016