The Eagles, still mourning the death of co-founder Glenn Frey, have been dealt another tragedy, with the death of Randy Meisner's wife at the home she shared with the band's former bass guitarist.
Police are investigating the death of Lana Meisner on Sunday evening from a gunshot wound. She had made an emergency call an hour and a half before she died, claiming her husband was waving a gun around and "acting erratically".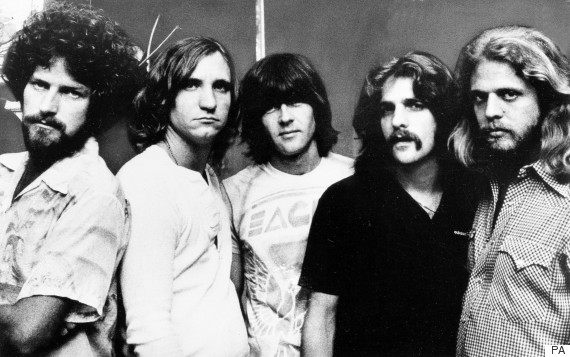 Randy Meisner (third left) was one of the Eagles' co-founding members
However, TMZ reports that Los Angeles Police have concluded that it was an accident that claimed Lana's life, with sources claiming she was "moving a rifle stored inside the closet" when it accidentally fired.
According to the website, police sources have shared that evidence appears to show the gun was discharged inside its case, and the bullet's trajectory "enough to conclude Randy was not involved".
Despite not having to be investigated for any involvement in his wife's death, this is still a tragic catalogue of events for Randy Meisner, who has suffered from long-term alcohol and drug addictions since the 1960s.
The couple had been the subject of rumours and speculation, speaking out last year to deny that Lana was keeping her musician husband drunk by force-feeding him bottles of vodka. A Los Angeles court later appointed a temporary conservator to oversee the management of Meisner's welfare, after he was diagnosed as bipolar and with suicidal tendencies.
Randy is best-known as one of the co-founding members of the Eagles, alongside Don Henley, Bernie Leadon and Glenn Frey, who died in January this year.
Formed in 1971, the Eagles remain one of the world's best-selling bands with sales of more than 150million records. Randy's most famous contribution is the song 'Take It To The Limit', which he co-write and sang. He left the band in 1977, after struggling to deal with the fame.
Tap the first picture for the slideshow: