George Martin, the man who guided the Beatles' sound to unprecedented popularity, has died aged 90.
Sir Paul McCartney has led tributes to the band's producer, who died at home in Swindon on Tuesday.
In a statement, Paul says:
"He was a true gentleman and like a second father to me. He guided the career of The Beatles with such skill and good humour that he became a true friend to me and my family. If anyone earned the title of the fifth Beatle it was George.
"From the day that he gave The Beatles our first recording contract, to the last time I saw him, he was the most generous, intelligent and musical person I've ever had the pleasure to know."
Sir George Martin's family have released a statement thanking everyone for their thoughts, prayers and messages of support.
His manager Adam Sharp paid tribute to him as "a true gentleman to the end", adding: "In a career that spanned seven decades he was an inspiration to many and is recognised globally as one of music's most creative talents. He was a true gentleman to the end."
Sir George spent his adult life dedicated to music, producing more than 700 records, and working with artists from Peter Sellers and Gerry and the Pacemakers to Shirley Bassey and Cilla Black.
But it was his work with the Beatles, from signing them after many after record companies had turned them down, to channelling the stunning creativity of the Fab Four, which secured his place in musical history.
Ringo Starr has posted this lovely picture of George with the band at the height of their success together.
And he has added his own message of sorrow.
Sean Lennon, son of the late John Lennon, has shared his sadness at the news.
George Martin was head of the Parlophone record label when he first heard the sound of the boys from Liverpool, found them "rather unpromising" musically but found something to admire in the vocals. When he met them, he was struck by their charisma and cheekiness, and spotted stars in the making.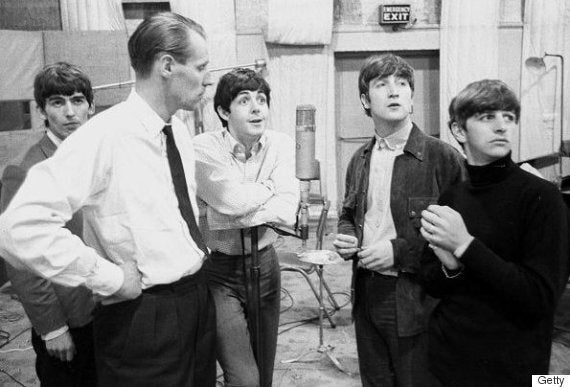 George with his Fab Four George Harrison, Paul McCartney, John Lennon and Ringo Starr
Sure enough, he helped move them from their happy, mop-top sound of the early 1960s to the far more progressive psychedelia of 'Sergeant Pepper'.
John Lennon later remembered of this exciting musical time: "I'd just walk in the door and tell George, 'I need it to sound more... orange', and he would tinker with his mixing desk until it sounded orange."
George Martin's unflappable demeanour with even the most demanding of artists was a crucial part of his success. Viewers of 'Cilla' - last year's TV drama series telling the early life of Cilla Black - will remember the scene depicting a fraught Burt Bacharach demanding take after take - 28 was Bacharach's later estimate - of his song 'Alfie', while George Martin waited patiently.
Sir George won many awards all over the world for his work - which also included recording with the Goons and steering Cilla Black to her pop success - and won an Academy Award for the score to 'A Hard Day's Night'.
In 1999, he followed the Beatles with his own induction into the Rock and Roll Hall of Fame. He can lay claim to being one of the most diversely successful musicians of the 20th century, with his skills including composing, arranging, recording. He first worked for the BBC's classical music department before joining EMI in 1950. Prior to his work with the Beatles, he produced records for the Goon Show comedians, Bernard Cribbins and Jim Dale. He even released his electronic dance single 'Time Beat', under the pseudonym Ray Cathode.
Mark Ronson, who recently produced the year's bestselling song 'Uptown Funk' and is arguably the nearest we have to a similar contemporary musical figure, shared his admiration for Sir George in a tribute tweet.
Share YOUR memory of George Martin and his work below.
Tap picture for slideshow: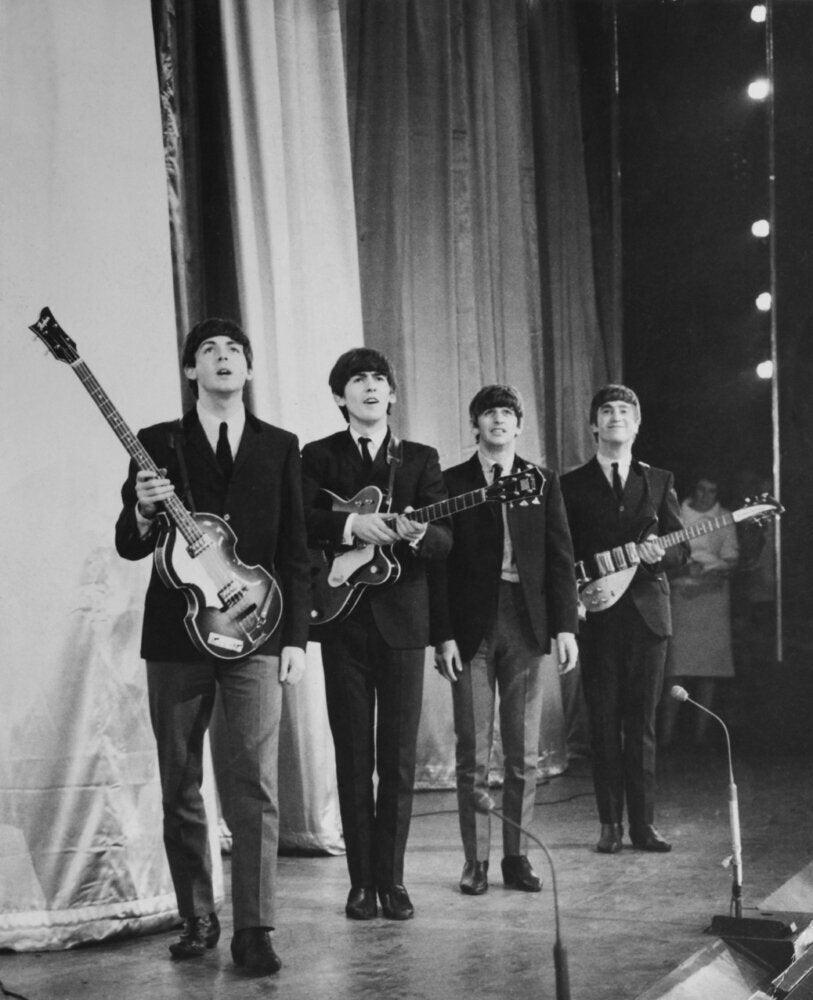 The Beatles
Related