This video shows the dramatic rescue of two people who became trapped on rocks on the Cornish coast due to the rising tide.
The pair became trapped on the rocks at Black Rock, Crackington Haven, on Thursday. Two others they were with had managed to swim ashore and raise the alarm.
The force of waves knocked one person into the water and the other was clinging to the rocks when the helicopter arrived.
A crew member of a lifeboat sent from Bude, who had managed to get onto the rocks to support the, jumped into the water to secure the person who was washed away until they were winched into the helicopter. They then returned to the Bude Lifeboat.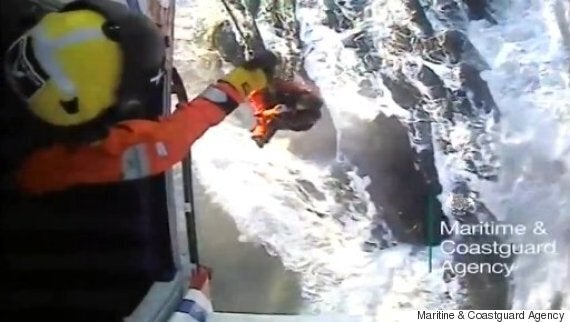 A person is winched to safety
James Instance, of UK Coastguard, said: "These two people were very lucky this afternoon. They were in a precarious position and the force of the waves actually knocked one of them off the rocks and into the water.
"Their friends did the right thing by calling the UK Coastguard when they realised they had got into trouble."
"Remember to always check the weather and tidal conditions before you set out so that you can prepare accordingly.
"At sea changes in tidal streams could make conditions worse, particularly if the wind and tide are against each other. Consider whether you could become cut off by the incoming tide, above all do not take risks. Call 999 and ask for the Coastguard."