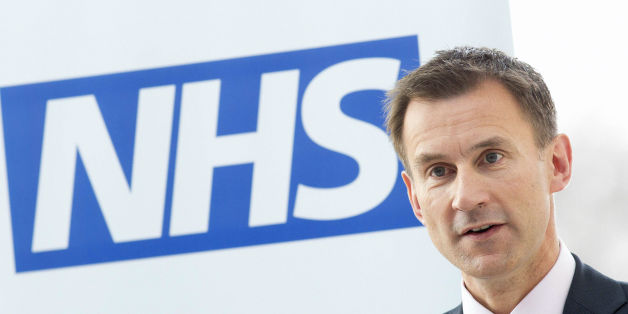 Neil Hall/PA Wire
Jeremy Hunt's Department of Health has announced a sharp hike in NHS charges on a day hundreds of MPs are away from Westminster.
The Labour Party said the Conservative Government had prescribed a "kick in the teeth for patients" as the cost of both prescriptions and dental charges were increased to help fill a £22 billion financial blackhole.
A single prescription charge will increase by 20 pence to £8.40. It means that prescription charges will have increased by £1.20 to £8.40 between 2010 and 2016.
Dental charges are put up by 5 per cent this year and next. Basis dental care will rise by 80 pence to £19.70 in 2016-17, and by 90 pence to £20.60 in 2017-18, while the highest level of care will increase by £11.20 to £233.70 in 2016-17, and by £10.60 to £244.30 in 2017-18.
SEE ALSO:

Government Accused Of 'Burying Bad News' Amid David Cameron's Brussels 'Deal'

The Government Is Trying To 'Bury' A Lot Of 'Bad News' On Parliament's Last Day Before Christmas
The Department for Health made the announcement in the form of a written ministerial statement, meaning MPs could not respond in Parliament as they would with an oral statement.
In any case, the House of Commons is today debating private members' bills: legislation proposed by backbenchers that prompts minimal attendance.
Many, if not most, MPs have returned to their constituencies, and the Government has been accused of quietly slipping out "bad news" or "taking out the trash" on a Friday.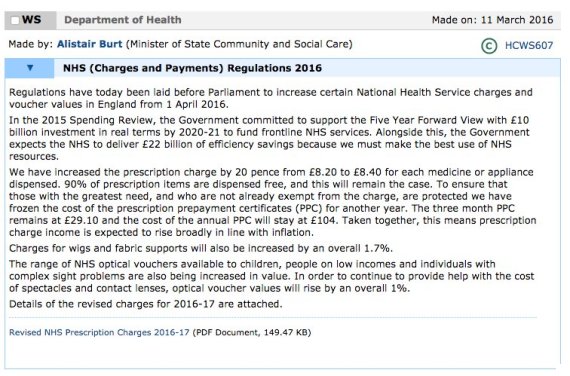 The written statements confirming the increases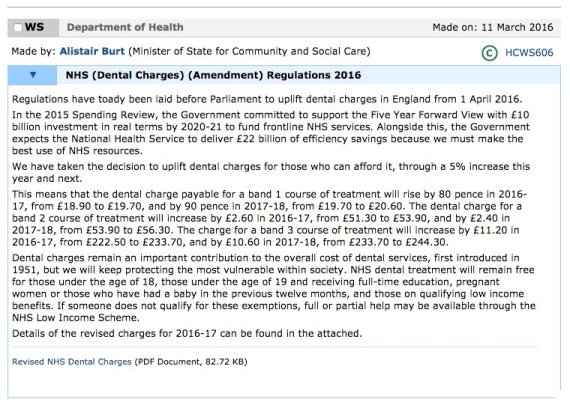 Andrew Gwynne, Labour's Shadow Public Health Minister, said: "These increases are a kick in the teeth for patients.
"Prescription charges and dental fees can really build up and impose a considerable cost, particularly at a time when family budgets are being squeezed.
"The truth is Tory Ministers are increasing these charges because they've lost control of NHS finances.
"Hospitals are forecasting huge deficits and spending on agency staff has gone through the roof.
"Patients shouldn't have to pay the price for this Government's financial mismanagement of the NHS."
These increases are a kick in the teeth for patients - @GwynneMPhttps://t.co/YmMrFQFVu2

— Labour Press Team (@labourpress) March 11, 2016
While the the Government has promised a £10 billion investment in the NHS over five years, a £22 billion "efficiency savings" drive is being carried out at the same time.
Health minister Alistair Burt said 90% of prescriptions will continue to be dispensed free of charge.
On dentists, he said: "Dental charges remain an important contribution to the overall cost of dental services, first introduced in 1951, but we will keep protecting the most vulnerable within society.
"NHS dental treatment will remain free for those under the age of 18, those under the age of 19 and receiving full-time education, pregnant women or those who have had a baby in the previous twelve months, and those on qualifying low income benefits.
"If someone does not qualify for these exemptions, full or partial help may be available through the NHS Low Income Scheme."