The five things you need to know on Thursday March 17, 2016…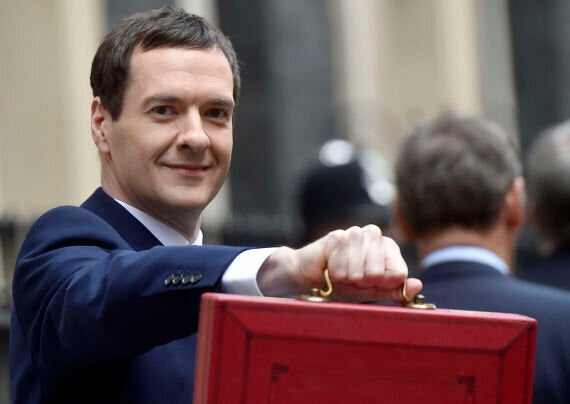 1) THE LONG AND UNWINDING ROAD
George Osborne (via a Leeds primary school) and John McDonnell have done the usual tours of the breakfast airwaves. As ever, it was worth watching for hints at U-turns in the face of media and political reaction, and today was no different - on the surplus and on disability cuts.
Normally, a Budget tends to unravel the following day, as the stuff buried in the Red Book gets dug out by enterprising hacks (see our 8 'stinkers'), think tank wonks and the Opposition.
But Osborne was unusual yesterday in that even as he spoke the huge flaws in his prospectus were obvious: targets missed, dodgy moves to shift money to meet his surplus in election year - and a massive productivity problem that he's done nothing to tackle in six years. And the 'George Osbrown' trope is more striking than ever today: broken rules, creative accounting, blame placed on others, a raid into areas way outside the Treasury's brief - and bluster on the fundamentals.
In normal times (a phrase Osborne likes to use himself), we wait for the Institute for Fiscal Studies (IFS) to pick through the 'ifs' and 'buts' in its Day 2 slidefest. Today, IFS chief Paul Johnson was up very early to tell the Today prog that the corporation tax shuffle to later in the Parliament was as dodgy as it seemed. "Without that shuffle and without the unspecified public spending cuts he wouldn't have met the forecasts..he's changing his behaviour to make sure he meets that target."
Even the OBR's Robert Chote last night said there was "only…about a 55/45 chance of actually having a surplus in that year". Johnson today added that a small drop in growth could ruin the surplus target: 'If I were the Chancellor, these things would be keeping me awake at night'. He added that another year of austerity was also being visited on us - that long term economic plan feels longer than ever.
And on the Today prog, Osborne even gave the a glimmer of a hint that his own surplus target could be missed. Twice he said "the commitment we made is 'in normal times…There is a commitment to reach budget surplus in normal times." And it need not be a recession that ruins it.
As for the sugar tax, the Sun is upset at the assault on its readers and takes the prize for its 'Fizzy Rascal' header, complete with mockup of Osborne emptying a can of cola. I'm just amazed that Dennis Skinner didn't yell out yesterday some gag about George telling others it's time to stop doing coke. There's always Business Questions...
Will the cuts to Personal Independence Payments (PIP) be the new tax credits nightmare for Osborne? And will he have to execute some kind of J-turn if not U-turn sooner rather than later?
Jeremy Corbyn, John McDonnell and Owen Smith cannily pounced on this as a central flaw in the Budget's 'fairness' claims. Last night on Newsnight, Sajid Javid struggled as it was pointed out the 'welfare cap' was a gimmick to embarrass Labour that ministers had themselves failed to meet - but was one of the drivers behind the £4.4bn raid on PIP.
There is real unease on the Tory backbenchers about the attack that the Government is taking cash from the disabled and handing it to the better-off. Osborne's main defence yesterday seemed to be 'well, this is not new, cos IDS announced it last week'. Apart from the fact that few had taken it in last week, this is a defence that looked pretty thin today. Relying on claims that disability spending was going up didn't wash either - with such huge sums taken out of planned spending.
In fact on BBC Breakfast, Osborne gave a clear hint that he may rethink the disability cuts: "I'm always happy to listen to proposals that others might have on how we can improve on that". It's not just PIP, it's the Employment Support Allowance cuts that worry many. And with people like Tory backbencher Heidi Allen already threatening to rebel, it's no wonder Osborne sounds like he's shifting. Lifelong Tory and disability campaigner Graham Ellis is just the kind of person who could turn this into a tax credits-style PR disaster. But where will Osborne get the funds to ameliorate the disability cuts?
McDonnell told us in the post-Budget huddle that he would not have any cuts at all. "We will invest in growth and we will also have a fairer taxation system … We're not going to come back and say we are supporting cuts. No." He added: "To balance the budget there's no need for cuts". How sustainable or credible that will be with the voters remains to be seen.
Meanwhile, the Shadow Shadow Cabinet has been very noticeable yesterday and today. Chris Leslie, Rachel Reeves, Yvette Cooper, Chuka Umunna, Shabana Mahmood and Alison McGovern (see her blog for us this morning) have all been very active, attacking the Tories and showing Team Corbyn how it should be done.
3) WE DON'T NEED NO EDUCA-SHUN
This was sold as 'a Budget for the next generation'. But it felt like teenageddon for those told they will have to spend longer at school, studying a subject they hate, without sugary stimulants to make it all bearable.
That plan to make it compulsory for all kids to study maths until 18 looked a little less certain last night, amid rumours that the backlash had made the Government think again. Teaching unions and Labour are pointing out that 20% of maths lessons are already taught by teachers without any maths degrees and have real problems filling posts.
As it happens, the idea of making kids take maths to 18 was in the last Labour manifesto, but Lucy Powell says it needs proper resourcing. One union said some teens would 'shun' sixth form if the plan went ahead as it was. All those hidden cuts to FE colleges may be coming back to bite ministers too.
The longer school day idea may depend on the reception it gets from parents (working parents may like it, but others don't like it). The Times has a story today that 'Prisons will be run like academies', but the fear is that academies will be run like prisons if kids end up with 8-hour days.
As for academisation (try saying that when you're drunk, the PM had trouble when he was sober), it seems Damian McBride had sniffed it out early. He spotted that Nicky Morgan was first up on the Order Paper in the Budget debate and worked out Tory academy plans were coming. Morgan has teacher qualification reforms due too.
This morning, there's more education trouble. Labour claims there's a £560 million black hole in Chancellor's plan for schools - as the £140m won't be enough to cover the £44k conversion costs for 15k schools. To make the money up, it claims the Chancellor will be left with no option but to raid the Budget for much needed new school places.
BECAUSE YOU'VE READ THIS FAR…
4) TIME FOR A BLOODY REFUND
'Tampon' is famously not a phrase Gordon Brown could even bring himself to use in the Commons (despite cutting the VAT on them). George Osborne is being forced to do so as the 'tampon tax' is firmly back on the agenda. With a Commons vote due, there's a lethal combo of Tory Eurosceps upset at EU rules and Labour MPs who feel it's a sexist rip-off (despite all the cash going to groups like the Girl Guides and rape crisis centres). Labour's Paula Sherriff has tabled an amendment to strike down the tax on March 22. Will the Speaker allow it?
Osborne was asked on Today how he'd respond. He made plain he thought the 'tampon tax' would indeed by scrapped by Brussels very soon: "I think we are going to get that agreement in the next few days". See our story yesterday for details on this.
Speaking of Brussels, the big issue at the EU summit today will be trying to sort this vexed deal with Turkey over migrants. But back here Eurosceptics are still fuming at the Chancellor for what they saw as his spin on the OBR's taken on Brexit. Tory backbencher Stewart Jackson mouthed the words 'bollocks' to the Press Gallery as Osborne spoke, thus guaranteeing the story had legs from the start.
What was curious was why Osborne felt he needed to make any reference at all to the EU referendum, given it had lots of downsides and few upsides. The OBR's Robert Chote made clear on Newsnight it was simply citing others who talked of 'uncertainty' in the years after Brexit. In fact his own document stated: "It is not for us to judge at this stage what the impact of 'Brexit' might be on the economy and the public finances."
Anne-Marie Trevelyan, who is proving to be one of the bravest of the new intake, went on TV to express her dismay at the spin. But like the 1922 Committee last night, she didn't want that to take the shine off what many backbenchers felt was a nice tax-cutting Budget (albeit with jitters over disability cuts). The Telegraph reports that Iain Duncan Smith was one of several Brexiteer Cabinet ministers who immediately raised their concerns privately after the Budget.
While many eyes were on the Budget, the Government suffered not just one but three defeats in the Lords last night. The Trade Union Bill amendment losses were on electronic balloting, facility time, and the funds used by unions for political campaigning. In each vote, the government was defeated nearly 2 to 1. Most significantly, several Conservative peers voted against it or abstained.
Rather shrewdly, the amendments were in the names of two important cross benchers (Lord Burns and Lord Kerslake). The word compromise hangs in the air on e-balloting and possibly facility time. But on the 'opt-in' plan that will slash £8m a year from Labour funding (and general secretary Iain McNicol is in despair about) it may be there is a concession but not as much as the Opposition wants.
Government sources insist they won't back down on their manifesto pledge. After such big defeats in the Lords, though, will Tory MPs in the Commons now risk another rebellion?
If you're reading this on the web, sign-up HERE to get the WaughZone delivered to your inbox.
Got something you want to share? Please send any stories/tips/quotes/pix/plugs/gossip to Paul Waugh (paul.waugh@huffingtonpost.com), Ned Simons (ned.simons@huffingtonpost.com), Graeme Demianyk (graeme.demianyk@huffingtonpost.com) and Owen Bennett (owen.bennett@huffingtonpost.com)
Related