Iain Duncan Smith has launched a searing new attack on his own Government, declaring that the Tory Party look like they are hitting the poorest "because they don't vote for us".
In an electrifying interview on BBC1's Andrew Marr Show, the former Work and Pensions Secretary followed up on his dramatic resignation by declaring for the first time that he opposed George Osborne's "arbitrary" welfare cap and his deficit-cutting plans.
Mr Duncan Smith lambasted the Treasury's "unfair" cuts for dividing society not uniting it, and gave a strong hint that he felt the Chancellor would never become Prime Minister.
But in a passionate TV appearance, he also slammed David Cameron for leading a Government in which only Mr Osborne's and his views mattered, and for keeping him "isolated" and "semi-detached" on key policy decisions.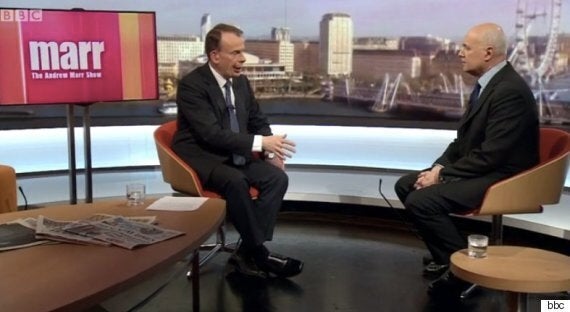 Andrew Marr and Iain Duncan Smith
Laying bare the depths of his long-running unhappiness with the Chancellor, Mr Duncan Smith launched a series of attacks on his former Cabinet colleague for forcing him to use disability benefit reforms to save money.
In perhaps his most damning line of all, the former Tory leader said that the less well off in society were targeted by the Treasury and "it looks like we see benefits as a pot of money to cut because they don't vote for us".
"They are losing sight of the direction of travel they should be in…I think it [the Government] is in danger of drifting in a direction that divides society rather than unites it and that I think is unfair."
He also came out publicly against the Tories' own 'Welfare Cap', a new Treasury rule unveiled in 2014 with the aim of putting a ceiling on all welfare spending in any one year.
Mr Duncan Smith said the root cause of the Budget row over disabilities cuts was the way Mr Osborne targeted welfare to keep overall spending down.
"The problem was the institution of the Welfare Cap…which was lowered just after the last election, pretty arbitrarily," he said.
For the first time he also suggested that Mr Osborne's desperate desire to balance the books by 2019 - ahead of the next election - was flawed.
"I am concerned this Government I want to succeed is not able to do the things that it should, because it is narrowly focused on getting the deficit down."
And he said that the combination of middle class tax cuts and capital gains tax breaks for the wealthy in the Budget, at the same time as the £1.3bn cuts to Personal Independence Payments, was the real driver behind his resignation.
"Juxtaposed as it came through in the Budget, that is deeply unfair and was perceived to be unfair. And that unfairness is damaging to the Government, it's damaging to the party and it's actually damaging to the public."
With many Tory MPs now seeing Mr Osborne's future Tory leadership hopes receding rapidly, if not totally destroyed, by the events of the past few days, Mr Duncan Smith hinted that he would not get the backing of fellow MPs or party members.
"I think... certainly if he was to stand and if he was selected by the electorate which is not just me, it's everybody else, that I would hope that he would. I think the same for almost everybody else.
"I have no view about anybody to be Prime Minister because the Prime Minister is there at the moment."
In a SkyNews interview, he added: "We are in danger of losing that simple high ground of being a One Nation party".
Fellow minister Ros Altmann today claimed her colleague had quit over 'Brexit' but the former Cabinet minister was adamant that his main concern was the way the Government was now perceived as being more interested in saving money than helping the worst off.
""It's not easy, it's painful to resign. I don't want to resign…I am resigning because I want my government to think again about this and get back to that position that I believe, which is about being a One Nation [party]," he told the Andrew Marr Show.
"This is not some secondary attempt to attack the Prime Minister or about Europe. It is nothing to do with that at all – if I wanted to do that I would have been clear.
"I have never, ever hidden my views about something and I'm not doing it now. I am genuinely, genuinely concerned."
Tory backbencher Heidi Allen, who slated Mr Osborne over plans to cut tax credits last year, told BBC's Sunday Politics: "This could be the slap to the face we all need... we are the party that should be looking after everybody."