The five things you need to know on Tuesday March 22, 2016…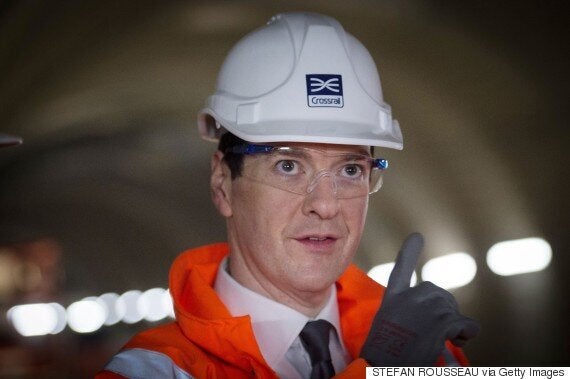 Reports of the Brussels bombing are the big moving story today. But on a domestic note, all eyes may still be on George Osborne.
After the Omnishambles of 2012, some hacks have dubbed 2016 the 'Ozzzyshambles Budget'. He refused to appear in the Commons yesterday, but the submarine Chancellor will once more come to the surface, now the waters are less stormy, and get a chance to stage his fightback.
And the overnight brief is that he will offer a bucketful of soz (copyright: Miranda). Sorry is often the hardest word to say for Osborne (a bit like the Met Police), yet this may be a very modern kind of apology. "I'm sorry Iain Duncan Smith chose to leave the government and want to recognise his achievements in helping to make sure work pays, breaking the old cycles of welfare dependency and ensuring the most vulnerable are protected."
Of course, that's not the same thing as saying he's sorry for his own policies and cuts plans, no siree. And privately Osborne is still baffled by the 'illogicality' of IDS's position.
But it was clear yesterday, from the moment David Gauke (give that man a promotion) stood in for Osborne, as well as during the Cameron statement, that both sides in the IDS row had decided to put their stilettos and meat cleavers away. A message went out to new MPs to show Government support and they did. The PM had learned the lesson from his recent lashing out against Boris and went for full conciliatory tone.
Boris last night emerged from his own curious period of silence on the IDS affair and tried to follow the PM's lead. Tom Bradby cleverly managed to eke out of him a bit of criticism of Osbo: "It's obvious from what's happened that its admitted that it was a mistake" to cut benefits. That wasn't much, but it was enough to give the Telegraph a splash.
When he gets up to address the Commons to wind up the Budget debate, Osborne will speak for at most 15 minutes, won't have to take questions and will literally have the last say. If he'd turned u for McDonnell's UQ yesterday he would have faced 45 minutes of sustained queries. The Brussels bombings may actually cast a more sombre mood over the Chamber, not least if there's a statement. But before the news broke, many Labour MPs were expecting to yell 'frit!' and 'chicken!' at Osborne.
Lots of papers this morning pile bucketfuls of manure on his head and many are writing Osborne's political obituary. Let's see if he rises to the occasion - or sinks like a holed submarine.
It is arguable that IDS has done more for those on benefit in the past six days (since the Budget) than he has in six years at the DWP. But in fact it is Stephen Crabb who in his few short hours in post has secured one of the biggest victories of any Cabinet minister against the Treasury since 2010.
The new Work and Pensions Secretary certainly made a splash with his debut in his new role yesterday. For the few of us hacks actually in the chamber for the event, it didn't disappoint.
What struck me immediately was the strength of the language Crabb used. He wasn't just announcing PIP cuts would be scrapped and not replaced by alternative welfare cuts. He had a much bigger message: that the Government was not seeking any further, new welfare cuts at all for the rest of the Parliament.
The Treasury swiftly went into spin mode, telling the Sun to note Crabb's line that there were 'no plans' for further welfare cuts. And it's true that Crabb added a proviso that it would be 'absurd' to rule out any changes at all. But politics is all about nuance, not swallowing spin, and it was just as obvious that Crabb was pushing the envelope. He repeatedly said that he had had 'very long conversations' with the PM and the Chancellor in recent days to get his statement agreed.
The killer line for me came right at the end of the statement, when Crabb pushed the envelope most, to say the Government 'will not' cut welfare further. Yes, 'will not' is much stronger than 'no plans'.
Read his words in full: "This statement is about my [yes 'my'] Department and budget, and it is extremely clear that we are not pressing ahead with the proposed changes to PIP, that we will not be seeking alternative offsetting savings and that the Government will not be coming forward with further proposals for welfare savings".
The Sun reports Crabb extracted on Sunday night a pledge that any more savings would have to come through reform, not salami-slicing of his budget. Cameron and Osborne may have tried to sandwich Crabb with pressure not to demand too much, but it was obvious yesterday that he was the one who came out with real meat.
Will Osborne hint today where the missing £4bn will come from? Or will he just repeat the line that we will have to wait for the Autumn Statement? The danger is that if he is waiting for better growth figures, he may have a shock from the global economy. He would also risk sounding like JMcDonnell, who wants a growth-not-cuts answer to balancing the books.
The goal was wide open, the goalie wasn't even on the pitch (he was watching in his office on telly), the ball was waiting with a great big IDS logo on it. Yet Jeremy Corbyn booted it way over the bar yesterday during the PM's Commons statement.
It's obviously a lack of experience on the frontbench, but surely one of his team could have prepped him with a string of Duncan Smith's most telling quotes from Marr? Instead, the Labour leader's only real ammo was that Osborne had gone awol despite most of the Cabinet showing up, (and he was right about that - I counted 13 Cabinet ministers on the front bench). Owen Smith later showed how it should be done, getting straight to the point with the best IDS quote of all, that the Tories looked like they had targeted the poorest because 'they don't vote for us'.
Anyway, as the 'Shadow Shadow Cabinet' were out in force, the knives were out after Corbyn's display. Several Labour MPs with long memories were quick to say (privately natch) this was his 'Westland moment', when Kinnock famously failed to rise to the Parliamentary occasion. One MP told PolHome: "Today shows the Tories are beatable, but not with Corbyn and McDonnell. How can it have turned into a bad day for Labour? Maybe it will turn out to be a moment of clarity for the party." Corbyn's allies point out he doesn't really 'do' Parliamentary theatrics, that's not his style.
Last night at the PLP, just 10 MPs turned up to hear John McDonnell and Jeremy Corbyn address them. Yes, just 10 (plus 20 peers to be fair). This may not have been a deliberate snub, given Jezza was never scheduled to turn up (he got there at 6.15pm), and MPs had been told it would be Lilian Greenwood giving an update. The fact that the PLP clashed with the Crabb statement obviously hit numbers too. Yet the JezWeCant crowd are still using it as fresh proof of something badly wrong with the leadership operation.
BECAUSE YOU'VE READ THIS FAR…
Shadow Education Secretary Lucy Powell has had a good hit on the media this morning with new police figures showing a 1200% increase in reports of under 16s 'sexting' over the last two years. Powell also confirmed Labour's commitment to making Personal Social Health and Economic education, including age-appropriate Sex and Relationships education, a statutory subject in all state-funded schools.
It's a tad surprisingly that guidance for schools on Sex and Relationships education has not been updated since 2000, before the 'smartphone generation' were even born (rather quaintly, the guidance contains the word "internet" twice, in the same sentence). Apps like Tinder, Snapchat and Kik are opening up young people to lots of danger online yet Labour says ministers are refusing to act because of their ideological stance on school structures.
Forced academisation of all schools will make the problem worse, Powell says. Speaking of which, Nicky Morgan got another bit of a kicking after she told Mumsnet how good the plans were to end council control. She's got a skin as thick as Gauke's, but wasn't the whole point of her arrival at DfE to calm things down?
Even as David Cameron yesterday was talking about his 'modern, compassionate One Nation Conservative government', over in the House of Lords there was a vote that peers said proved his words were mere rhetoric.
Their Lordships inflicted a big defeat on the Government, passing an amendment to the Immigration Bill to allow 3,000 Syrian child refugees from across Europe to come to the UK. A combination of Labour, Lib Dem and Crossbench peers backed Alf Dubs' amendment by 306 votes to 204. They want to end the tragic scenes seen in recent months, with an updated version of the Kindertransport scheme that saved children like Dubs himself from Nazi Europe.
But just minutes earlier, the PM sounded like he wouldn't budge. He had said "comparing child migrants in Europe with the Kindertransport…countries such as France, Germany, Italy and Spain are safe countries.I do not believe that it is a fair comparison." Will the Government stick to its guns in the Commons or will Theresa May shift? Among the Tory rebels last night was Lord Livingston - the former trade minister. That's the kind of development that can influence No.10.
If you're reading this on the web, sign-up HERE to get the WaughZone delivered to your inbox.
Got something you want to share? Please send any stories/tips/quotes/pix/plugs/gossip to Paul Waugh (paul.waugh@huffingtonpost.com), Ned Simons (ned.simons@huffingtonpost.com), Graeme Demianyk (graeme.demianyk@huffingtonpost.com) and Owen Bennett (owen.bennett@huffingtonpost.com)
Related