Ricky Gervais has denied his film about his comedy creation David Brent was courting controversy but said he hopes people get the joke as the movie received its world premiere.
'David Brent: Life On The Road' catches up with the former office manager 12 years on from the BBC mockumentary The Office to find he is now a travelling salesman for a cleaning and ladies' personal hygiene products company.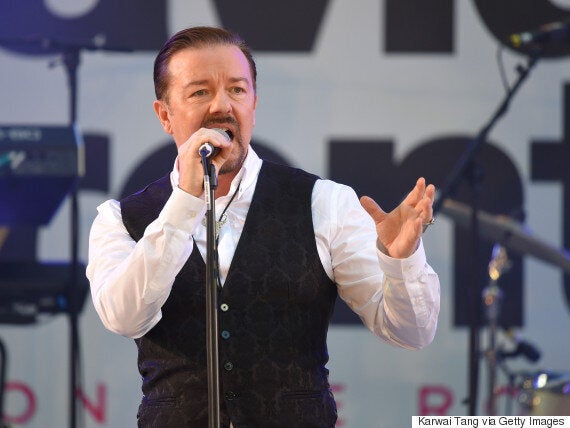 Ricky performed as David at the premiere
However, he has not given up on his dream of fame and fortune as a rock star and is about to embark on a self-financed UK tour with his resentful band Foregone Conclusion, who are just in it for the money.
The film features songs about Native Americans and people with disabilities, as well as a scene using the n-word, but speaking on the red carpet in Leicester Square, Gervais said he was not embracing controversy.
He told the Press Association: "I know it's going to happen but I can't guess it. You do it and hope people get the joke but if they don't that's good as well. If people don't get that David Brent accidentally says the wrong thing, does that mean I can only do fictional characters that are perfect? We all make mistakes."
The film marks the big screen debut for Brent, who performed four tracks in character on the red carpet during the premiere.
Brent and the band will also play two gigs at the Eventim Apollo in Hammersmith later this year and Gervais added: "The record is part of the narrative. People who come to the gigs are in on the gags."
The film's soundtrack is already available for pre-order but Gervais said he is not banking on chart success.
He said: "If it did get to number one it wouldn't ruin it, I want it to do as well as it can, but for everyone to know it's a David Brent album. This isn't me trying to make the charts but I hope people like it.
"I'm not a real pop star, this is the only album I'm going to do. I'm not worried about a second album."
Gervais, 55, who arrived at the premiere with his partner Jane Fallon on Wednesday, has previously said that David Bowie told him he would like to hear a whole album of Brent's music and revealed he sent him a song before he died.
Asked if there was any discussion of Bowie making a cameo in the film, as he did in Gervais' series Extras, he said: "No, it wouldn't make sense. I did let him hear Slough on demo and he liked it but it wouldn't be right. It's not like Extras where it made sense. In real life Brent can't be playing those kind of places."
Gervais also said it is unlikely he will reunite with his Office castmates for the same reason.
He said: "This is based in reality so it would be odd. You could contrive it but it would be sad to do the same thing as 15 years ago. You have to move on, like we all do. They all know that too, it's not like I sacked them."
As for the chances of Brent making another big screen appearance, Gervais said: "I haven't ruled out a sequel but it's unlikely. Never say never though."
David Brent: Life On The Road will be released in UK cinemas on August 19.