The five things you need to know on Thursday, October 13…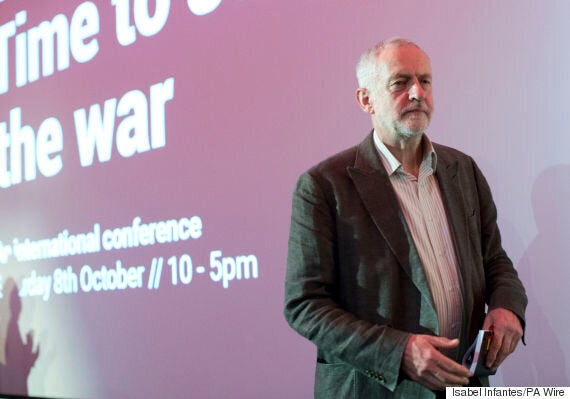 With his pal Donald Trump stumbling in the polls, Vladimir Putin is clearly keen to warn Hillary Clinton against pushing a more robust US foreign policy in Syria. Putin last night accused Washington of expecting Moscow and Assad to obey its 'diktats' (which sounds ironic coming from a man who locks up his political opponents).
The State Department spokesman said: "What we've seen in and around Aleppo specifically with respect to the Syrian regime and Russian military aircraft is a wanton disregard for for the safety and security of civilians and an indiscriminate approach to the bombing which is absolutely not at all in concert in the way we conduct our air operations."
Corbyn's spokesman also suggested that the British public were as free to protest outside the US and other embassies as to answer Boris's calls for demos against the Russians. He didn't quite advocate instant protests in Grosvenor Square, but it was clear he felt it wasn't fair to single out Moscow.
In line with convention, we don't normally name Corbyn's spokesman after such briefings, but today he is very much in the news. And Russia's very own Pravda decided to single him out for praise overnight: "It should be added that Seumas Milne, spokesman of the Labour party's leader Jeremy Corbyn, also stood against any protests at the Russian Embassy in the capital of Great Britain. He claimed that focusing on horrors in Aleppo, the West was thoroughly 'diverting attention' from its acts in the region."
The Russian embassy trolled Boris on Twitter, with a pic of a lone protestor outside its Kensington buildings. It also issued a press release warning its citizens about the new craze for 'malicious clowns', which felt like a jibe at the Foreign Secretary himself.
Milne, like Stop the War and Corbyn himself, sound like they believe in the 'other Russia'. This is not the brutal, dangerous, duplicitious Russia seen by many in the West. The 'other Russia' is instead a nation working to tackle Islamic extremism, to stand up to American power and what it thinks are 'double standards'.
There's no question that America has been involved in some appalling mass killings of civilians in Syria (in July, 73 died in one strike). And as Patrick Coburn pointed out in the Standard yesterday, the fear is that the US-aided push on Mosul in Iraq will see similar casualties in a bid to root out Daesh.
Yet many Labour MPs think Russia's brutal Grozny history proves the State Department is right to accuse Moscow of 'wanton disregard' for civilian safety. More widely, they worry that the Labour leader ends up sounding like Trump and Farage in making excuses for Putin. Yet despite their muttering that they have their own 'malicious clown' in charge, there's not a damned thing the PLP can do about it.
Given the public's love-em-or-hate-em reactions to leading politicians such as Boris, Nigel Farage and Jeremy Corbyn, it's apt that Marmite should dominate the news today. However, the spat between Unilever and Tesco is just one example of the deadly serious worries in among some ministers about the Brexit-inspired sterling crash.
While a record low pound is great for exports, when import costs start creating inflation for consumers the public may not be as sanguine. Brexiteers dismiss this as yet more bumps in the road but others in Government fear the markets are making long-term vote of no confidence in the UK economy.
The money men can of course get it spectacularly wrong - as proved by the upward sterling spike on Tuesday night after the new amendment to the Opposition motion on Brexit (which was just a wheeze to defuse a rebellion rather than a real shift). Still, David Davis turned into a one-man sterling shifter in the Commons yesterday. Several of us tweeted that lovely line from the Press Association yesterday: "Shortly after Mr Davis sat down, the pound began to rise"
The FT splash will worry the Treasury too. Its excellent Brussels editor Alex Barker has done a study of our multi-year liabilities and found that the UK faces a 20bn euro 'divorce bill'. We could actually end up paying more into the EU budget in the short term.
The High Court hears a challenge today to the Government's right to trigger Article 50 without a Parliamentary vote. Few lawyers let alone politicians think the court would dare interfere into such a constitutionally important area, but the anger - on both sides- in the Commons yesterday was nevertheless obvious.
There were some impressive speeches in the Brexit debate, not least from Nick Clegg, who appears to have found his voice/backbone [delete as appropriate] as he pointed up the Eurosceptics' silence in defending Parliament. Keir Starmer again offered a reassuring professionalism to Labour backbenches. There was a hint from George Eustice on the BBC, and from DD in the chamber, that 'something' like a green paper could be produced for the Commons to debate (though it was later made clear this 'something' may not be before April).
But it was the blue-on-blue action that caught the eye most. Claire Perry attacked David Davis's 'narrow ideological interest', Bill Cash accused Dominic Grieve of using 'weasel words', Alistair Burt talked of his 'despair' and 'shame' at the Brexiteers' language, Nicky Morgan attacked the "briefers and spinners from the centre of this Government", Neil Carmichael talked of 'national self harm'. Grieve had these ominous words too: "As far as I'm concerned, my duty to my constituents transcends my duty to my party in this matter."
Today, Nicola Sturgeon will open the SNP conference with a pledge to 'lead the fight against hard Brexit'. Yet that fight is already underway.
BECAUSE YOU'VE READ THIS FAR…
We were told yesterday that the latest neverending Corbyn reshuffle had had 'the bulk' of its business done, but that more announcements would be due 'shortly'. Last night, JC brought back Thangam Debbonaire four months after her resignation and claims of being sacked while receiving cancer treatment. She's now a whip and says "My duty will be to serve the whole Labour family." Inevitably, a lot of Labour MPs are swallowing hard, and just focusing on the Tories.
A Tory mess over Brexit could, just could, offer Labour a way to narrow the gap in the polls. But there's still a long way to go and we have a new analysis of a YouGov survey which suggests voters like Labour policies but appear to dislike them when told they have anything to do with Jeremy Corbyn.
Of course, the punters can want apparently contradictory things (like more spending without tax rises, historically), but this study suggests a real brand issue. YouGov found nearly half (45%) of people said they want the government to increase public spending and raise taxes for the wealthiest people - both which are policies called for by Labour. Only 13% supported the current levels of cuts taking place under the Conservative Government, and 22% thought the cuts should continue but be scaled back. Yet, when asked directly which party they think has the best policies on spending and taxation, 30% said the Tories while 16% said Labour. Go figure.
The usually impeccably liberal Amber Rudd's sudden appearance as a hate figure has obviously taken her aback. But the Times reveals that the Home Secretary tried - and failed - soon after her appointment to persuade Theresa May to remove students from the Tory pledge to reduce annual net migration below the tens of thousands. Instead, Rudd ended up unveiling 'tougher rules for lower quality courses' at universities.
The paper also splashes on a secret Home Office study that has found only 1 per cent of international students break the terms of their visa by refusing to leave at the end of their course. The stats suggest that just 1,500 students 'vanish' as opposed to the tens of thousands claimed by ministers. There's a new warning that the UK could lose much of its £11bn income from overseas students.
If you're reading this on the web, sign-up HERE to get the WaughZone delivered to your inbox.
Got something you want to share? Please send any stories/tips/quotes/pix/plugs/gossip to Paul Waugh (paul.waugh@huffingtonpost.com), Ned Simons (ned.simons@huffingtonpost.com), Martha Gill (martha.gill@huffingtonpost.com) and Owen Bennett (owen.bennett@huffingtonpost.com)