The five things you need to know on Monday, November 14, 2016…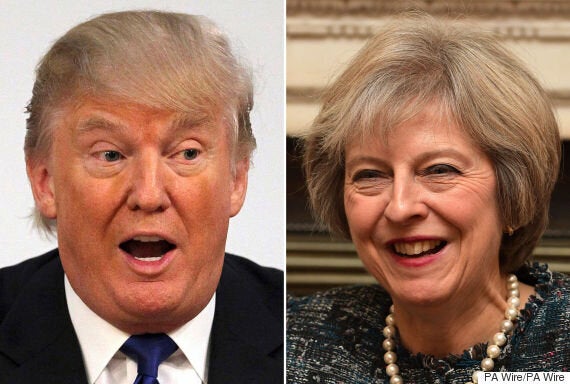 This morning's Waugh Zone is by Ned Simons. Paul is away. Today's edition is about 'freedom and winning'
1) NO.10: NO THANKS NIGEL
The idea of Nigel Farage helping the UK government to build links with Donald Trump is "categorically not going to happen," Downing Street said this morning. The dismissal comes amid reports some in the cabinet are unhappy at Theresa May's decision not to reach out to the Ukip leader given over the weekend he became the first British politician to meet Trump.
Writing in The Daily Telegraph this morning, Farage said he was greeted like a "long lost friend" in Trump Tower. As well pressing Trump on as the all important issue of whether every single room in the White House has a bust of Churchill, the Ukip leader and the president-elect spoke about "freedom and winning". It's not clear whether the pair spoke about Farage's seven losing attempts to be elected to parliament. Probably not.
However Farage has met Trump. The prime minister has not. And the Ukip leader is having a great time in the US. "We love having you here, Nigel Farage. Man of history, no doubt," A Fox News presenter told him yesterday - with the Ukip leader described as America's "pal from across the pond".
Conservative MP John Redwood last night said President Trump could be "good for the world". He told BBC Radio 4's Westminster Hour: "I think Mr Trump has some good ideas. Let's not write somebody off before he's even in office or even appointed his staff." Well Trump has begun to appoint his staff - and the headline is his decision to name Steve Bannon, the Breitbart News Network executive chairman known for having white nationalist views as chief strategist and senior counselor.
John Weaver, an adviser to Ohio Republican Gov. John Kasich, said of the appointment: "Just to be clear news media, the next president named a racist, anti-semite as the co-equal of the chief of staff." Senator Harry Reid (D-Nev.) spokesman said Trump's choice of Bannon "signals that White Supremacists will be represented at the highest levels in Trump's White House." He added: "It is easy to see why the KKK views Trump as their champion."
Trump also announced Sunday that Republican National Committee Chair Reince Priebus would serve in the chief of staff role.
In a speech this evening, May will say Trump's victory shows "change is in the air". In her first lengthy response to last week's US election, the prime minister will say Brexit and the surprise rise of Trump show that the downside of globalisation needs to be tackled because too many low income people feel left out. She will use a key-note Mansion House address to warn that those at the bottom of the economic ladder see globalisation as a job destroying, income cutting cause for concern rather than a necessary boost for trade. "We can't deny," May will say. "That there have been downsides to globalisation in recent years, and that – in our zeal and enthusiasm to promote this agenda as the answer to all our ills – we have on occasion overlooked the impact on those closer to home who see these forces in a different light."
Jeremy Corbyn yesterday told the BBC's Andrew Marr that Trump needed to "grow up" stop being "abusive" to immigrants and Muslims. The Labour leader, who has a Mexican wife, Laura Alvarez, was asked how he would get on with Mr Trump if he became prime minister, he said: "I'm looking forward to the conversation between my wife and Donald Trump. She is a proud Mexican."
In the same interview, Corbyn said Nato should "demilitarise" its borders with Russia. Corbyn has long been lukewarm on the UK's membership of Nato. During the 2015 leadership contest he said the alliance should have been disbanded in the 1990s.
Also appearing on Marr, Marine Le Pen, the far-right leader of the French National Front, said the Western military alliance was no longer needed. "Nato is continuing to exist even though the danger for which it was created no longer exists," she said.
Trump's election and the rise of Le Pen in France has triggered a debate about how the media should cover the far-right. And Andrew Marr has defended his decision to interview the French nationalist. "In the end we are a news programme and I don't think the best way to honor the fallen is to fail to report on the next big challenge to Western security," he told viewers. Not everyone agreed with his argument. Labour MP Jamie Reed responded it showed a "typically detached BBC" which was a "publicly funded body that believes it's beyond reproach". He added: "Deliberately offensive."
5) TRUMP: I WILL DEPORT 2 MILLION
Trump plans to deport or imprison somewhere between 2 million and 3 million undocumented immigrants as soon as he takes office. In an interview with CBS News, Trump said he would launch what could be the largest mass deportation effort in modern history, vowing to immediately deport a number of people comparable to the record-setting figure that President Barack Obama carried out over two terms in office.
"What we are going to do is get the people that are criminal and have criminal records, gang members, drug dealers, where a lot of these people, probably 2 million, it could be even 3 million, we are getting them out of our country or we are going to incarcerate," Trump said in the interview. "But we're getting them out of our country, they're here illegally."
Got something you want to share? Please send any stories/tips/quotes/pix/plugs/gossip to Paul Waugh (paul.waugh@huffingtonpost.com), Ned Simons (ned.simons@huffingtonpost.com), Martha Gill (martha.gill@huffingtonpost.com) and Owen Bennett (owen.bennett@huffingtonpost.com)