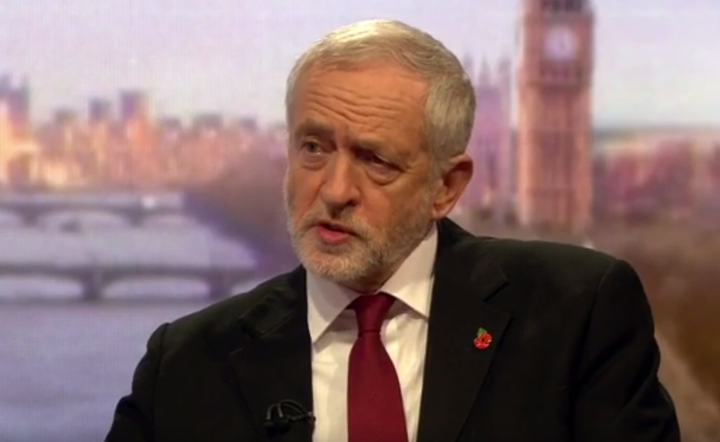 Jeremy Corbyn has said Nato should "demilitarise" its borders with Russia, as the head of the Western military alliance warned Donald Trump against abandoning his European allies.
The Labour leader said on Sunday morning he had "many criticisms" of Vladimir Putin's human rights record. But he told the BBC's Andrew Marr programme: "However I do think there has to be a process that we try and demilitarise the border between what are now the Nato states and Russia so we drive apart those forces, keep them further apart. We can't descend into a new cold war."
He said this morning he wanted a "strong movement towards coexistence and peace" between Nato states and Russia.
Corbyn's comments come at a time of increased tensions between Russia and the West - with both sides conducting military exercises on the Eastern European border.
Writing in The Observer today, Nato's secretary-general Jens Stoltenberg warned Donald Trump that "going it alone is not an option" for either the US or Europe. And he reminded the president-elect that the only time the alliance has invoked its self-defence clause was in response to the September 11 terrorist attacks on America.
"We face the greatest challenges to our security in a generation. This is no time to question the value of the partnership between Europe and the United States," he said.
President Putin welcomed Trump's election as US President last week. During his campaign, the Republican alarmed European leaders after he suggested he would not come to their aid if attacked by Russia.
The Daily Telegraph reported this morning that British officials are prepared for "very difficult" conversations with Trump and his team over his softer approach to Putin.
Also appearing on Marr this morning in a pre-recorded interview, Marine Le Pen, the far-right leader of the French National Front, said Europe should "negotiate" with Russia. "There is no reason why we should to turn systematically to the US and why we should neglect Russia," she said.
"Nato is continuing to exist even though the danger for which it was created no longer exits," she said. "What is Nato protecting us against exactly? Against a mitliay attack from Russia? Just saying that brings a smile to my face."
Popular in the Community