The five things you need to know on Monday, November 21…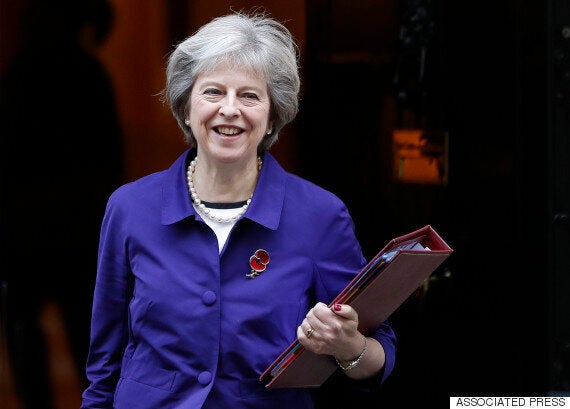 Top marks to the CBI for lining up Theresa May and Jeremy Corbyn at their conference, just days before the Autumn Statement. The PM has a big speech setting out what looks like a grand bargain with business: you tackle corporate 'excess' on pay and work practices, I'll give you infrastructure cash and other help you've long wanted.
May has an FT piece in which she talks of the "small minority" of businesses who try to "game the system", and the overnight No10 brief focused on a new £2bn for research and development. Downing St held back for the morning papers a separate line of May committing to Osborne's pledge to give the UK the lowest corporation tax in the world.
Jeremy Corbyn will give his first speech as Labour leader to the CBI too. He will roll out a new soundbite to counter May's 'just about managing' classes. "Because wages are low, hours are insecure and rents are too high. They're not just about managing. Many are just about surviving". After the PM's JAMs, we now have Jez's JASs. The Guardian splash on a consultants' report stating those on low incomes are set to lose more than £2,500 a year by 2020.
May's approach certainly sounds more interventionist than anything Cameron managed. Note that Philip Hammond on Marr yesterday sounded like he was backing off workers on boards, something business felt was clumsily announced by May, and Greg Clark said on Today there were 'different ways' of doing that. He also hinted that shareholder rights would be bolstered to curb excess pay.
There's a lot of talk that under the 'collaborative' new Government, individual Cabinet ministers will now be left to make announcements that Chancellors previously grabbed for themselves. But I can't help thinking that No.10 is the one hogging the announcements (May nicking bits of Clark's industrial strategy, for example) in a way that reminds me of the Gordon Brown premiership. No.10 certainly has had much more of a hand in this Autumn Statement than Blair or Cameron did in their day.
And in many ways the May way looks like the Brown way. Lots of this Autumn Statement's plans look like the kind of thing Brown could have unveiled (infrastructure boosts, nice to business, prudence with a purpose, micro-tweaks on fuel duty etc). Does it matter that he too hadn't won a general election in his own name either?
The CBI's new president Paul Drechsler will use his own speech today to warn May that business wants "clarity and - above all - a plan" on Brexit. Firms are "inevitably considering the cliff-edge scenario" of being "stranded in a regulatory no man's land" outside the EU customs union and single market.
And while May's Great Repeal Bill aims to reduce the cliff-edge by simply writing many current EU laws into British law, the UK cannot replicate the customs union or single market without EU agreement. Which is precisely why 60 MPs yesterday informed the Sunday Telegraph they wanted out of both. Michael Gove was on of the signatories and you can imagine Boris would have signed if he could.
The Sunday Times had a story trying to flesh out what Tony Blair's mysterious return to public life would look like, suggesting his 140 staff will campaign for a soft Brexit, because Corbyn was 'a nutter' and May was ineffective (his office deny the quote). One Blair-era politician not making a comeback is Nicolas Sarkozy. I remember when Sarko once tried some sexist ridicule of Angela Merkel at a summit. How she must be smiling this morning, having announced her own bid for a 4th term as Chancellor.
3) CRABBY'S GRAND RATIONAL
Just what, if anything, Hammond will do about welfare cuts this week is a pressing issue. On Radio 4's Westminster Hour last night, former Work and Pensions Secretary Stephen Crabb pointed out the Chancellor will already have to explain where he's going to find the £4bn lost (but not forgotten) in his own personal independence payment reforms axed after IDS's departure.
On the vexed topic of Universal Credit cuts - cuts that critics say will hit many 'just managing' people in low-income work - Crabb said 'I think that offends everyone's sense of justice". But he suggested Hammond would address it with broader help for people on low incomes rather than by reversing another welfare cut.
Continuing his rational approach to policy, Crabb also became the latest senior Tory politician to suggest that the state pension 'triple lock' could end after the next election. It has "served its purpose" and "there will be a case after 2020 to look again at that". Damian Green has Work and Pensions Questions today - will he offer up similar thoughts?
One Tory MP leading calls for welfare cuts to be eased is Heidi Allen. But on Pienaar's Politics she went perhaps a step too far for her colleagues. Asked if she'd 'snog, marry or avoid' Ed Balls, she replied "Maybe snog…I like a man who can move to music." Viewers' votes meant the former Shadow Chancellor survived again on Strictly last night despite the judges' disdain. Popular with the people, unsupported by the experts…how very 2016.
BECAUSE YOU'VE READ THIS FAR…
The NHS may or may not get an emergency cash injection this week, but the political pressure on the issue of health and social care grows every week. Today, the BMA have an 'analysis' of the coming 'Sustainability and Transformation Plans' (get used to the acronym STPs) being drafted to across the NHS, claiming they will be used as a 'cover' for £22bn in cuts. The Mirror has splashed its front page with their verdict.
NHS Medical Director Professor Sir Bruce Keogh hit back, saying the plans were about 'incremental' improvement not a 'big bang'. As for NHS England chief Simon Stevens (seen as 'Saint Stevens' by many Labour MPs, after the way he garnered more cash ahead of the election), he wider issue is the scale of the financial challenge.
There was an intriguing exclusive in the Mail on Sunday yesterday (curiously un-bylined) that Downing St was 'gunning for' Stevens, after he contradicted May's claim that £10bn was going into the NHS. One of May's aides is said to have warned that they intended to 'fix' the NHS chief..
The Lib Dems have actually come up with a cash figure, saying Hammond should offer £4bn extra on Wednesday, to fund winter A&E, mental health and ring-fenced social care help for councils. Speaking of which, former pensions minister Ros Altmann told the BBC today that she sent a memo round Whitehall in 2015 warning of the care crisis. She wants tax breaks to help people save for care in later life.
Amid claims that its members are merely 'clicktivists', Momentum has launched a 'Grassroots Now' campaign to turn its energy into campaigning. The phone canvassing website it used to striking effect in the leadership race will be deployed instead to mobilise on-the-ground support for Labour's NHS national campaign day next Saturday.
But suspicions continue in the PLP that Momentum is a vehicle for deselections of MPs and John McDonnell's remarks yesterday on Pienaar's Politics won't have reassured many. Asked about a Sunday Times story that Hilary Benn was facing a deselection after key posts were taken in his Leeds Central constituency by Corbyn supporters, the Shadow Chancellor was non-committal.
He stressed that Benn was "a friend of mine" and had "a fantastic role to play", but there was a 'but coming'. "But we can't interfere in local democracy in our party." Although senior party figures have no role in local CLP issues, it's hard to think of Gordon Brown or Ed Balls saying such a thing when they were Shadow Chancellor. Which is kinda the point, I suppose. Still, Jonathan Reynolds, the Shadow City Minister in McDonnell's team, told Radio 4's Westminster Hour last night that ex-Militant members of Momentum were "frankly unwelcome". "There's a lot going on within that brand," he added.
If you're reading this on the web, sign-up HERE to get the WaughZone delivered to your inbox.
Got something you want to share? Please send any stories/tips/quotes/pix/plugs/gossip to Paul Waugh (paul.waugh@huffingtonpost.com), Ned Simons (ned.simons@huffingtonpost.com), Martha Gill (martha.gill@huffingtonpost.com) and Owen Bennett (owen.bennett@huffingtonpost.com)