The five things you need to know on Thursday, November 24…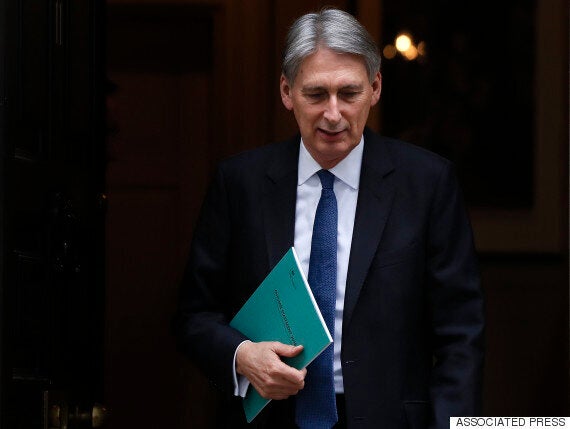 Winston Churchill joked that 'an empty taxi' once arrived in No10 and Clem Attlee got out. As Philip Hammond got into his ministerial Jag yesterday in Downing Street, with virtually no fanfare, it was clear he wanted a break with the grandstanding of the Osborne-Brown years.
Yet once he got to the Commons, the former second hand car salesman sent a signal that he was very much at the wheel of the new economy (despite that sweetener for driverless cars). He was a Remainer a few months ago, so the post-EU motor he's selling the public is not one he'd wanted himself. But Spreadsheet Phil is now Brexit Phil, trying to keep the nation's finances on the road.
In his delivery, Hammond was reassuringly dull, a bit like Alistair Darling used to be, and I suspect the punters will quite like his style. On substance, it was clear that the £59bn Brexit bill for the economy was going to be the stand-out headline (including £16bn from lost income due to fewer tax-paying migrants).
Still, this was a tricky brief for the Chancellor. A few weeks ago he told the Tory party conference: "It is clear to me that the British people did not vote on June 23 to become poorer", yet the OBR suggested that's exactly what will happen. Unemployment will rise by 100,000 (not as much as Osborne's Project Fear 500,000, but still bad if you're the one losing out), living standards will be squeezed further (see below).
Hammond changed his fiscal rules to say he'd try to get a surplus 'as soon as possible in the next Parliament', which was even more lax than Ed Balls' plan. There was a lot of 'next Parliament' and 'this Parliament' yesterday, prompting some MPs to speculate again about a snap election (if 2020 suddenly became 2017, various announcements look very different). The FT rightly spots a £27bn 'shock absorber' Hammond has created, which could be used in a general election, whenever it's called.
The backlash against the OBR - the experts' experts - was swift, from Eurosceptic Tory MPs and newspapers alike. IDS said told the Telegraph it was "another utter doom and gloom scenario" by an organisation "that simply hasn't got anything right". Jacob Rees-Mogg told Newsnight it made 'lunatic assumptions' about trade flows reducing: "Experts, soothsayers, astrologers are all in much the same category." The Mail's Andrew Pierce even had an 'Enemies of The People' style attack on OBR chief Robert Chote for being both a 'creature of Osborne' and a 'Lib Dem sympathiser'. Ed Miliband defended Chote's honour.
On the Today prog, Hammond was rightly asked by Nick Robinson whatever happened to the Tory manifesto line that it would be a 'moral failing' to go into more debt. Hammond replied: "It's not out of control, it's larger than we would like it to be". He refused to deny a Telegraph claim that he felt the OBR forecasts should be treated with 'a pinch of salt', saying instead that "forecasting is not an exact science". That seemed a departure from David Gauke who was uncorked on Newsnight to stress the Government accepted the OBR stats.
But Hammond kept his options open, pointing out there was "uncertainty around the Brexit negotiations". That uncertainty is down to Theresa May, Labour will argue, but the Chancellor tried to suggest it was because we don't know how other EU states will react. And he made clear things could get even worse, as the OBR fanchart confirms: "We are preparing for a range of possible outcomes…there's a wider range on both the upside - and the downside." Eurosceps won't take that with a pinch of salt.
One of the most important, yet most Sphinx-like, lines from Hammond yesterday was this: "As we look ahead to the next Parliament, we will need to ensure we tackle the challenges of rising longevity and fiscal sustainability."
The line followed immediately after a reference to the 'triple lock' on state pensions that the Tories are committed to in this Parliament. It naturally pleased many who have long argued that the current policy is not just expensive, but fails to make the grey vote feel any pain while younger voters are hit by uni debts, low wages and few chances of owning a home. They think it would be nifty politics to protect pensioners in different ways. Intriguingly however, Labour's Shadow Chief Secretary Rebecca Long-Bailey said on Newsnight that pensioners would feel "sold out" by any move to dump the triple lock, which she described as a "social contract".
What's just as significant is that Government sources have suggested Hammond's 'longevity' line may refer not just to pensions but to NHS ring-fencing. Now this interpretation definitely didn't come from the Department of Health, which could argue that it needs more - not less - cash to cope with the ageing population.
Lots of people spotted the lack of any new money for social care yesterday, and the Royal College of Physicians and local government chiefs have this morning come out to say so. But the NHS 'Brexit bonus' is a real issue for many Leave voters. Pollster Deborah Mattinson tweeted that her focus groups found the lack of NHS cash was the biggest disappointment in the Autumn Statement. 'Why not use the £350m?' one voter asked.
Jeremy Corbyn and Shadow Health Sec Jon Ashworth are visiting a hospital in Nuneaton this morning - yes the key marginal that stayed Tory in 2015 and heralded that Cameron victory. Meanwhile, NHS failures are made all too evident with the Manchester Evening News exclusive on the shocking maternity hospital neglect that left mothers and babies dead. (Surely worth an Urgent Question today?)
Hammond is getting it in the neck from both the right and the left about his stealth tax on insurance, a hit that affects motorists and homeowners and undercuts all that talks about protecting 'JAMs'.
Proving it's down with the kids, The Treasury did its own listicle last night with '25 things you need to know about #AutumnStatement 2016'. Right at the bottom is its line that Insurance Premium Tax (IPT) will increase from 10% to 12%. "IPT is a tax on insurers and it is up to them whether and how to pass on costs to customers." Yerrright. No wonder the ABI is furious.
And while traffic jams could lessen after all the road schemes, there was more bad news for car-owning JAMs in other small print. Car leasing firm LeasePlan UK says today: "The Chancellor's decision to target cars gained through salary sacrifice is both destructive and disappointing for the motoring industry."
We've done a full '11 Things Hammond Buried In The Small Print', a handy guide to the things he didn't really want to mention. It includes cash for grammar schools to rising EU contributions and a minimum wage that isn't rising as Osborne said it would.
And when it comes to the key wages and living standards squeeze that helped drive the Leave vote, the news yesterday wasn't good. One line deep in the OBR is an extra kicker: "costs created for firms by apprenticeship levy, auto-enrolment into workplace pensions... will be largely borne through lower wages".
And buried in the Autumn Statement is this killer fact (dug out by the Resolution Foundation) : average incomes are forecast to grow annually by 0.2 per cent between 2015 and 2020, even worse than the miserly 0.5 per cent between 2010 and 2014. Squeezed indeed.
BECAUSE YOU'VE READ THIS FAR…
John McDonnell started his own morning media round at 6.43am on ITV's Good Morning Britain (I watch this stuff so you don't have to, dear reader). And he made clear he wasn't overly happy at Labour MPs looking at their phones during his response to the Autumn Statement. One image shows 14 of his own side distracted by their smartphones. McDonnell said that when it came to Tory MPs "I held their attention".
But of Labour MPs he said: "When people [the public] see that they don't like it. It's also a means of them [MPs] communicating individually, rather than in the chamber, strange circumstances…It doesn't look good but that's what happens…they are tweeting all the time. It doesn't look brilliant but that's what they do now."
The Shadow Chancellor proceeded to give a neat round-up of his central themes that Hammond had "given with one hand and taken away with the other", failed to stop ESA or the worst Universal Credit cuts and wasted money on 'tax givewaways to the wealthy'. He also rammed home his point that while £60bn of the extra borrowing was for Brexit, a further £60bn was because of 'mismanagement of the economy'. Stylistically, McDonnell realises that he sounds better when he plays it cool, and he also admitted that there would be no more Mao-style stunts or rants.
As for Labour's own record on the economy, the current leadership never knowingly praise Tony Blair (I hear they actually questioned whether Blair and Brown should be on the new 2017 calendar for members marking the party's most historic moments). Blair himself has given an interview to the New Statesman, with details due today.
Privately-educated, former City financier Nigel Farage, an MEP in Brussels on an £84,000 annual salary since 1999, addressed an audience from the gilded stairway of the Ritz last night - as he condemned a UK political class which he believes is out-of-touch. Sir David and Sir Frederick Barclay, the twins who own The Daily Telegraph, Richard Desmond, owner of the Daily Express, and pro-Brexit MPs were among 120 guests (but only a handful of UKIP figures were invited).
The way Farage has managed to bury his own Establishment credentials, while striking a chord with working class Britain, is a conundrum historians may ponder on in years to come. At the Ritz, there was even a lovely pic of him holding a plate of Ferrero Rochers, with the inevitable 'Mr Ambassador, you're spoiling me' gags. Philip Hammond, when asked about Farage on ITV, was withering: "If I ever need any advice from Nigel Farage, I've got his number, and I'll give him a call. Tell him not to hold his breath."
But don't forget that working class Liverpudlian Paul Nuttall is almost certain to take over the UKIP reins next week (meaning more pain for Labour up north). And the Times' Lucy Fisher reports that Farage is set to go to America - he has told friends that he is preparing to emigrate with his wife, Kirsten. Lucy points out that Farage has not appeared in public with his family for more than 18 months after anti-Ukip protesters chased his wife and daughters out of a pub in Kent.
As I highlighted yesterday, UKIP has sold the rights to that famous pic of Farage and Trump in the golden hallway. But press aide Andy Wigmore explained that "We're going to make a fortune for charity," with the proceeds going to the Royal Commonwealth Society.
If you're reading this on the web, sign-up HERE to get the WaughZone delivered to your inbox.
Got something you want to share? Please send any stories/tips/quotes/pix/plugs/gossip to Paul Waugh (paul.waugh@huffingtonpost.com), Ned Simons (ned.simons@huffingtonpost.com), Martha Gill (martha.gill@huffingtonpost.com) and Owen Bennett (owen.bennett@huffingtonpost.com)