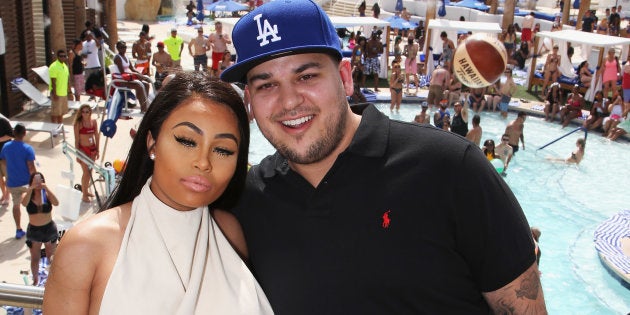 Reality TV stars Rob Kardashian and Blac Chyna (real name Angela White) have called their relationship off. At least, that is according to a feud that unfolded on their respective Instagram accounts on Saturday - one day before a special episode of their docu-series "Rob & Chyna" featuring the birth of their baby, Dream, was due to air on E! Entertainment.
The show followed the first few months of their relationship after Chyna fell pregnant and Kardashian proposed to her, and culminated in their daughter's birth. Critics were skeptical of the public and dramatic split, and the fact it came just hours before the episode aired. But Kardashian claimed on Instagram that "this isn't for some ratings this is my real life so please understand I'm just being open right now".
What actually happened?
Well, a lot, it seems. Chyna's Instagram account was allegedly hacked and the hackers posted since-deleted screenshots of texts that Chyna had allegedly sent to her friends, complaining about Kardashian and calling him "lazy and fat".
In since-deleted videos posted on his Instagram page, Kardashian confirmed that Chyna had taken Dream and cleared out their house, leaving him with nothing. Next, Chyna created a new, unverified, Instagram account where she posted new videos of her own - mainly promoting the special set to air the next night. Kardashian, too, posted promotional material for the special.
Where have the posts gone?
Both Kardashian and Chyna's Instagram accounts have since been cleared of the weekend's dramatic posts, but the internet never forgets and the spat that played out in the comments sections of their posts have survived.
When Kardashian posted a photo of one-month-old daughter Dream with the caption "
I really miss this girl, never felt so in love with someone the way I do with you Dream! Look she has her thumbs up. Never thought a woman would try to take my happiness when all I wanted was to make her Happy. Man this is awful. Closing my eyes cuz this is draining.Rob Kardashian, on Instagram
He responded by telling her how heartbroken he is, saying "U blocked me and it's f***** up and I'm heart broken. I loved every inch of you".
Kardashian then took to Snapchat to post videos of the empty home he had just bought for their family. According to US Weekly, he said: "So I get home and Chyna took the baby, took the whole nursery we built ... She just left me alone and took the baby."
Why did she leave?
Kardashian had spent almost three years out of the spotlight, living a reclusive life away from his family, who were unable to help him. Chyna was credited with helping him lose weight and become comfortable enough to appear in public again.
But it seems the couple has been struggling, and Chyna has had enough.