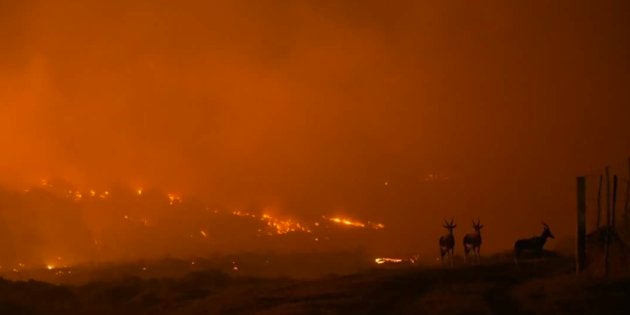 Strong winds continue to fan veld fires on the upper slopes of the mountain in Somerset West, with emergency services now classifying the fire as "out of control".
City of Cape Town Fire and Rescue Services spokesperson Theo Layne told News24 on Tuesday night that a fire at Bezweni Lodge had now spread to neighbouring farms.
"At the moment the largest of them [the fires] is the fire above Bezweni Lodge. The fire has spread to neighbouring farms and it is not under control," he said.
"It is still fanned by a very strong south easterly wind and our crews will remain here overnight and likely tomorrow to try and bring it under control but we are working with a vast area," he said.
He said he had received reports of property damage but was not able to elaborate on the scale of destruction.
"We have had reports of property damage but we have not been in a position to go and conduct assessments. We know that one of the properties at Bezweni has been damaged but to what extent I don't know," Layne said. -- News24Wire