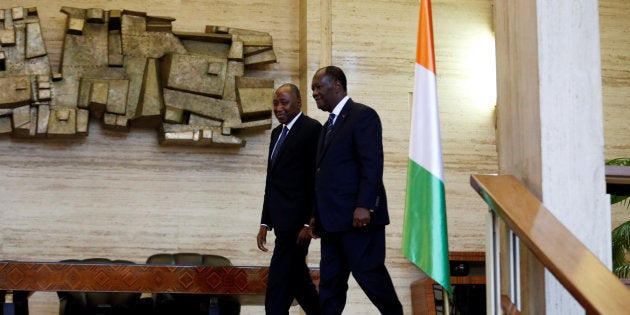 Ivory Coast's President Alassane Ouattara on Tuesday named a close collaborator and former prime minister Daniel Kablan Duncan as vice-president, a new post created under a constitution approved by referendum late last year.
The 73-year-old resigned as prime minister on Monday and will be replaced by Amadou Gon Coulibaly, a stalwart of Ouattara's RDR party, who had been serving as one of his senior advisers in the role of secretary-general of the presidency.
The vice-presidency is seen by many in Ivory Coast as a vehicle to allow Ouattara to groom a successor for when he finishes his second and final term in 2020.
"This is a person of experience, a great servant of the state, who has demonstrated his exceptional personal and professional qualities in all the high functions he has occupied," Ouattara said in a speech to lawmakers.
Under Outtarra's stewardship, Ivory Coast, the world's top cocoa grower, has emerged from a 2002-2011 political crisis with Africa's fastest-growing economy. Duncan has worked at the WestAfrican central bank and as Ivorian finance minister.
His membership of the PDCI party satisfies a political agreement with Ouattara's main coalition partner and is likely to reassure the foreign investors who have poured into the country since a civil war in 2011.
It also sees the two men continuing a collaboration that dates back to the early 1990s, when Duncan served as finance minister under Ouattara, a former International Monetary Fund official who was then prime minister.
The post of vice-president was created by a new constitution enacted in November and the post is intended to help ensure a smooth succession of power in the event the sitting president dies or is incapacitated while in office.
Ouattara's health is regular fodder for rumours in Ivory Coast. The 75-year-old had an operation for sciatica in 2014.
Though Ivory Coast's economy has flourished in recent years, the government still faces major challenges, including the need to reform its army, thrown together from rival rebel and government factions in the wake of the war years.
Though Duncan's move to dissolve the government on Monday had been expected after last month's parliamentary elections, it was delayed by a two-day mutiny by soldiers demanding the payment of bonuses and wage rises.
Ouattara dismissed the heads of the army, police and gendarmes on Monday.
Additional reporting by Loucoumane Coulibaly.