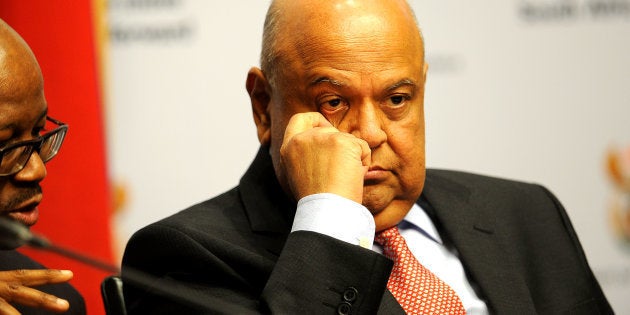 Minister of Finance Pravin Gordhan was in no mood to show mercy to the controversial Gupta family's Oakbay Investments when he filed his answering affidavit in the high court in Pretoria on Monday.
An agitated Gordhan explained it was prepared with many other more pressing concerns demanding his time — including the legislative process around the Financial Intelligence Centre Amendment Bill, the recent meeting of the World Economic Forum at Davos and preparations for the Budget.
He then proceeded to make it very clear what he thought of Oakbay and its legal arguments. Gordhan's greatest hits in the affidavit include:
On the unsubstantiated accusations against him: "Oakbay will therefore have to prove this (these allegations) in another forum on another day. It cannot have it both ways: making far-reaching allegations without the need to prove them."
On Oakbay's assertion that the company has suffered "devastating effects": "This is again, denied. So too are the allegations regarding 'slanderous innuendos', 'calculated applications', 'smokescreens' and related clichés."
On Gordhan's alleged intention to harm Oakbay: It is "a medley of allegations including mala fides, abuse, retaliation and political plotting".
On Oakbay lawyer Gert van der Merwe's objection to Gordhan's characterisation of "the state of affairs as serious": "He is free to describe his clients' conduct in whatever terms he wishes. Attributing it to me is unwarranted, however."
On Oakbay's persistent opposition to Gordhan's application: "Oakbay adopted the stance because it relished the opportunity to litigate against me. It has indeed used this forum to make allegations against me which not even The New Age could credibly disseminate."
On the plot against the Guptas: "I deny in particular any suggestion of a vendetta against the Guptas. No admissible factual basis exists for this extraordinary claim. Oakbay has indiscriminately advanced similar claims against others. Now it advances these claims against me. But only now is it for the first time contended that I am somehow the author of a grand political plot against the Guptas."
On Oakbay's intentions: "Had Oakbay honestly considered that I have orchestrated a concerted campaign against it, Oakbay would have of course not approached me for assistance."
On a number of Oakbay's legal arguments: "The inferential reasoning process is fraught with too many countercurrents . . . there is no basis for this extraordinary inference . . . it is a latter-day fabrication . . . it is an astounding allegation . . . Oakbay's attempt is flawed in logic . . . the argument is not a legally competent response . . ."