The five things you need to know on Tuesday, February 28…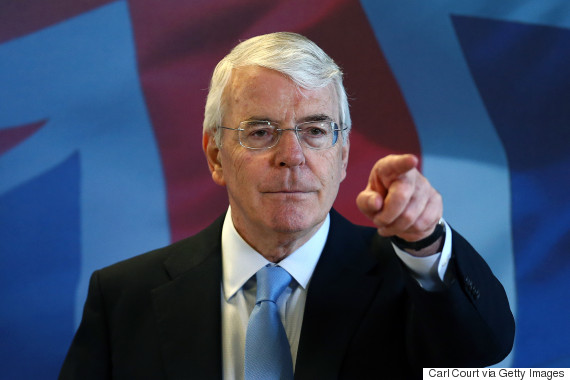 1) FROM MAJOR TO MINOR
Sir John Major's Brexit speech last night - an attack on Theresa May's 'cheap rhetoric' and a warning that the NHS could suffer in a bargain-basement, WTO-style Britain - certainly sparked a fresh cycle of sectarian verbal violence.
There was a swift backlash from Tory MPs, anti-EU newspapers and anyone else simply irritated that he'd adopted the very position he loathed about Margaret Thatcher: a 'back-seat driver'. It was like old times as 'bastard' Iain Duncan Smith laid into Major on Newsnight, calling him "strangely bitter" and "rather sad". The IDS tone was one of sorrow rather than anger. How strange the change, from major politician to minor, he seemed to say.
I spotted Kelvin Mackenzie at Westminster tube yesterday. In his infamous phone call to Major on Black Wednesday in 1992, the Sun editor told the then PM how his paper would cover the UK dropping out of the ERM: "I've got a bucket of shit on my desk, prime minister, and I'm going to pour it all over you." Major has since disputed this account (at Leveson no less) but buckets of merde are kind of how the pro-Brexit papers have reacted today.
The speech also laid bare what strange bedfellows the whole Leaver/Remainer row has created, as the ex-PM was praised by figures from Alastair Campbell (the man whose ruthless ridicule of Major helped Blair's 1997 landslide) to Labour MP David Lammy.
What may worry No.10 more is a warning from the British Chambers of Commerce that Brexit should be delayed if the Government is unable to agree a new free trade deal with the EU during the Article 50 period. The BCC has its annual conference today, with Boris Johnson and Greg Clark expected to join John McDonnell as speakers.
2) DEEP CUT BARRACKED
Philip Hammond made plain to Tory MPs in private last week that if they were going to get extra cash for the NHS, business rates relief, schools and social care, the money had to come from somewhere - and it was either tax rises or spending cuts. You can guess which most Conservative backbenchers prefer, and overnight it looks like we're getting another dose of austerity.
Just as Major was preparing his speech, Treasury Chief Secretary David Gauke announced Government departments have been told to find spending cuts of up to 6% as part of plans to save £3.5bn by 2020. This is all packaged as part of the 'efficiency review' announced in Osborne's final Budget, though the NHS, defence and 'core schools' finances are ring-fenced. Most significant is extra council 'efficiencies' will be used to help fund social care.
Shadow Chancellor John McDonnell has accused the Treasury of "sneaking out" the announcement (I couldn't find any Written Ministerial Statement yesterday). We have Treasury Questions at 11.30am and assuming McDonnell makes it back from his BCC conference speech in time, he can ask in the House what's going on.
3) NEGLECTING TO MENTION
Shami Chakrabarti and other Corbyn allies came under attack at the Parliamentary Labour Party (PLP) meeting last night, chiefly over the loss of the Copeland by-election to the Tories. MP after MP said how furious they were at the Shadow Attorney General's line on the Andrew Marr show that Copeland was "one of those constituencies that was neglected by my own party over some years". Backbenchers pointed out she had only joined Labour last year, and then as an unelected peer. She'd also 'neglected' to mention Corbyn's own responsibility for the defeat, it was pointed out.
You can read my account of the PLP HERE. What didn't help matters was the lack of Shadow Cabinet ministers at the meeting. Although Corbyn had sent his apologies, backbenchers were even more unhappy when a photo circulated among MPs of Chakrabarti and Shadow Home Secretary Diane Abbott having a quiet drink in the nearby Pugin Room - just a couple of minutes' walk away - as the meeting went on.
Bermondsey MP Neil Coyle said their refusal to turn up to the PLP was "an insult" to party workers, to campaign manager Andrew Gwynne and to all the party members "who worked bloody hard in Copeland - and know exactly why we lost". That was a less-than veiled reference to Jeremy Corbyn himself. Stoke Central campaign chief Jack Dromey warned against 'false alibis' for Labour's reduced vote share, citing canvass returns showing that neither Blair's speech nor 'divisions at Westminster' had registered with voters.
John McDonnell (who to be fair to the Attorney General has made similar points and also didn't attend PLP) tried to play down his dire warning of a 'soft coup' yesterday. But if you want to see how Corbyn supporters view the media reports on Copeland, you could do no worse than watching this spoof news clip by satirist Jonathan Pie. Oh, and there's this new video (complete with scary music) being circulated about the 'soft coup' itself.
BECAUSE YOU'VE READ THIS FAR…
Watch Government minister Lord Nash refer to his department's "web-shite". Nash for questions, indeed.
4) KIPPER WARS
The simmering rows within UKIP seem to have turned into open civil war today. Nigel Farage has used a Daily Telegraph column to call for the party's only MP Douglas Carswell to quit. "The time for him to go is now," he says. Just think about that for second: a party's ex-leader is saying its only member of Parliament should resign.
Relations between the two have never been cordial, not least as Carswell is a pro-immigration libertarian and Farage is a populist protectionist. But it seems they've fallen out over gongs. The Tel reveals emails showing that Farage's pals wanted to get him a knighthood (or 'a K' as they put it) but Carswell merely joked that he should be given an OBE "for services to headline writers". Farage says his MP is "consumed with jealousy and a desire to hurt me".
Perhaps what got Farage's goat was Carswell's words on The Week in Westminster on Saturday when he said the reason he wouldn't defect back to the Tories was because his Clacton constituents had been 'by-electioned out'. Our own Owen Bennett has done a piece looking at the fallout of the Stoke Central failure by Paul Nuttall, with Fargistes blaming the 'wets' in the party ie Nuttall's adviser Patrick O'Flynn.
5) ABUSE IN THE SYSTEM
The BBC's File on Four programme has some appalling new stats about 'elder abuse', with 23,000 'alerts' of incidents in care homes in the past three years. The United Kingdom Homecare Association, which represents 2,000 care companies, described the findings as "horrifying" and blamed cuts to local government budgets.
The Times has splashed on Britain's most senior child protection police officer saying that paedophiles who view indecent images should not be given any criminal sanction unless they pose a physical threat to children. Simon Bailey says the policing system has reached "saturation point" from increasing reports of sexual abuse, and that "lower-level offending" should be dealt with through counselling and rehabilitation. Is he saying police cuts reduce their capacity to deal with the issue?
Meanwhile yesterday England's mammoth inquiry into historical child sex abuse opened and the first testimony was of the "torture, rape and slavery" suffered by child migrants shipped to Australia. The Independent Inquiry looked at the schemes that sent thousands of vulnerable children to far-flung parts of the Commonwealth in the decades after World War II.
If you're reading this on the web, sign-up HERE to get the WaughZone delivered to your inbox.
Got something you want to share? Please send any stories/tips/quotes/pix/plugs/gossip to Paul Waugh (paul.waugh@huffingtonpost.com), Ned Simons (ned.simons@huffingtonpost.com), Martha Gill (martha.gill@huffingtonpost.com) and Owen Bennett (owen.bennett@huffingtonpost.com)