The five things you need to know on Thursday, March 9…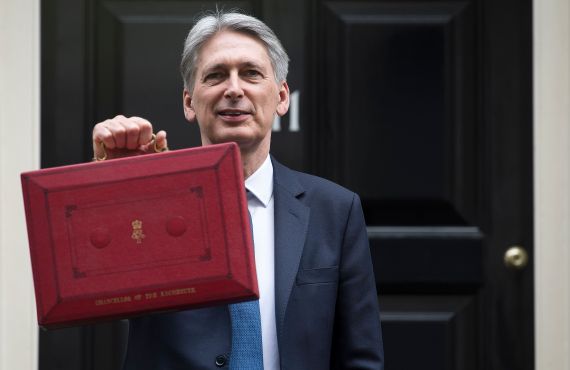 1) PHIL THE GRAVE
The jokes have gone, the grim undertaker-in-chief tone is back. It's the morning after the Budget before and Philip Hammond has learned the hard way that maybe he should leave the gags to others. As he did his breakfast TV round live from a factory in Dudley (always a marginal, always a message about making things), the Chancellor was back to his politics-by-percentages, Mogadon Man approach.
There was no hi-vis yellow jacket or builder's hat, but Hammond sounded as uncomfortable as George Osborne after his own Omnishambles Budget of 2012. Indeed Big Phil turned 'Computer Says No' into an art form this morning. "85% of people will be completely unaffected," he said. Of the 15% who were, 60% would benefit from NI cuts, he said. He even added that those on less than £16k would be protected, neatly forgetting that the PM herself has made a great pitch to those 'ordinary working families' earning around £18-21k. The Undertaker kept on digging his hole.
Yet the fairness argument (and it is a valid one to make, even left-leaning think tanks say) appears to spectacularly underestimate the damage caused by breaking the 2015 Tory election manifesto not to put up National Insurance contributions. The Chancellor's political spokeswoman felt the backlash swiftly yesterday as she tried the line that this was all OK because it the detail was explained in NICs legislation following the election. At one point she even added this was 'before my time', although that's not an excuse Hammond can use.
And the evidence is that the Chancellor was aware of the risk, but thought he could get away with it. One Tory MP texted me amid the row to point out White Van Man was hardly going to vote Labour in protest. The Times's Sam Coates has a telling line today that one Treasury official yesterday morning said this would be a 'George HW Bush Budget' - a hint that it was braced for a 'read my lips, no new taxes' row.
And that's the real point here. It's about trust. May's whole rationale for not unpicking the EU referendum result is that to do so would be to further erode voters' trust in politicians. Chancellors have a habit of breaking their own self-imposed and ultra-grand 'rules', but breaking a manifesto pledge is toxic precisely because it undermines future promises in future elections.
"Were you lying?" Hammond was asked on Sky News. He could only reply that the higher-paid, like lawyers, would "pay a little more". And former Bank of England man Andrew Sentence warned yesterday that this 2% hike in NI was just the start, with more rises likely in coming years. Asked on Today if he planned more, Hammond said: "No Chancellor can ever rule out future tax changes…" Which is a clue to how ludicrous he thought Cameron and Osborne's 'tax lock' promise was.
I wrote last night HERE about how the tax rise for the self-employed unravelled through the day. It culminated with Tory backbencher James Cleverly warning Hammond at the 1922 Committee that he and others would defend the hikes - but only if the Treasury didn't dump on them with a U-turn later. The message was clear: if you dump this, dump it quickly and give us some much better lines-to-take.
Tory MPs are very reluctant to criticise the Chancellor but after a set of appalling front pages (The Sun: 'Spite Van Man', the Mail: 'No Laughing Matter', the Star: 'Rob The Builder', the Telegraph: 'Tories Break Tax Vow') a few have made muted remarks about the need for a rethink. Anne-Marie Trevelyan told Today the changes should be "put on hold" and suggested an amendment could be tabled. One minister told Newsnight: "'We are shooting our own people".
Asked directly if he would reconsider the NI rise, Hammond made clear to BBC Breakfast he wouldn't. "We think it's a reasonable way to go forward," Note the royal 'we' there, a signal that No.10 is in it up to its neck in this as much as No.11. Theresa May is in Brussels, but is bound to be asked for her defence of the manifesto breach at the late press conference. I can't imagine she'll admit to breaking a promise, but her critics will want to see her squirm.
2) SQUEEZE ME SLOW
We've done a list HERE of the 10 bits of bad news the Chancellor appeared to want to bury in the Budget. Immigration is set to go up by half a million, despite Brexit (Hammond admitted on Today that EU immigration would continue 'for years'). There's a whopping new £655m post-2020 cash boost for new grammars (either their buildings are going to be expensive or many more than thought are planned). There is also something that will delight green groups - a hint of a diesel tax rise - but is already worrying cabbies.
But what was also striking was the forecast of a continuing wages squeeze, and the Office of Budget Responsibility says "real household disposable incomes are expected to stagnate in 2017". And at 7am today, the Resolution Foundation (which defended the NI rise) put out a new analysis that will take the shine off the Treasury's claims that everything is set fair for Brexit.
Here's a few bullets: Real average earnings are only set to return to their pre-crisis peak (2007) by the end of 2022 – 15 years on. This is set to be the worst decade for pay growth for 210 years, with lost pay growth of £12,000 by 2020. Following a brief mini recovery, real average income growth is set to fall to 0.2 per cent by 2020 – lower than any pre-crisis period. Pay stagnation and benefit cuts means that this parliament (2016-17 to 2020-21) is set to be worse for the poorest than even the financial crisis backwash (2007-08 to 2011-12).
The IFS has its usual Day Two analysis of the Budget at lunchtime. It also backs the NI rise, but I suspect it will find other things to worry the Chancellor.
3) GEORGE'S MARVELLOUS MEDICINE
There's no greater tonic for a former Chancellor, no nicer pick-me-up after a sacking, than to a well-paid job in the City. But George Osborne has shown that he really doesn't care about perceptions that he's lining his pockets while Britain copes with years of more austerity.
Blackrock Investments clearly thinks it's paying the market rate for a former Chancellor's expertise, but what a price: a cool £650k for doing one day a week at the Wall St giant. Someone has a delicious sense of timing too, given this emerged in his MPs' register of interests on Budget day.
At an event to promote the 'Northern Powerhouse', Osborne last month explained his marvellous midlife career: "This week is not a bad snapshot of my life. On Monday, I was in New York accepting a Kissinger fellowship at the McCain Institute, then on Wednesday I was speaking in the House of Commons about Europe, and here I am with my colleagues promoting the north of England and later you can come and join me in Knutsford in my constituency. That seems to me a pretty varied and interesting way to spend my time and hopefully make a contribution to our national life."
BECAUSE YOU'VE READ THIS FAR…
Watch a fan's smartphone video as Barcelona complete one of the most amazing football comebacks in history
4) SCORN WARNING
Scottish First Minister Nicola Sturgeon has told the BBC she is 'not bluffing' about calling a second independence referendum. And to spice things up, she has refused to rule out calling one as early as the autumn of 2018.
Beautifully timed to make Theresa May's life even more complicated, her remarks come in BBC Two's Brexit: Britain's Biggest Deal documentary. Asked if autumn 2018 was a likely date, she replied: "Within that window, of when the outline of a UK deal becomes clear and the UK exiting the EU, I think would be common sense time for Scotland to have that choice, if that is the road we choose to go down."
Stewart Hosie told BBC Breakfast he agreed with Sturgeon that autumn 2018 "might make sense". Many in government still think Sturgeon won't risk it unless she's ahead in the polls. But she's just laid down a marker that the PM could be gambling with the Union if her own bluff of a WTO-style UK backfires. Will May really refuse a referendum request? Let the great staring competition begin..
5) CAPTAIN PHILLIPS?
Away from the Budget, Labour's Jess Phillips marked International Women's Day by taking part in our Commons People Live event at HuffPost HQ. And the Brummie backbencher didn't disappoint (Watch the whole thing HERE).
Asked if she wanted to become Labour leader one day, she replied with inimitable candour: '"I would, and I say that I would as I feel I'm duty bound to not be that sort of shrinking flower that goes 'Oh I couldn't possibly...'
"Because I think that actually one of the problems that women have in stepping forward is women are much less willing to verbalise and visualise their own ambition and I want women to stop doing themselves down. I want them to say: 'You're damn right I should be the boss of this company! You're damn right I should get this promotion.'"
If you're reading this on the web, sign-up HERE to get the WaughZone delivered to your inbox.
Got something you want to share? Please send any stories/tips/quotes/pix/plugs/gossip to Paul Waugh (paul.waugh@huffingtonpost.com), Ned Simons (ned.simons@huffingtonpost.com), and Owen Bennett (owen.bennett@huffingtonpost.com)