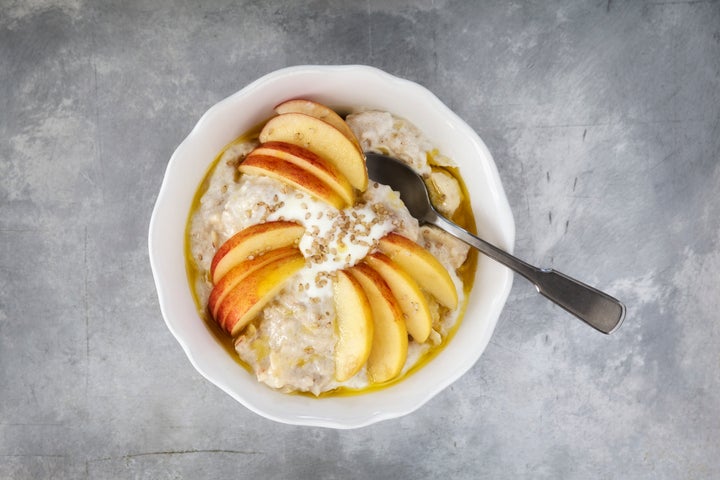 When it comes to eating healthily, lunch and dinner can be the easy.
After all, it's usually not too difficult to throw some dinner leftovers into a Tupperware, or grab your usual salad from the shop round the corner. Breakfast, however, tends to be a different story.
But it shouldn't be this way. "Breakfast literally breaks the fast of you not having eaten from the night before. It gives the body much needed energy for the day ahead and restores blood glucose to acceptable levels," says Laura Jobes, women's health and wellness coach at laurajobes.com.
"Because of this it's important that you're fueling your body with healthy nutritious, vitamin rich foods and not just laden, carb-heavy easy options. Eggs, avocado, or overnight oats are perfect choices."
Create on-the-go, picnic-style fare and stay healthy, satisfied and ready to nail your working days. Crack these out and love your AMs.
Soaked oats with pomegrante and cocoa nibs
Mix this jewel-like fruit with the indulgence of cocoa nibs or chocolate for a decidedly delicious and filling breakfast that won't ruin your health.
Take 170g of rolled oats, 120ml of milk, 1 tablespoon of ground flax or chia seeds, 1 tablespoon of cocoa nibs or chopped chocolate, and stir everything into a jar or resealable pot. Cover and refrigerate overnight. Stir before eating, add milk if needed, and top with pomegranate.
Banana and coconut muffins
These are perfect to make at the weekend, as they'll keep in a tight tin or container all week. Take 250g plain flour, and mix with 1 teaspoon of baking powder, 100g of caster sugar (or 50g of Stevia), 100g butter, 175ml milk, 75g of desiccated coconut, 1 egg, 4 small and ripe bananas, and a bit of vanilla extract and cinnamon to taste.
Mix the dry ingredients first, then add the bananas, and then the liquid ingredients. Bake in muffin cases or tins at 200C for 20-25 minutes or until golden brown.
Rye bread with beetroot
For something savoury yet healthy, there's nothing better than this Scandinavian-inspired beauty.
Bang on trend, rye bread fills you up without spiking your blood sugar (so no post-meal cravings), and it's full of heart-healthy whole grain. Simply spread cottage cheese on some rye slices, and top with chopped beetroot for a great source of antioxidants and iron.
Breakfast quiche
One bite of this and you're instantly transported to a dappled-sunlight park - plus, they keep in the fridge for days, and are super easy to take with you on the go.
We recommend lightly frying diced onion and spinach until just cooked (you can also fry bacon, ham or chorizo), and then transferring to a bowl, adding and mixing in 60g mozzarella or cheddar, 60ml of milk, and four well-whisked eggs. Transfer into an oiled muffin tin and bake at 180 for 20 minutes or until set.
These are easy and quick, as you can chuck in pretty much any leftover bits of meat, cheese or veg in them, and they still taste great.
Tortilla with spinach and avocado
Fry chopped onion and chopped potatoes in hot oil in a heavy-based, flat pan, before turning down the heat and covering the pan to slow cook both onions and potatoes until soft.
Add everything to a bowl of whisked eggs, before putting the whole lot back in the saucepan on a low heat. Leave for 20-25 minutes. When there is no liquid egg left, flip the tortilla and brown the other side for 5 minutes. Serve with fresh tomatoes and avocado (or even some cheeky fried chorizo or prawns) for a super-tasty breakfast.
Good-for-you pancakes
Pancakes don't have to mean sugar. For this take, combine ripe mashed banana with two eggs and a pinch of baking powder, and pour into a lightly buttered, warm pan.
Amp up the post-workout protein content with a scoop of whey powder, or sweeten it up with a tablespoon of cocoa. Stick in some kitchen paper and away you go, to conquer the day.
type=type=RelatedArticlesblockTitle=See also: + articlesList=592d2b76e4b0df57cbfd09c3,5937fe1ce4b0aba888ba6462,592ef89ce4b09ec37c310464