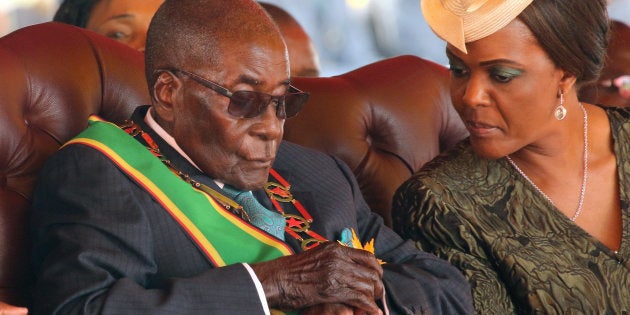 Zimbabwean first lady Grace Mugabe has handed herself over to police on Tuesday after she allegedly assaulted a 20-year-old model with an extension cord in Sandton.
"[She] is not under arrest because she co-operated, and handed herself over to police," police minister Fikile Mbalula told eNCA after handing herself in.
She is expected to appear in Wynberg's Magistrate court later on Tuesday.
The Star reported on Tuesday that Mugabe allegedly beat up a 20-year-old South African woman at a hotel on Saturday. The woman, Gabriella, and her mother, Debbie Engels, said they were going to lay criminal charges against Mugabe on Monday.
Gabriella was allegedly assaulted while visiting Mugabe's two sons who are studying in the country. The department of international relations says Mugabe is unlikely to receive diplomatic immunity.
"We're at the police at the moment to open a case. But my daughter is shaken up by what happened," Engels told The Star. Gabriella was reportedly treated for shock at the hospital after the incident.
Mugabe allegedly assaulted her and two of her friends with an extension cord, splitting her head open in three places, while the two sons and their security guards watched.
Gabriella told News24 that she did not know why Mugabe did this.
"When Grace entered I had no idea who she was. She walked in with an extension cord and just started beating me with it...
"She flipped and just kept beating me with the plug. Over and over. I had no idea what was going on. I was surprised... I needed to crawl out of the room before I could run away."
Mugabe was in the country seeking treatment for an ankle injury, Zimbabwean media reported.
Clayson Monyela, spokesman for the department of international relations and cooperation, told The Star that Mugabe might not receive diplomatic immunity.
"Firstly, for it to apply, she needs to be here on official business. It won't apply if she's here on holiday or for something else. Secondly, as a first lady, she's not part of government or a government official. It doesn't apply just because she's the wife of a president."
Meanwhile, Gauteng MEC for community safety Sizakele Nkozi-Malobane condemned the incident, IOL reported.
"I am deeply appalled and devastated by the allegations of assault on a young woman by Grace Mugabe," said Nkosi-Malobane.
"It is worrying especially since the assault happened during the month when we commemorate women for their role in the liberation struggle. Also, it is aggravated by the fact that the incident has been committed by someone with a high social standing in society."