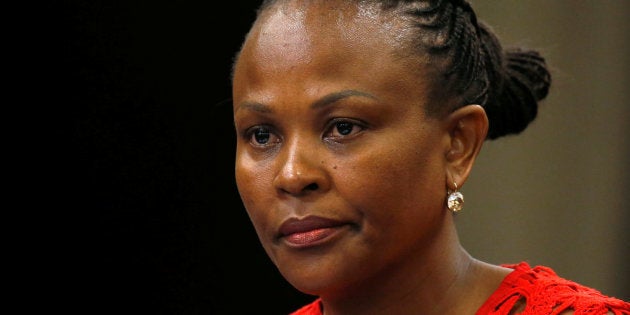 The Public Protector's office has rubbished reports that Busisiwe Mkhwebane had ulterior motives when meeting the presidency and state security officials ahead of the release of her Bankorp report.
Mkhwebane's spokesperson, Cleopatra Mosana, claimed the reports were a diversion which forms part of a well-orchestrated campaign to undermine Mkhwebane's independence.
"This is a diversion, a well-orchestrated issue where people are trying to undermine the independence of the public protector," she said.
An affidavit from the South African Reserve Bank reveals Mkhwebane met with the Presidency and the State Security Agency to discuss amending the bank's constitutional mandate just weeks before she released her Bankorp report.
In an interview with Radio 702 on Wednesday, Mosana said there were "wrong narratives" intended to create public distrust in terms of why Mkhwebane met the presidency.
"She can meet anybody during an investigation and that is why she met with the Presidency and the state security," Mosana said.
"When she wrote correspondence to the Presidency, the Presidency then requested to meet [Mkhwebane] to get issues of clarity. It's just that the Presidency needed clarity based on the correspondence that [Mkhwebance] had written to the Presidency."
Mosana said the Reserve Bank never made a request to meet Mkhwebane.
Asked if the meetings were recorded, Mosana said they were not because of confidentiality.
In June, Mkhwebane released her report on her investigation into allegations of maladministration, corruption, the misappropriation of public funds and the failure of government to implement the Ciex report and recover funds from Absa bank.
She recommended that Parliament evoke a constitutional amendment to the Reserve Bank's powers and that the Special Investigating Unit seek to recover more than R1 billion in alleged misappropriated public funds awarded to Absa in a series of apartheid-era bailouts.