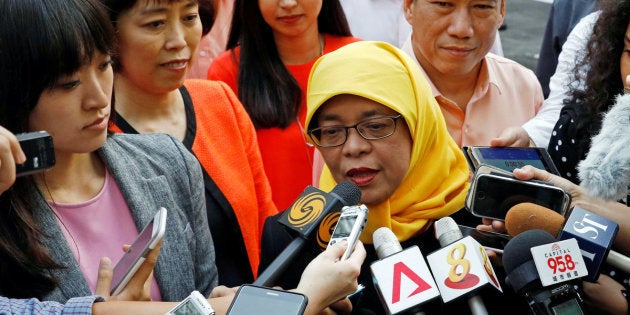 Singapore is set to welcome its first female president ― a hijab-wearing Muslim woman named Halimah Yacob.
Yacob was the only candidate to meet the stringent qualifications for presidency set up by Singapore's Elections Department, the Straits Times reports. That means she's likely to become president-elect after nominations close on Wednesday, and take her oath of office on Thursday.
Since Yacob was the only candidate left standing, she'll effectively win the presidency without an election ― a fact that has led to heated criticism from citizens of the city-state about its electoral process.
"I can only say that I promise to do the best that I can to serve the people of Singapore and that doesn't change whether there is an election or no election," Yacob said about the news on Monday, according to Channel News Asia.
The 63-year-old politician is the youngest of five children, raised by a single mom who worked as a food cart seller. She graduated from the University of Singapore with a law degree and went on to work for a national trade union organization. Yacob entered local politics in 2001 and rose to the rank of Speaker of Parliament in 2013. She resigned from that post in August.
In Singapore, the prime minister is the most powerful political leader, while the president's role is largely ceremonial. However, the president does have some important responsibilities, such as the ability to block key public-sector appointments, investigate allegations of corruption, and appoint a prime minister.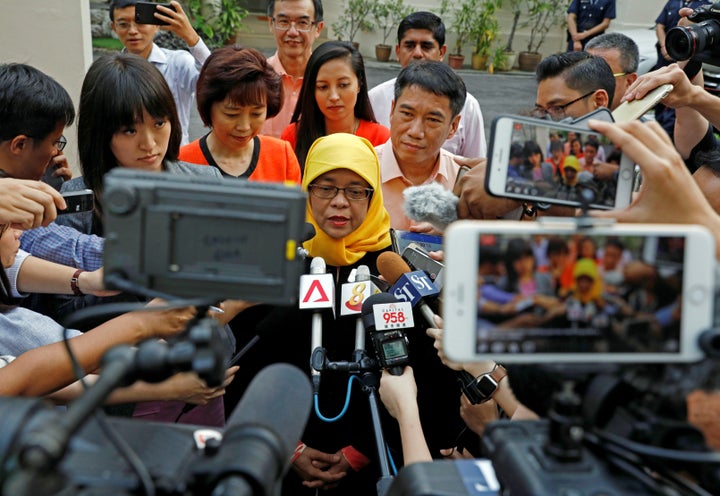 In 2016, Singapore's parliament decided that the post of president will be reserved for a candidate from a particular racial group if no one from that group has been president for five continuous terms, or 30 years. That meant that this year's election was reserved for someone from Singapore's minority Malay community. The last time Singapore had a Malay president was in 1970.
Presidential hopefuls are required to submit applications to Singapore's Presidential Elections Committee. Although other candidates submitted applications, the committee announced in a press release that it was only issuing a certificate of eligibility to one candidate. Yacob was reportedly the only one who met the committee's requirements ― which include either experience in a top public post, or experience managing a private company with a specific minimum in shareholder equity.
Eugene Tan, an associate law professor at Singapore Management University, told The New York Times that there has been a "groundswell" of criticism online about the lack of an election.
"A contest would have added to her legitimacy," Tan said.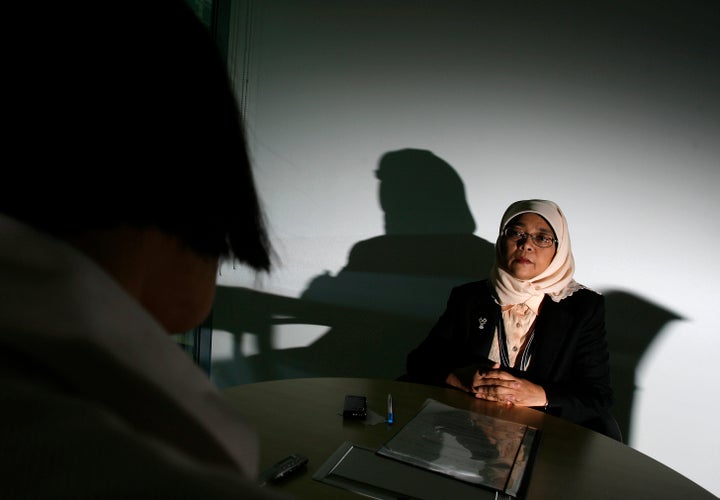 Although Yacob is set to make history for Singapore as a hijab-wearing woman, the city-state still has bans against hijabs in some government schools and public sector jobs. According to Reuters, Yacob hasn't often spoken publicly about this ban.
On Monday, Yacob said that she believes the President's role is to act as a "unifying force."
"Obviously there is work that I have to do, but the most important thing for me is I would like Singaporeans to work together with me," she said, according to Channel News Asia.