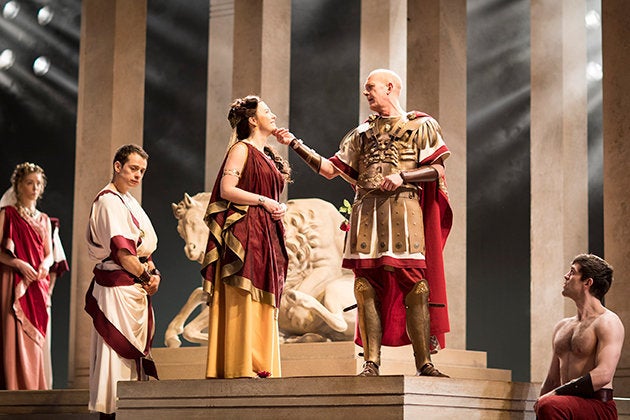 Perhaps it's always a good time to put on Shakespeare's Rome plays, as themes of power, betrayal and leadership are never out of vogue.
But in these days of tumultuous change across the world, there has never been a more apt moment for the Royal Shakespeare Company to perform Coriolanus, Julius Caesar, Antony and Cleopatra and Titus Andronicus.
We spoke to the season director of the RSC's ROME MMXVII London Season, BAFTA-nominated Angus Jackson, as all four plays transfer from Stratford-upon-Avon to the Barbican. We asked him about the Bard's most powerful works and how relevant Shakespeare's work is today.
"These plays are all about how you choose your next leader, and whether democracy is an absolutely brilliant form of government, or the rule of the mob.
"They're also about the personalities of people in power. The powerful people in the world at the moment are behaving in all sorts of ways that are resonant of the Rome plays, as are the people to some extent, I would argue."
The season opens with Coriolanus, a full-throttle war play set at the dawn of the Roman Republic.
"Coriolanus is superb," Angus enthused. "Sope Dirisu [who plays the title role], just walks the walk. If you like a modern dress production, it's a really refreshing one to watch."
It's a play that has been adopted by both ends of the political spectrum, but Angus feels strongly that his job is not to tell people what to think.
"The great thing about a play like Coriolanus is that it pits different sides against each other. And our responsibility is to take every side of the argument very seriously. If you take a view that one side is the right side, it becomes much less interesting as a play."
Meanwhile, Julius Caesar takes place at a time when Rome's empire stretched from Britain to North Africa, as Caesar (played by Andrew Woodall) returns from battle, triumphant.
Yet his enemies - and some of his friends - fear his power is becoming too great for the good of the Republic and conspire to kill him. The plotters, Brutus and Cassius, are played by Alex Waldmann and Martin Hutson, respectively, alongside the powerful presence of James Corrigan as Mark Antony.
"Brutus is so absolutely convinced that he's doing the right thing but is also terrified that he's not. He doesn't just drive the plot, he actually talks himself into doing something. And then he and Cassius end up in a muddy field somewhere going: 'Hmm, I don't know…'"
Throughout the Rome plays Shakespeare reminds us that spin - and even fake news - may not be new inventions.
"No, the great liberation of Shakespeare's work is you can examine it and ask what does this mean and how does this character know this? Mark Antony really got into it in Julius Caesar. Certainly when he read his will - which he hadn't possibly had time to get because he'd been in with the body - we hypothesise it's just a blank piece of paper and he's making it up."
The reading of the will is key in turning the people against Caesar's assassins, particularly as it appeared to leave money for every Roman citizen. Directed for the RSC by Jackson himself, the play sees Caesar's death followed by a civil war which leaves Mark Antony as one of Rome's leaders.
We find Antony at the peak of his powers some years later in the third Rome play, Antony and Cleopatra, directed by Iqbal Khan. The title roles are taken, respectively, by Antony Byrne and Josette Simon, and the music written by Laura Mvula.
Antony has neglected his empire to be with his mistress, Cleopatra, Queen of Egypt. Torn between love and duty and softened by luxury, Antony's military brilliance deserts him and, in a tale of shifting loyalties, betrayal and power, passion leads the lovers to a tragic end.
Titus Andronicus will also be a contemporary production, with Blanche McIntyre directing and David Troughton as the titular lead. We wondered if that made it less gory.
"It's extremely gory. I think the modern dress just makes it seem even more gory. The minute you put someone in a suit or Bermuda shorts and then start chopping bits off them, it really hits home," he said of Shakespeare's most bloody work.
There's a strong sense throughout the four plays that violence begets violence. There may be plenty we could learn from them, but are we listening?
"Oh, I hope so," said Angus. "As artists we're always looking to change the world in our small way. It speaks to my point that the plays don't have a message. The message isn't 'don't commit murder'. If there's a message in Julius Caesar, it's the law of unintended consequences. The great thing on Brutus' mind is 'What if I don't act?' All that's required for evil to triumph is for good men to do nothing."
This extraordinary collection of plays exposes the decadence, politics, power play and corruption of Ancient Rome, charting the decline of an empire from birth to eventual implosion. These plays are so relevant to today's political and personality-led world that their currency is unmistakable.
The Royal Shakespeare Company's London Season ROME MMXVII plays at the Barbican from 6th November to 20th January 2018. Get more information