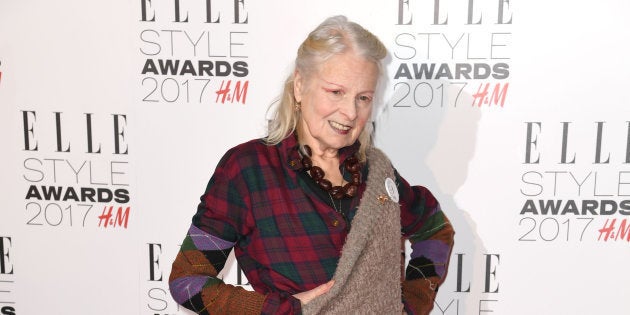 Plenty of people have secrets for staying young, but fashion designer Vivienne Westwood might employ the most unconventional method.
The 76-year-old, who is also an avid environmentalist, told reporters at the Andreas Kronthaler for Vivienne Westwood Spring 2018 fashion show over the weekend that she stays young by skipping the shower.
"Don't wash too much," she said, via The Guardian.
"She only takes a bath every week. That's why she looks so radiant," Kronthaler, who is also Westwood's husband, said. He added, "I only wash once a month," though it's unclear if Kronthaler was joking.
Westwood previously spoke about her shower habits (or lack thereof) in a video for PETA.
"Normally at home, I'm not used to the habit of a shower," she said. "I just wash my bits and rush out in the morning. I more often than not get in the bath after Andreas."
Westwood isn't the only celebrity known for her eccentric hygiene habits. Robert Pattinson created quite the stir a few years ago when he admitted to not washing his hair.
"I don't really see the point in washing your hair," the actor said in a 2009 interview with Extra.
"If you don't care if your hair's clean or not then why would you wash it?" he said at the time. "It's like, I don't clean my apartment 'cause I don't care. I have my apartment for sleeping in and I have my hair for just, you know, hanging out on my head. I don't care if it's clean or not."
In a very candid appearance on "The Ellen DeGeneres Show," singer and shoe mogul Jessica Simpson revealed she only brushed her teeth a few times a week.
"My teeth are so white and I don't like them to feel too slippery, but I do use Listerine and I do floss every day," Simpson said in her 2010 interview. "But I don't brush them every day. I'll use a shirt or something ... I know it's gross, but I always have fresh breath."
It's not only celebs abroad, however, that are leading the water-saving, radiance-inducing revolution. South Africa's premier of the Western Cape, Helen Zille, recently revealed she only showers "briefly" every few days to do her part in saving water.
In reaction to Westwood's comments, Zille tweeted she is "not alone" in her bathing habits, humorously pointing out she is "emulating a fashion icon".
In light of severe drought in the Western Cape, and extreme water scarcity in many parts of the country, Zille -- whether chanelling Westwood or not -- may just be setting the right example (...and maybe a trend).