The number of vasectomies performed in NHS hospitals and sexual health clinics has dropped by 63% in a decade, figures show.
New data from NHS Digital shows there were 29,344 vasectomies in 2005/6, falling to 10,880 in 2015/16.
The rate of reduction is slowing down, the data suggests, with only a 2% decrease between 2014/15 and 2015/16.
While a vasectomy should be available on the NHS, some regions have restricted access to the procedure in a bid to save cash.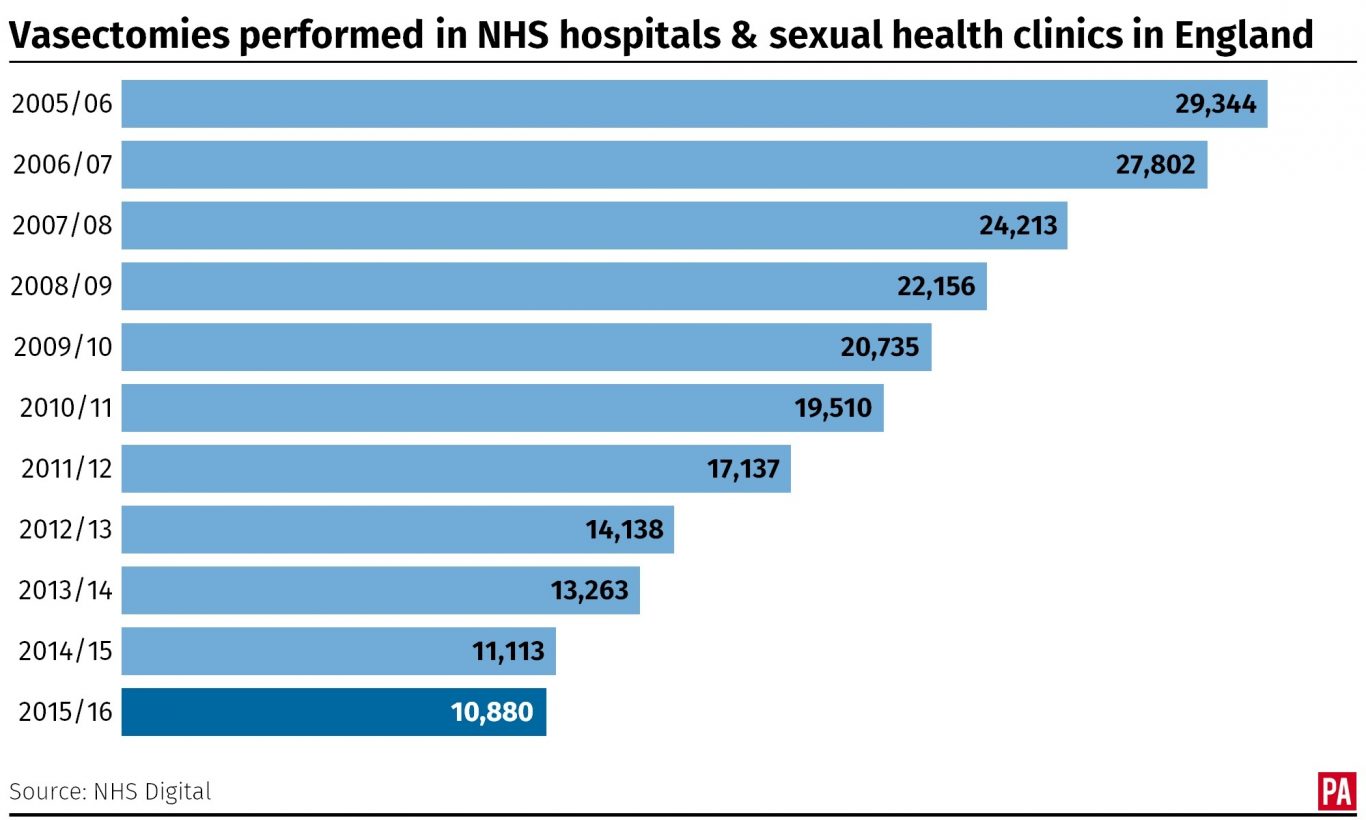 A spokeswoman for the British Pregnancy Advisory Service (BPASA) said: "The fall in vasectomies may reflect the fact that there are more GP practices offering men this service which are not captured in the statistics.
"However, some men may be finding it harder to access the procedure – and we know women sometimes feel under pressure to accept a long-acting reversible contraceptive like a coil or an implant when their partner requests a vasectomy.
"This is not acceptable as vasectomy offers couples a way for a man to take the burden of contraception that his partner may have long shouldered.
"But the decline may also reflect social shifts – couples are waiting longer to start and complete their families, and there may also be greater awareness that relationships can fail and that vasectomy is generally an irreversible choice."
Natika Halil, chief executive of the Family Planning Association (FPA), said: "Being able to choose the right contraceptive method for you is incredibly important, and given the lack of choices currently available for men, this makes access to vasectomies even more vital.
"Some commissioners in England, in areas including Essex, are now no longer offering vasectomies on the NHS, which means men may have to pay up around £500 for a private procedure.
"Unfortunately evidence shows that cuts to services, a fractured commissioning system, a lack of accountability, and a lack of training for healthcare professionals have all led directly to a reduction in access to contraception.
"Recent cuts to public health budgets have been dramatic – £800 million over six years."