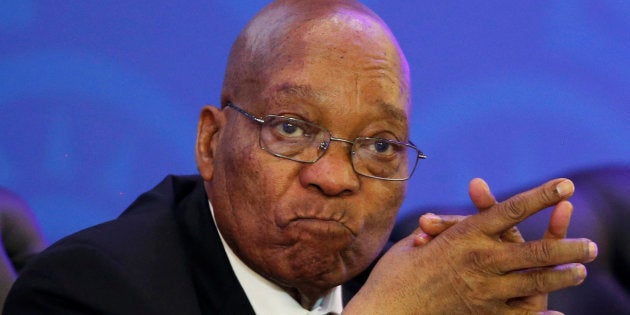 A statement from the ANC praising President Jacob Zuma's reaction to questions put to him in Parliament on Thursday leaves a lot to be desired.
It shows a party that is either in serious denial about its president's silence on pressing matters, or one that purposefully turns a blind eye.
Thursday marked Zuma's last question-and-answer session as ANC president. It was the last opportunity for the House to get information out of him this year. But of course, he would not let that happen.
But his party clearly saw things differently.
"The ANC lauds [Zuma] for his continuing and undeterred commitment to account to the people of South Africa by regularly appearing before Parliament to answer questions on a number of the most pressing issues facing South Africa today," the party said in a statement on Thursday night.
Firstly, the ANC is praising its president for something he is constitutionally obligated to do. It's like praising a teacher for their "continuing and undeterred commitment" to marking test papers.
"Questions put to the president for oral reply included amongst others the work of the Presidential Infrastructure Coordinating Commission, job creation, and government's response to climate change," the party continued.
Yes, but those were only the questions from ANC MPs designed for the party to boast about their progress on various matters. Zuma indeed answered those thoroughly.
But what about the questions tabled by the opposition on equally important matters, like state capture, corruption and the amount of taxpayer money used to keep Zuma from facing his day in court?
Why has he not got rid of embattled Social Development Minister Bathabile Dlamini? Zuma's answer: because apartheid.
How are we going to afford the nuclear deal? Zuma's answer: we need nuclear because...
His response essentially was that the State attorney Act allows him to spend taxpayers money to defend himself. Of course, no figure was given.
Parliament then erupted into chaos, the DA on the one end –– their frustrations now past boiling point after begging for Zuma to answer –– and the ANC on the other in a typical shouting match. Points of order came from both sides of the room, while Zuma sat in the middle, surely knowing the ruckus would again prevent him from being pushed for a direct answer.
The ANC's statement however, lays all blame at the DA's door, despite Deputy Speaker Lechesa Tsenoli essentially ignoring the DA's repeated attempts, through points of order, to get the president to answer a question, which eventually prompted the party's withdrawal from the chamber.
"The president's fulfilment of his obligations to Parliament and to the electorate stand in stark contrast to the wanton behaviour of the DA, which today once again showed its disrespect for the people of South Africa by staging a walk-out during the president's question time," the ruling party's statement claimed.
"This evidences a political immaturity unbecoming of a official opposition in a democratic state.Walk-outs have regrettably become the default position of the DA in Parliament and are taking place with increased regularity."
Yes, walk-outs do solve nothing. It allows the president to continue unchallenged. His own party will not hold him to account. But in this case, can one truly blame the DA for leaving? The Economic Freedom Fighters have even given up trying to get any sort of accountability from the president in Parliament; they now boycott his appearances from the start.
The ANC's statement shows a clear –– and unsurprising –– bias in favour of their president. Pretending that Zuma isn't doing what he is doing –– and over and above that, defending and lauding his actions –– could be seen as another factor contributing to their declining voter support, which resulted in the party losing four metros last year.
And that will have to change, if they hope to maintain their dominance in 2019.