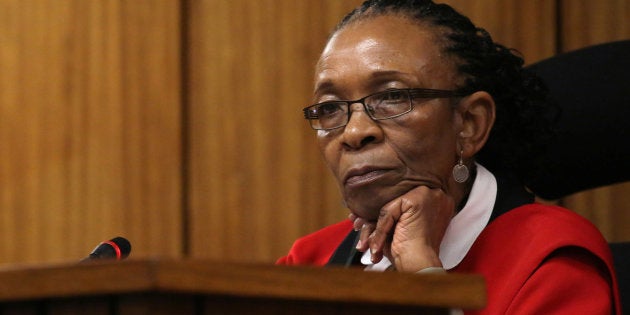 Judge Thokozile Masipa failed to put forward substantial and compelling reasons why she deviated from a minimum sentence of 15 years when she sentenced Oscar Pistorius for Reeva Steenkamp's murder, the Supreme Court of Appeal heard on Friday.
Prosecutor Andrea Johnson told the court that Judge Masipa erred in her judgment in sentencing Pistorius to six years.
"The sentence should reflect the gravity of the crime," she said.
The State is attempting to have the six-year jail term lengthened.
"The court regarded Pistorius' belief that there was an intruder in the house as a mitigating factor," Johnson said of the previous judgment.
She said this was a misdirection.
Johnson also felt that Pistorius did not show remorse for Steenkamp's murder.
Justice Ronnie Bosielo challenged Johnson on her submission, saying Pistorius made several attempts to contact the Steenkamp family.
"He tried to apologise. How do you verbalise remorse? What more could he have done?" asked Bosielo.
Johnson said: "He failed to take the court into his confidence and say, 'This is why I did it' ... There is no true, genuine, gut-wrenching remorse."
She said while Pistorius said he was sorry for murdering Steenkamp, he never gave reasons as to why he did it.
"He had ample time to bring this court into his confidence and say why he did it," she said.