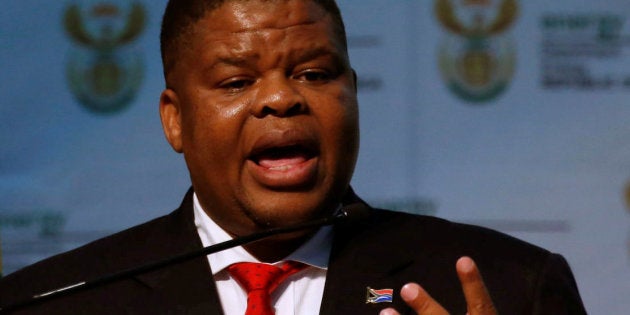 The ANC will be discussing issues surrounding the leaking of state information to journalists and other groups at the party's national conference in four days, said Energy Minister David Mahlobo.
"There is a new phenomenon of people who are actually accessing information that they are not supposed to access, either wrongly or incorrectly, and it is a matter that you must be more worried [about]. For an example, information that lands in wrong hands, even to you as journalists," he said.
Mahlobo, who forms part of the ANC NEC's subcommittee on peace and stability and is also the former head of the State Security Agency, was addressing the media on the committee's policy discussions for the conference. He was responding to questions on the use of intelligence to further political motives.
"The integrity of people who must safeguard this information, we have a problem. We must be worried about the people working in the system... they must be able to live to their oath of office... it is one of the issues we are going to discuss," he said.
"This information that is actually obtained illegally, how does it get to be used? For character assassinations and dealing with each other. Lately you see a number of books, number of writings, things are substantiated and others are unsubstantiated... That's what we need to discuss."
He said people working law enforcement agencies must "desist any temptation" to get involved in political affairs because their "duty is to remain apolitical".
These are some of the other issues the ANC will also be discussing with regards to peace and stability:
Amending legislation around bail conditions and parole: Mahlobo said one of the issues currently faced by police is that someone gets arrested, they apply for bail, they are released and then they "disappear". He said the other issue is that perpetrators who are given life sentences can apply for parole on good behavior after 25 years in jail.
Quality of investigations: "A number of people are arrested but we don't have effective prosecution. That's why we want to look at intelligence-driven investigations... On home affairs there arw a lot of issues being raised. It is being located firmly as part of the security cluster," Mahlobo said.
Incarcerated foreigners: "There were issues being raised about non-nationals being involved in criminal activities. We did allude to say if you are looking at the ratio of some of the population (in jail) of non-nations, 6640 of foreign nationals are serving on average 10.6 years for various crimes committed," Mahlobo said. "One of the issues we are looking at very seriously is how do we ensure that there is an interstate prisoner exchange using the current international laws that are there."
Corruption Mahlobo said the ANC will discuss how to strengthen investigations in cases of corruption so successful prosecutions can be achieved. "We are also saying that the law must be reviewed. Private sector corruption is treated very differently... The only thing we want as the ANC is that corruption must be corruption. It can't be given different names where others, instead of being brought to jail, you just actually just give them a small whack on their knuckles and give them a fine," he said.