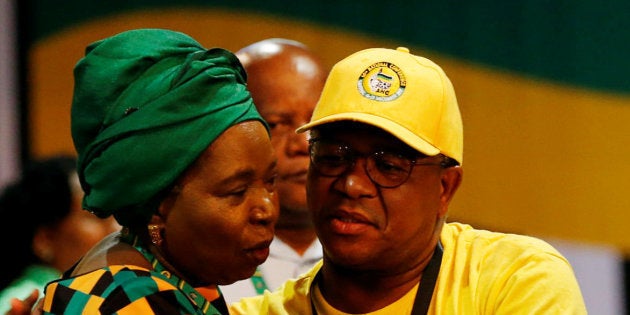 The Independent Police Investigative Directorate (Ipid) is investigating a failed plot to defraud police crime intelligence of R50-million, allegedly used to buy votes at the ANC's elective conference in December, Eyewitness News (EWN) reported.
EWN has reportedly seen an Ipid memorandum confirming this.
Allegedly, Ipid suspects that Police Minister Fikile Mbalula is behind the scam, together with other senior police officials, including National Police Commissioner Khehla Sitole and acting Crime Intelligence divisional commissioner, Bhoyi Ngcobo.
They allegedly conspired with a supplier to purchase a cellphone-locating device, called a grabber, at an inflated price, to launder funds to be used to buy votes for presidential hopeful Nkosazana Dlamini-Zuma.
They have strongly denied the allegations.
Mbalula's adviser, Bongani Mbindwane, who is also accused of being involved in the plot, told EWN that the allegations were part of a plot to discredit Mbalula.
"Due to the classification nature of the matters that leads to the 'story' landing with you, I am also not able to share with you details of a very elaborate project behind the 'story', save to say it's a hoax, a deliberate hoax by those who gave you the 'story', it is intertwined with power politics and organised crime," he reportedly said, adding that he and the minister had been warned of a plot to discredit them.
Ipid and the Inspector-General of Intelligence reportedly raided the police's crime intelligence head office in Erasmuskloof and the grabber supplier, I-View's office in Durban in November, seizing laptops and cellphones.
The bid to push through the cash-for-votes scam reportedly failed when Inspector-General of Intelligence Professor Setlhomamaru Dintwe refused to get Ipid to stop investigating, as allegedly requested by the police members involved.
Ipid spokesperson Moses Dlamini told EWN: "It is a matter of public record that the Ipid and IGI have formed a task team to investigate amongst others the looting of the Secret Service Account in Crime Intelligence and these investigations have uncovered fraud and corruption and have rattled a lot of people. The arrest of Morris 'Captain KGB' Tshabalala is part of the ongoing investigation and the information gleaned will shock law-abiding citizens."