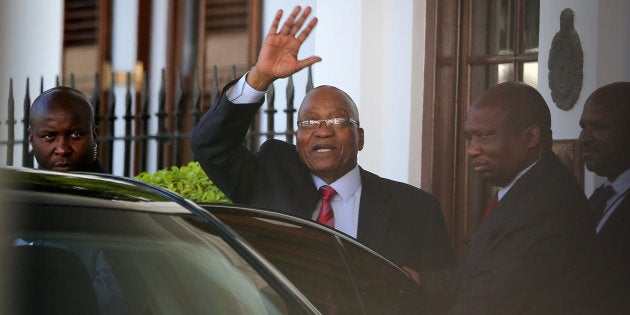 Will he go or will he stay?
Tuesday was a day of chaos and confusion, starting with the postponement of the state of the nation address (Sona) and the cancellation of the National Executive Committee (NEC) meeting due to take place on Wednesday.
Sources who spoke to Business Day on Tuesday night were less strident, and would only say that Ramaphosa had made "progress" in trying to convince Zuma to go.
ANC secretary-general Ace Magashule tried to assure South Africa that the governing party had everything under control on Tuesday night, but this appears to have done little to ease the confusion. Magashule told News24 that the ANC "will do the right thing not to disappoint South Africa".
"South Africans must not worry, the ANC will find its own solutions to the challenges facing the country and the ANC," said Magashule.
But late on Tuesday night, reporters and analysts appeared no closer to understanding what was going on, who the president would be by the weekend, and who, if anyone, would eventually deliver the Sona.
According to TimesLive, Zuma and Deputy President Cyril Ramaphosa reached a deal that would see Zuma leave office after certain conditions had been met. Magashule confirmed to TimesLive that Zuma and Ramaphosa had met in what was a "robust" discussion. However, he could not confirm whether Zuma had agreed to resign.
The NEC meeting was suddenly cancelled, according to News24, after an earlier "constructive discussion" between Zuma and Ramaphosa in Cape Town.
ANC deputy secretary-general Jesse Duarte told News24 that Zuma and Ramaphosa had agreed to work together.
She reportedly said, "Ramaphosa sounds extremely happy". The special NEC meeting will now take place on February 17 and 18.
The ANC's National Working Committee (NWC) then met on Monday, reportedly to discuss Zuma's removal, and that body resolved to call the NEC meeting. This led to widespread speculation that the NEC would recall Zuma, News24 reported at the time. According to the ANC's constitution, the NEC is the only body that can do so.
The NEC meeting was then cancelled after the postponement of the Sona.
Well-placed parliamentary sources told HuffPost that Zuma desperately wanted to deliver the Sona, but that Ramaphosa convinced him not to. Zuma apparently told the speaker of the National Assembly, Baleka Mbete, that the event would be marred by chaos and violence if he was to deliver the address, and that this would be a threat to the integrity of Parliament.
On Tuesday, Mbete told reporters that she was going to send Zuma a letter asking him to postpone Sona, but he had already decided to do the same.
According to sources who spoke to HuffPost, even if everything went smoothly at the NEC meeting on Wednesday, and even if Zuma resigned on Wednesday, there would have been serious logistical constraints involved in trying to convene Sona with there being no time to elect a new president.
Sources said having an acting president deliver Sona was not ideal.
Even the rand appeared to be confused after that development. Fin24 reported that the rand strengthened slightly after news that Sona had been postponed, gaining 5 cents to the US dollar to reach R12.04. An economist told Fin24 that the rand could reach R11.80 to the dollar if Zuma were recalled.
Hours later, another economist told eNCA that the rand had weakened after the announcement due to uncertainty in the markets over the political situation in the country.
On Tuesday morning, there were routing meetings of various cabinet subcommittees in Cape Town. A picture of Zuma eerily waving to the press as he left the presidential residence, Tuynhuys, left some speculating as to whether this was an omen of things to come.
On Tuesday night, to add to the confusion about who was in charge, at about 8pm on Tuesday night, the SA Communist Party (SACP) demanded that Zuma confirm or deny whether he planned to fire Ramaphosa. According to TimesLive, the SACP said that it had "emerging information" that Zuma was going to fire Ramaphosa, and use Amabutho, a Zulu military regiment, "as part of his plan to continue overstaying his welcome in office."
"The SACP further challenges President Zuma to' as a matter of urgency' deny or confirm emerging' and considering his desperation probably credible' information that he is preparing to fire Deputy President Cyril Ramaphosa anytime from now and replace him with Nkosazana Dlamini-Zuma' who he wants to position to take over as Acting President should he find himself removed from office'" the SACP reportedly said, while reiterating its call for Zuma to go.
The Presidency responded shortly afterwards in a statement, calling the SACP's allegations "preposterous and outrageous", according to News24.
"The allegations are completely baseless. The allegations of ethnic mobilisation by the president are equally without foundation," said Presidency spokesperson Bongani Ngqulunga.
Then, eNCA reported that Russian President Vladimir Putin was on his way to South Africa to meet with Zuma, and that this was possibly why Zuma didn't want to resign, just yet. Allegedly, Putin wanted the nuclear deal signed before Zuma left office.
But eNCA reporter Erin Bates quickly retracted the information after the Presidency confirmed that it was fake news, based on a fake statement doing the rounds on WhatsApp.
But the presidency, in denying the Putin story, went a step further in stating that Zuma would meet Putin on February 8, once again calling into question whether Zuma would leave office at all.