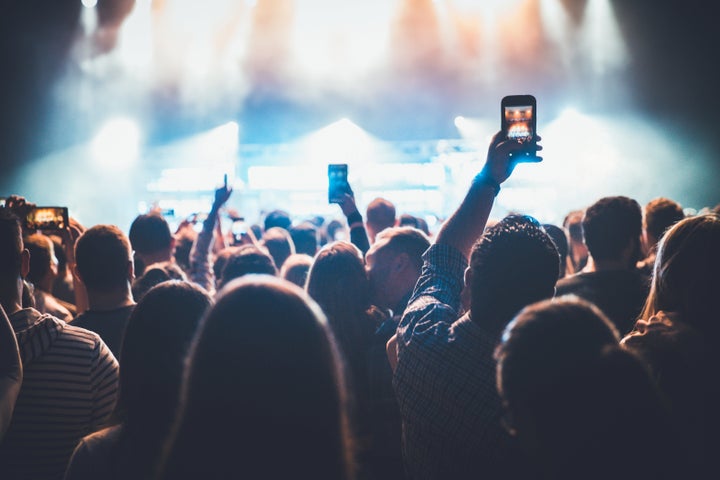 It's the biggest bugbear for most concertgoers: fellow music fans holding up their phones through the whole performance, blocking the view while they snap blurry pictures or capture shaky video of the gig instead of just enjoying the band.
A popular bar and music venue in Melbourne, Australia, has heard the complaints of fans and said Wednesday that it plans to ban patrons from filming performances on their phones, saying it "is just not rock 'n' roll."
Cherry Bar is a legendary venue that has hosted performances and after-parties for acts including Guns N' Roses, Noel Gallagher, Jack Black, New York Dolls, Arctic Monkeys, The Black Keys and Tom Morello of Rage Against the Machine. Appropriately located on AC/DC Lane, named for the Australian rock band, Cherry Bar bills itself as "pretty much the best rock 'n' roll bar in the world."
On Tuesday, the venue asked its fans whether filming gigs on phones should be banned.
"Live in the moment people!" the bar added in a comment below the post.
Speaking to The Age newspaper, owner James Young said the trend had become "laughable" and "selfish." He claimed that reaction to the idea had been "99 per cent" positive.
"The increase in people, not just taking pictures quickly, but holding their arms up like two fucking windmills with their phone seven feet in the air recording song after song after song has become laughable," he told The Age. "It's got to the point where someone has to take a stand. It's selfish, it's obnoxious and not considerate of other punters."
"I don't think bands like it either. They want to see people living in the moment."
Young told the Australian Broadcasting Corp. that bar staff were "not going to slap phones out of people's hands" and that patrons would be allowed to take some photos of the performance. But he said signs would be placed throughout the venue asking people not to film.
"Live music is the last bastion of human connection — you don't need a phone screen between the audience and the artist," he told the ABC.
The backlash against filming and phone use at concerts has been building for some time, but there have been few examples of entire venues banning the practice.
Jack White recently confirmed phones would be banned from his upcoming American tour, saying in a statement that "you'll enjoy looking up from your gadgets for a little while and experience music and our shared love of it IN PERSON." Phones and other electronic devices are to be locked in a secure pouch upon entry to the venue, while official tour photographers will post photos to White's website and Instagram, which fans can use and repost on their own platforms instead of taking their own pictures and videos.
"Repost our photos & videos as much as you want and enjoy a phone-free, 100% human experience," White said in a statement.
Alicia Keys, Guns N' Roses and comedian Dave Chappelle have also embraced the phone-free concept in recent years.