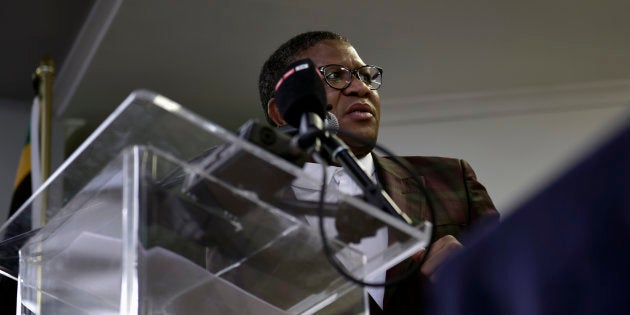 President Cyril Ramaphosa has given police 72 hours, as of Wednesday night, to find the men who killed five police officers in Ngcobo in the Eastern Cape on Wednesday morning, the SABC reported. Police Minister Fikile Mbalula reportedly told community members this on Wednesday night during an address outside the police station.
A task team of top investigators has been assigned to the case, according to News24, including detectives from the Hawks.
The officers and one off-duty soldier were killed when the men attacked the police station, fleeing with the weapons kept there, in the early hours of Wednesday morning.
Police spokesperson Vishnu Naidoo told News24: "The suspects made off with a police van, taking two other members. The bodies of these members with gunshot wounds were later found along the road."
Mbalula reportedly warned the public to be vigilant and calm and report any suspicions to the police, as "these are very dangerous criminals".
Cape Talk radio reported that the killers took five women to a different room while they shot the men, leaving the women unharmed.
According to the SABC, Mbalula said the police would not rest until the killers were caught.
"We only have 72 hours to apprehend the trash who did this. We will do everything in our power to make sure that we catch them," he reportedly said.
He also told residents that the police station would be upgraded to tighten up security, including the installation of security cameras.
National Police Commissioner Khehla Sithole reportedly added: "We want these criminals dead or alive. They must be put behind bars."
In Ngcobo on Wednesday, businesses were closed as the main road was blocked off while police conducted searches, according to TimesLive.
Crime statistics reportedly show an increase in robberies in the area, according to TimesLive. There were 22 robberies between April 2016 and March 2017, which is an increase of 12 incidents from the previous year.