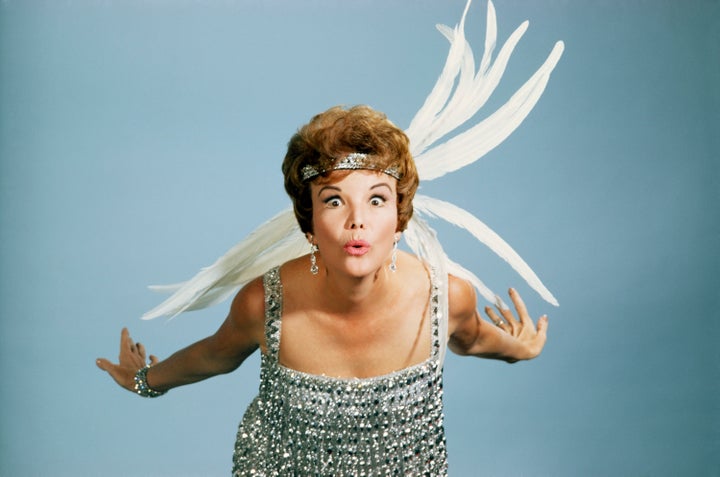 Actress Nanette Fabray, who was known to modern audiences as the mother of Bonnie Franklin's character on the CBS sitcom "One Day at a Time," died Thursday at her home in Rancho Palos Verdes, California. She was 97.
The actress, born Ruby Nanette Bernadette Theresa Fabares in San Diego, was performing in vaudeville by the age of 4, according to The New York Times.
By the age of 19, she was doing bit parts in Hollywood movies and made her Broadway debut in the 1941 musical comedy "Let's Face It" opposite Danny Kaye.
In 1949, Fabray won a Tony for best actress in a musical for "Love Life," which was directed by Elia Kazan and choreographed by Michael Kidd, according to The Hollywood Reporter.
Her most notable film appearance was with Fred Astaire in "The Band Wagon" (1953), considered to be one of MGM's best musicals.
Fabray also played a major part in the evolution of television. During the 1940s, NBC hired her to work as a demonstration model for color television because her skin tone showed off the technology just right.
During this time, Fabray was suffering from an undiagnosed hearing problem that affected her ability to perform. The condition, she later discovered, was otosclerosis, a disorder in which excessive growth in the bones of the middle ear interferes with the transmission of sound, according to the Los Angeles Times. One doctor predicted she'd lose her hearing in five years.
Fabray coped by learning sign language and wearing hearing aids. She also had four operations from 1955 to 1977 before her hearing was restored.
Also during that time, Fabray appeared on many classic sitcoms and variety shows. She won three Emmys in the 1950s for her work on Sid Caesar's "Caesar's Hour" variety show, according to Variety.
Fabray later became a popular guest on shows like "The Love Boat," "Maude" and "Murder, She Wrote," but her character niche seemed to be as the mom of a series star.
She played the mother of Ann Romano (Franklin) on "One Day at a Time" and the mother of Mary Richards on "The Mary Tyler Moore Show." On the 1990s ABC sitcom "Coach," Fabray portrayed the mom of a character played by Shelley Fabares, her real-life niece.
Fabray was married twice: to Broadway publicist David Tebet for four years and to screenwriter Ranald MacDougall from 1958 till his death in 1973. She had one son, Dr. Jamie MacDougall, who survives her, as does Fabares and her husband, actor Mike Farrell.