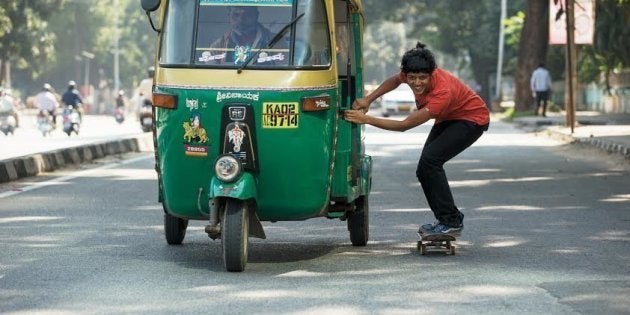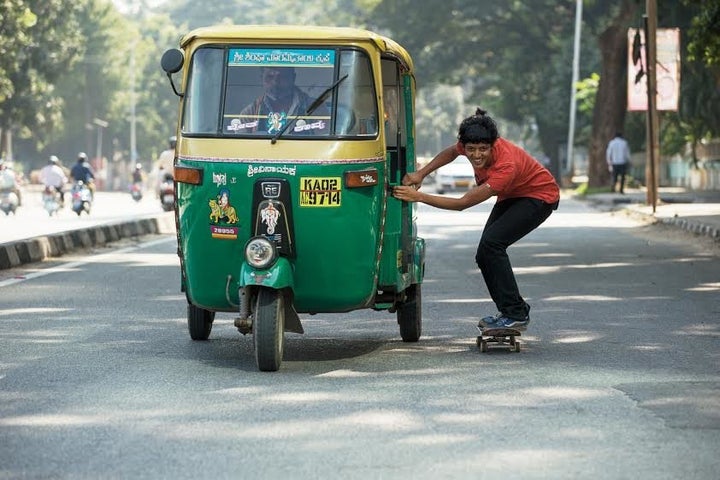 When you think of skateboarding, India may not be the first country that comes to mind. Instead, you might think of sun-soaked California, home of the infamous Z-boys who revolutionised the sport back in the 1970s. But one Indian woman may very well change that perception.
Her name is Atita Verghese.
The 24-year-old was raised in Bangalore, a place where, she told HuffPost, there are strong gender roles in place. For instance, young girls aren't necessarily encouraged to go outside and play like boys, and may even get shamed for coming home with a tan or bruises.
Verghese started skateboarding when she was 19, thanks to a friend who introduced her to the sport. She didn't have her own board, and as CNN reports, she used to wait for fellow skaters at the skate park in Bangalore to take breaks so she could ask to borrow theirs.
After being a part of the skateboarding scene for a while, Verghese told HuffPost she "realised that there were new people starting to skate all the time, and as the scene started growing bigger, I started to notice most of these people were dudes".She said she found it strange to see girls starting to skateboard but "not sticking to it".
In 2015, Verghese started Girl Skate India, which she described as an online platform "to feature, connect and grow the number of female skaters by inspiring each other". She started doing classes, clinics and tours, she said, trying her best to get the word out.
"I wanted more girls to be a part of this amazing time of the beginning of a skateboard culture in India," she said.
Through her work with Girl Skate India, including a tour across the country that was documented on film, Verghese became known internationally and eventually joined the Vans India team, becoming India's first female pro skateboarder.
"It shocked me more than it shocks anyone else, because I don't think in the history of skateboarding that any company like Vans put a chick in as their first team rider," she said. "I take it as a sign for the change that is coming, and it's a wave that's going international."
When asked why it was important to her to create a space for girls to be able to skateboard, she emphasised that it is important for kids to "feel likethey have a space they can go to, where people are supportive of each other and there's no judgments being made".
"I feel like in a place like India, we have all these strict cultural beliefs of not letting girls out on the streets to play, keeping them at home and shaming them if they get bruised and tanned, and the famous 'What will the neighbours think?'" she told HuffPost. "So if they had a space sheltered off from the prying eyes of society where they're allowed and encouraged to be kids and play, have fun and express themselves free of any of the exterior expectations, it could be a magical step in the evolution in these girls' lives."
Verghese said she herself didn't really have such a space or mentors to encourage her, the way she is trying to encourage others.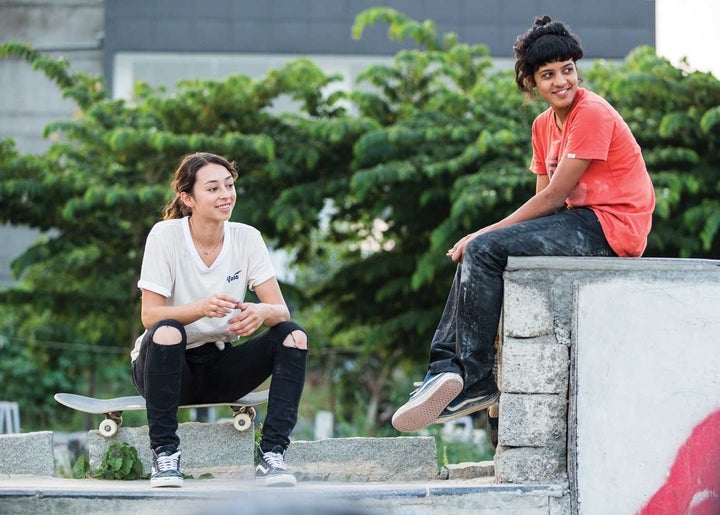 Being able to skateboard, Verghese said, is empowering. And not just because she's making waves as a woman in a male-dominated sport.
"I've never really felt like it meant anything different to me as a female. Everyone empowers themselves when they start to skateboard," she said. "But I think it's a huge way forward just looking up one generation to how my mother was raised."
In 2017, Verghese teamed up with fellow pro skateboarder Lizzie Armanto — a member of the Vans Skate Team and the first woman to cover Transworld Skateboarding magazine — to host a skateboarding workshop for young girls in India. The shoe company even put a spotlight on the workshop, and Verghese, for its 2018 brand campaign.
″[It's] amazing for them to have that resource and have someone help you along the way," Armanto told HuffPost, adding that Verghese "is just killing it at life."
Armanto shared stories about the workshop and the young girls who participated. One in particular, an eight-year-old named Kamali (pictured below), really left an impression on her.
"It was crazy, because it seemed like it was [maybe] the highlight of her year to go out in the skate park and skate with all the girls," Armanto said. "She learned how to drop in on this big quarter pipe. She's really small. She would go up there and crawl across the deck because she was scared to stand up, then she'd get to the corner and eventually, with help, she dropped in. By the end of the session, she was doing it by herself. It was so cool to watch."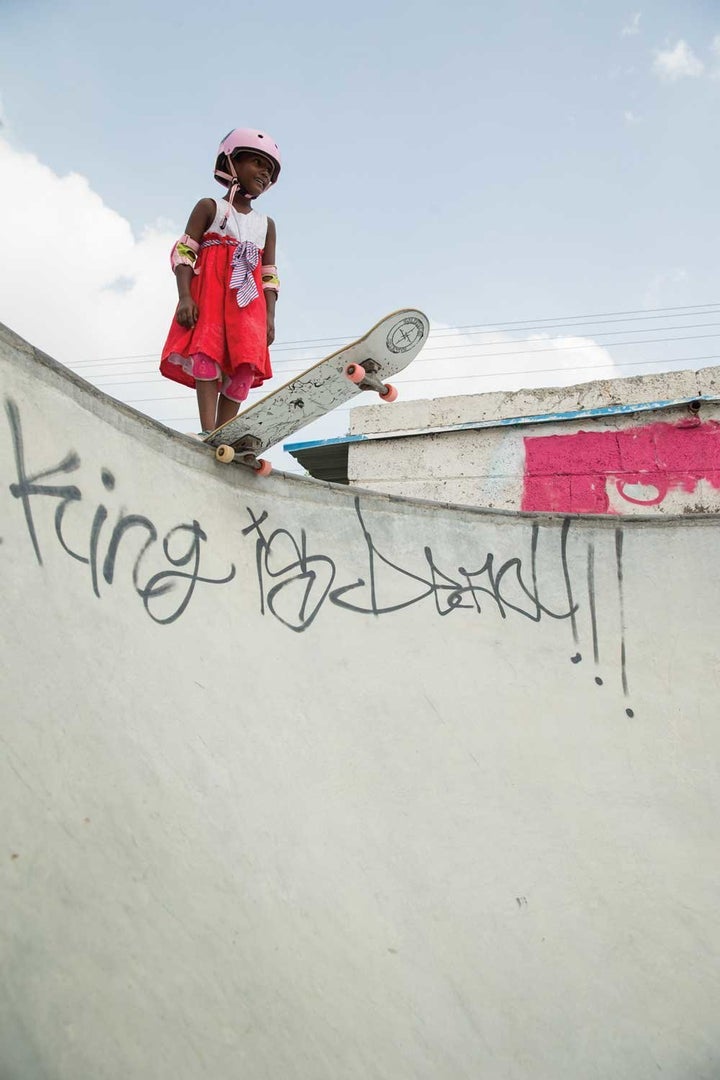 For Armanto, seeing a younger generation of girls pick up skateboarding offers a sign of hope.
"I feel like skateboarding can do so well [in India]," Armanto, a Santa Monica, California native, said. "I'm excited. I think even a year from now, it's going to be so different."
Both Verghese and Armanto are two of a growing group of women who are changing the skateboarding landscape. All-female crews, like the The Skate Kitchen, Brujas, The Skate Witches and Nefarious Crew are out there making waves in the skate community and promoting girl power and inclusivity along the way.
The future of women in skateboarding definitely looks bright. And if there's one thing Verghese wants women to know about the sport, it's this: "It's amazing and [everyone] should skate a little bit if they are able to, because it's just fun!"
To read more of HuffPost's Women's History Month coverage head here, or follow along with HuffPost on Facebook, Twitter and Instagram.