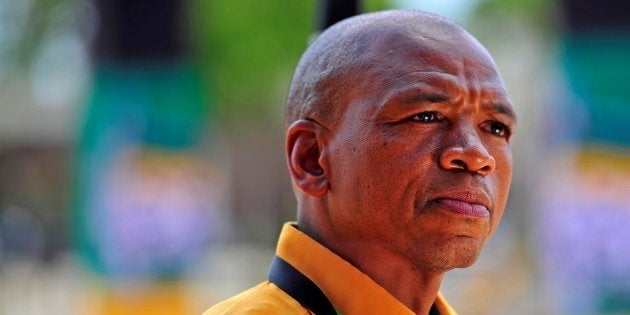 North West premier Supra Mahumapelo is set to resign as North West premier on Wednesday, he announced during an interview with the SABC on Tuesday night. And according to reports, it seems likely that Cabinet will place his entire government under administration following reports of widescale maladministration.
Mahumapelo has faced weeks of violent protest in his province, sparking the intervention of national government. He delivered what now will be his final state of the province address on Tuesday morning.
He reportedly said, "In some critical instances of our life, we are called upon as part of humanity to create the essence of the absence of presence. In full compliance with Constitution of the Republic, the speaker will receive a commitment in writing before Friday this week."
But it was only during an interview with the SABC's Aldrin Sampear on Tuesday night that his intentions became clear.
He reportedly said: "In the morning, 8 o'clock, I will be meeting with the executive of the province. As soon as I am done with the executive of the province, I will be addressing the top management of the government in the premier's office after which I will be in a press conference to indicate the way forward."
According to the Daily Maverick, Mahumapelo refused to resign last week when members of the ANC's national working committee met with him. Officials met on Monday to discuss the matter, and it seems that he was forced to leave after that meeting.
Senior ANC officials, including ANC secretary general Ace Magashule and his deputy Jessie Duarte were strongly in favour of Mahumapelo resigning.
National government is now expected to take control of the province.
According to Business Day, at a Cabinet meeting on Wednesday, ministers will receive a recommendation from minister in the presidency Nkosazana Dlamini-Zuma that the entire North West government should be placed under national administration.
Dlamini-Zuma was appointed to head an inter-ministerial task team to investigate the problems in the North West after the protests broke out.
Dlamini-Zuma's team will reportedly tell Cabinet on Wednesday that Mahumapelo's government has all but collapsed, Business Day reported. The North West health department is already under national administration.
According to News24, on Tuesday night, the ANC in the North West welcomed his resignation, but said it did so "with great pride".
In a glowing statement, acting North West provincial secretary Susan Dantjie said the province accepted Mahumapelo's resignation as premier, "with apprehension".
"As an organisation, we will forever be appreciative and learn from his emphatic, principled but simple approach to issues," Dantjie said.
"In his 35 years of revolutionary activism in the ANC, he has mastered the art of remaining simple and humble at all times, despite sustained concocted attacks against him by some friends and comrades."
She reportedly said the party was confident he would continue his movement in whatever new role he was deployed to.
"We urge him to remain steadfast in what he believes are the necessary tasks of executing the revolution," she said.