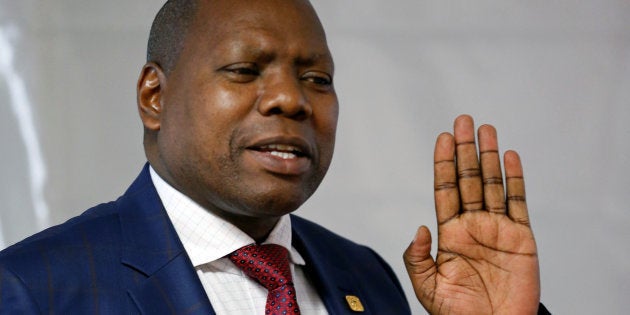 Former treasurer-general of the ANC, Zweli Mkhize allegedly helped an oil company get a huge loan from the Public Investment Corporation (PIC) and allegedly received a R4.5-million kickback for it.
The now Minister of Cooperative Governance and Traditional Affairs has been named by a law firm from Johannesburg, in a legal claim against fuel distribution company, Afric Oil, reported the Sunday Times.
"Sometime in early June 2016," a loan application to the Public Investment Corporation "was extensively discussed and the TG agreed to promote Africa Oil's projects, including providing support for the facilitation of the PIC loan," a letter – which the Sunday Times says it has seen, claims.
This meeting is said to have happened at Luthuli House, and came after an initial loan application had been rejected by the government pension fund.
The letter also claimed that "due to the sensitive nature of the matter, no capital-raising agreement should be concluded between Afric Oil and Zonkizizwe (an investment company the law firm says is wholly . owned by the ANC) and that the parties should rely on the verbal undertakings."
Of the R210-million loan application, R4.5-million would go to Mkhize.
Mkhize has denied all allegations. "At no point did I play a role in facilitating a loan from the PIC for a company called Afric Oil. I also have no relationship with a company called Zonkizizwe Investments," he told The Sunday Times.
The publication also established that that Afric Oil did indeed receive a R210-million loan from the PIC in February 2017.
Former Afric Oil CEO, Tseke Nkamideng confirmed that he had been introduced to Mkhize at Luthuli House, but denied that Mkhize facilitated the loan. "Why do you need to go to Zweli Mkhize for a loan with PIC?" he asked.
A letter from the law firm he had received, however, demanding the payment for those who allegedly facilitated the deal for Afric Oil, but Nkamideng said he could not pay them because there was no contract.
But Billy Masetlha — former intelligence boss said he had helped Afric OIl get a loan from the PIC for a fee, which he hadn't received. He said he had knowledge of anyone else Nkadimeng might've approached to help.
The PIC's head of corporate affairs, Deon Botha, told the paper that indeed the PIC had been awarded the loan by the PIC, but denied knowing of Mkhize's alleged involvement in the facilitation of the loan.
UDM leader, Bantu Holomisa wrote to The Presidency on Friday asking Ramaphosa to extend the scope of state capture inquiry to include the PIC, as the corporation was a suspect in a "scandal bigger than the GUpta family's state capture."
"This was the modus operandi in a lot of the Gupta deals, This requires an urgent investigation," said Corruption Watch's David Lewis.