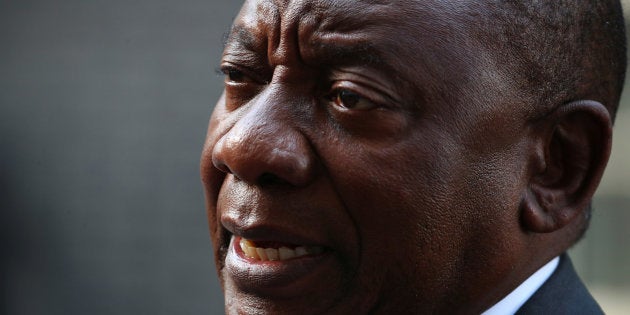 President Cyril Ramaphosa's "new dawn" promised grand changes to South Africa, in the wake of the corruption-riddled administration of Jacob Zuma. And it can't be denied that Ramaphosa has made many changes, firing several ministers dogged by corruption allegations, and making headway into bringing stability to state-owned enterprises.
But six months into his term as state president, there are still powerful political players seemingly untouched by the new dawn's rays:
After her bungling of the social grants crisis in 2017, no one would have been surprised had Bathabile Dlamini been fired when Ramaphosa took office. Instead, she was shifted into the post of Minister of Women in the Presidency.
Gender activists called the appointment a slap in the face, according to TimesLive, claiming she had shown "scant regard" for women by making a mess of the social grants saga.
In her previous portfolio as Minister of Social Development, Dlamini's department had reportedly planned an "integrated programme of action to address violence against women and children", but it sat gathering dust.
Even former public protector Thuli Madonsela said she was "shocked and disappointed" that Ramaphosa hadn't fired Dlamini, according to The Citizen.
With its senior leadership embroiled in controversy, it seems the new dawn has yet to reach the corridors of the National Prosecuting Authority.
The National Director of Public Prosecutions garnered the nickname "Shaun the Sheep" because of his perceived lack of urgency in tackling state capture. While investigations seem to have picked up speed since Zuma's departure from office, confidence in Abrahams remains low.
The high court has already ruled that his appointment was irregular, because the departure of his predecessor was unlawful. That decision is being appealed and his fate is in the hands of the Constitutional Court, which must rule on whether or not he keeps his job.
His deputy, Nomgcobo Jiba, remains suspended after the High Court in Pretoria struck her from the roll of attorneys in 2016. The court found that she was not a fit and proper person for the job as a result of her handling of the charges against former crime intelligence boss, Richard Mdluli. She is appealing that decision.
According to TimesLive, this week she was spotted entering the offices of the NPA, despite being ordered by the court not to do so pending the finalisation of her appeal.
There is a dark cloud over Mokonyane's tenure as water affairs minister. The chairperson of Parliament's Standing Committee on Public Accounts (Scopa), Themba Godi, said Mokonyane left behind a department that had "completely collapsed", financially and administratively, according to Daily Maverick.
The auditor general reportedly revealed that her department was drowning in debt and riddled with ballooning irregular expenditure by the time she left.
There have also been accusations of malfeasance and corruption levelled at projects run by her department, such as the allegations that consultants were benefitting from hugely inflated prices to build water infrastructure.
Since being reappointed as home affairs minister by Ramaphosa earlier this year, Gigaba has managed to fly under the radar. In June, his department announced a "war on queues" campaign, which will be welcome news to anyone who has visited a home affairs office.
But it came as a surprise to many that the former minister of finance, who will go down in history for being the man who announced the VAT increase to 15 percent, made it into Ramaphosa's Cabinet, because he is seen to be close to the Gupta family.
He is, for instance, central to the controversy around the Gupta family's citizenship. Earlier this year, he told Parliament that the Gupta brothers were never South African citizens. But in a written response to a Parliamentary question in 2016, during his previous stint as home affairs minister, he said their citizenship applications were fast-tracked in 2015 because of their contribution to the economy.
A court also found that he had lied when he denied granting Fireblade Aviation, belonging to the Oppenheimers, permission to run a private airport. It emerged that he had granted the company permission in writing, but recanted it when state-owned enterprise Denel objected, allegedly at the behest of the Guptas.
He has never been charged with a crime, but there will always be a cloud hanging over the former Mpumalanga premier's head.
Deputy-president David Mabuza's appointment was seen as a deeply cynical compromise because of his last-minute agreement to support Ramaphosa's push for the presidency at the ANC's conference at Nasrec in December.
According to the Daily Maverick, his controversies date back to his time as Mpumalanga MEC for education, a post from which the publication claims he was fired for allegedly inflating matric results. He later became the province's premier, where his term coincided with repeated allegations of political assassinations and corruption.
He also reportedly hitched a ride to Russia on the Gupta family jet, after he was purportedly poisoned.