In the charity world, raising £8million from a week-long social media campaign is a massive success. But raising that much money from a campaign that wasn't actually started by the charity in question? Well, that's bordering on the unbelievable.
Somehow that's exactly what happened when the #nomakeupselfie trend went viral last week and hundreds of thousands of people in the UK and around the world ditched the makeup (or put it on - thanks guys) and posted selfies to raise awareness of cancer.
When the selfies first started appearing in our Cancer Research UK newsfeeds, a few of our supporters got in touch on Facebook and Twitter to ask if we'd started the campaign. We tweeted that it wasn't ours but that we appreciated the sentiment, and we directed people to our website if they wanted to get involved with our work to beat cancer sooner.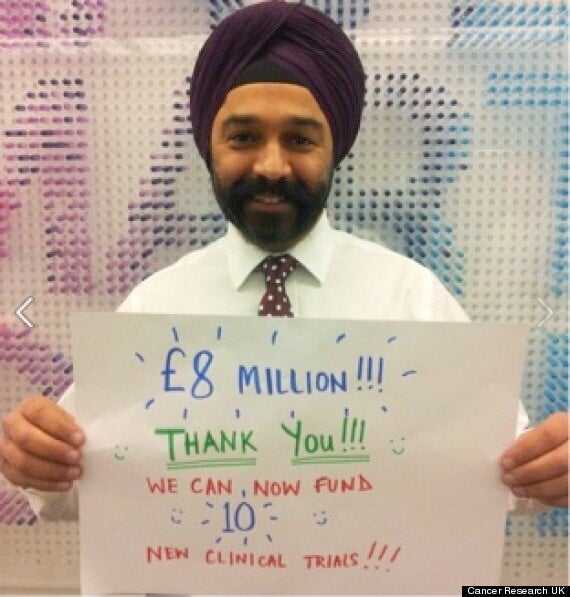 Above: Cancer Research UK CEO, Dr Harpal Kumar
Less than 12 hours later, we'd been retweeted hundreds of times and we were seeing more and more selfies appearing from people saying they were doing it for us. We knew we needed to act fast so we took a picture of a team member without makeup holding a sign with our text to donate code.
We posted the image to our Facebook, Twitter, Instagram and Google+ accounts and within minutes, it had been shared thousands of times. Over the next 48 hours, we were with overwhelmed with selfies - women without makeup, men wearing makeup, men wearing nothing but a single sock on their... bits. And alongside the selfies came donations - millions of them.
There was also criticism of the campaign. Twitter was filled with people calling it sexist, vain, irrelevant, pointless. But this criticism just added fuel to the fire and increased the desire to donate.

Then the phones started to ring. The traditional press wanted to know what was going on and many journalists were as surprised as we were by the speed in which this trend seemed to be taking over the UK. We did interviews on TV and radio and gave print and online media as much information as we could. Luckily for us, many outlets shared our text to donate details, further spreading our reach.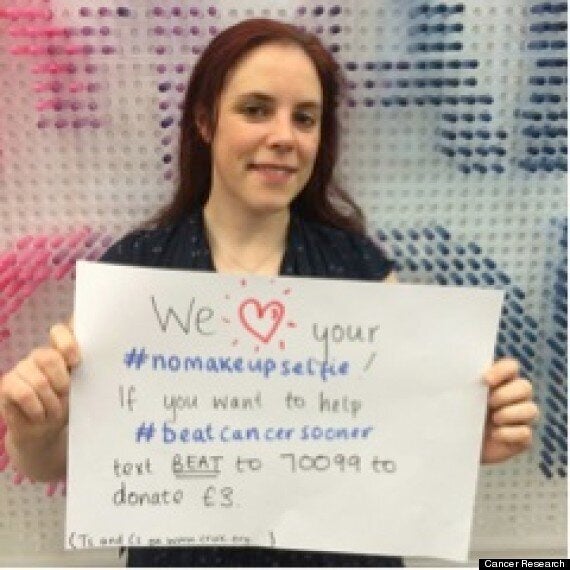 Dr Kat Arney, a member of staff in the science communications team
Within a day, the UK public had raised over a million pounds for our research. Two days, in, we'd hit the £2million mark. At this point, there were a lot of shocked faces in the Cancer Research UK office. All we could do was continue to ride the amazing selfie wave and devote our time to encouraging as many people as possible to take part. Our social media team spent every waking hour replying to people's questions about donating, retweeting hundreds of selfies and creating new content to thank all donors for their support.
Above: Declan Leavy and Harriet Murphy from the Cancer Research UK PR and Social Media team
In turn, our content - including photos, Vines and thank-you badges - was picked up by bloggers and online news outlets and shared further and further. It was a genuine snowball effect and it started to go global, with people from Ireland, Canada, the US, Australia, New Zealand and South Africa (to name a few) contacting us directly to ask how they could donate from abroad.
We staff our social channels out of hours so we were able to see this trend starting late one night, before many others did. We were agile enough to ditch our planned editorial schedule and get new content ready to go before anyone else, and then ultimately willing to give up control of that content. And perhaps most importantly, we were incredibly lucky that people felt so strongly about using their selfies for good and were willing to share our messages and donate to our research.
I've also been asked if I think we can replicate this campaign and I've said no. We couldn't have planned this. The #nomakeupselfie phenomenon came from the public in a completely organic way. If a charity or brand had pushed it in the beginning, it would have lost its authenticity and fizzled out quickly. In my opinion, explaining to people that it wasn't our campaign made the movement even stronger and increased the desire to help us beat cancer sooner.
The money raised will allow us to fund ten clinical trials, including trials that just last Tuesday we didn't have money to support. This will allow us to get lifesaving treatments to patients faster. Not bad for a campaign that we had absolutely nothing to do with.