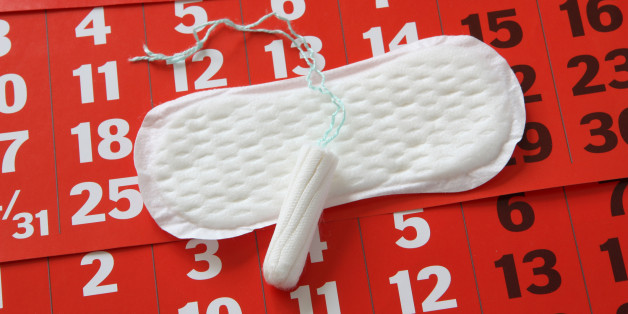 IvancoVlad via Getty Images
Claiming it's that "time of the month" has long been a useful get out clause for girls across the world to escape an unwanted PE class. Indeed a new survey from Betty for Schools showed that half of all women confess to having used that excuse in the past.
Many of us grown women may have a wry smile at that statistic, remembering our own school days, but dig a bit deeper and the research is concerning. It seems from the findings that teenage girls are missing out on sport because of a fear of people finding out they are on their period. Three out of five women think avoiding PE in school can negatively impact on how girls feel about sport in adulthood, affecting future fitness and health.
So despite the progress we've made in recent years in bringing the issue of periods out into the open, the stigma and embarrassment is still holding women and girls back.
Despite menstruation being a natural process experienced by women the world over, in too many developing countries, taboos and a lack of access to adequate sanitary materials and facilities prevent women and girls being able to live a full life with some superstitions seeing girls banned from sleeping in the house, touching certain foods, going to school or even using taps and water pumps.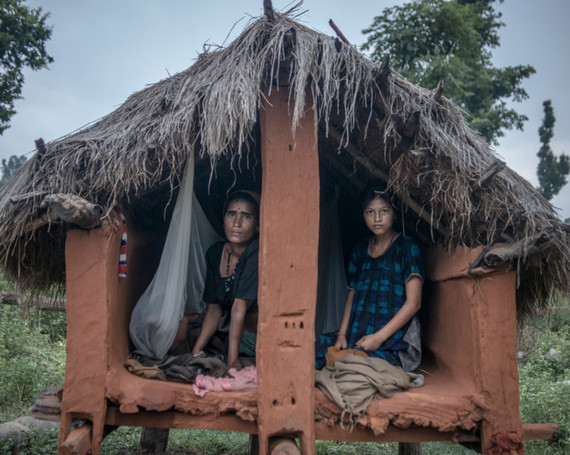 In some parts of Nepal, women and girls have to stay outside the home in small Chhaupadi sheds during their menstruation. WaterAid/Poulomi Basu
Around one in three schools around the world don't have clean water or toilets, meaning girls often skip class during their period, or drop out of school altogether once they reach puberty. More than 1.2 billion women lacking any access to improved sanitation. With nowhere hygienic to clean sanitary pads or wash, women and girls also risk infection.
If we, here in the UK, find it awkward to talk about periods, then it'll be even harder to ensure women and girls everywhere get the education and facilities they need to be able to cope with their monthly cycle safely and with dignity, which is crucial to women's health and an important step in achieving gender equality.
That's why it's so important for us all to be more open about periods. Hats off to British long jumper Jazmin Sawyers who did so earlier this month when she had to withdraw from a competition because of chronic period paid, and Chinese swimmer Fu Yuanhui, who admitted her performance in a race at last year's Rio Olympics may have been hindered by her monthly flow.
Despite some high-profile figures shining the spotlight on periods, WaterAid and YouGov recently surveyed 2,000 women in the UK and found that the majority unfortunately still feel uncomfortable to talk about periods.
Nearly half of women said they wouldn't chat to their dad about period pain, and talking to a male boss is even more daunting, with 55% of women feeling uncomfortable at the thought. Sadly, one in twelve (8%) women would even feel uncomfortable telling their doctor about their periods.
Whilst more than half of women (53%) are confident to ask the occupant of the next-door toilet cubicle for some toilet roll in time of need, only 16% of women would do the same for a spare sanitary pad or tampon. Nearly a third (29%) have felt embarrassed buying sanitary products and it seems Brits have become adept at hiding tampons up their sleeve as 65% of women say they would feel uncomfortable carrying sanitary products openly to the toilet.
WaterAid produced an amusing and eye-opening undercover film capturing the awkward reactions to people talking about periods, showing how the British public is still embarrassed by this subject.
We believe there should be #noshame in periods and that we can all help remove the stigma and embarrassment, making life easier for women and girls everywhere, by talking openly about the issue.
People can also sign WaterAid's Water Fight petition, calling on the UK Government to ensure all schools have toilet facilities, helping keep girls in education.