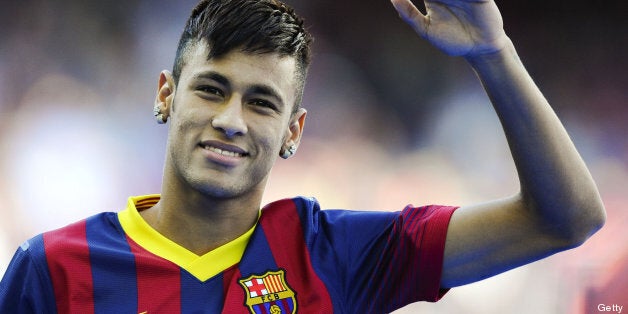 Neymar has become one of the biggest names in football in recent years and showed his full potential in the 2013 Confederations Cup. Having already caused a media outbreak by signing for Barcelona over Real Madrid and Chelsea, Neymar has the whole world watching him when he steps out onto the Camp Nou pitch.
With Neymar going to Barcelona it brings some unanswered questions on just how manager Tito Vilanova will get the best out of Messi, Neymar, Iniesta, Pedro, Sanchez, Villa (if he is still there) and Tello, he can't play all of them... so what does he do? Looking at the 433 formation Vilanova likes to play it may have to be this beloved system which needs to make way. Barcelona set themselves in a 21421 system as the center backs stay put, a defensive midfielder hovers just in front of the center backs, the full backs become the wide players, the creative midfielders push a little further forward than regular midfielders, the two wide men upfront cut inside to exploit the space and the forward is in a poacher role up front.
With Neymar and Messi looking to be the two wider forwards which cut inside it will have to be the full backs which hold onto the overlapping runs as it will leave the center backs too exposed and vulnerable even with a defensive midfielder helping out. The two creative players will have to become one as it will be in this position where Vilanova will have to leave one of those players on the bench. Xavi and Iniesta have been unbelievable for Barcelona and with Xavi aging it could be him which makes way. A more all rounded player will have to step in and do the defensive work of Messi and Neymar.
Barcelona may have to revert to a 424 system with Iniesta moved forward to create a three pronged attack behind the forward. This is not the same as the fashionable 4231 system deployed by many teams. The 4231 has the three attack minded players helping out and dropping back into a covering, counter attacking in waiting formation of 451. The 424 will give Messi and Neymar the free roles without causing too much damage when Barcelona are not in possession. Iniesta will have a bigger role to play and possibly Fabregas or Thiago will be the engine room so Busquets or another defensive midfielder can stay and protect while the engine player can support and cover if needed out wide and slow the attack down. The problem is now who do Barcelona have upfront to support the onslaught of attacking flair from midfield.
Fernando Torres would be an ideal fit as he can hold the ball up and wait for the attacking midfielders to get into space or make a run for him to make the pass or can play off the shoulder of the last defender and put away the killer passes from midfield. Torres is a natural finisher and protector of the ball which is hard to find. Torres has found the 433 system hard work for Chelsea as he is not the back to goal forward which they wanted him to be, he is a goalscorer and damn good one.
For Liverpool Torres played just ahead of Steven Gerrard and played as the advanced forward, this system got him 81 goals in 142 appearances as a back to goal forward he has got 34 goals in 131 appearances. This is why Torres needs to be used as an advanced forward playing on the shoulder of the last defender.
Neymar, Messi, Iniesta and Torres would be a formidable line up and would give any opposing manager a headache, with Pedro, Sanchez, Xavi, Tello and Villa (if he hasn't left) will be supporting roles this season.