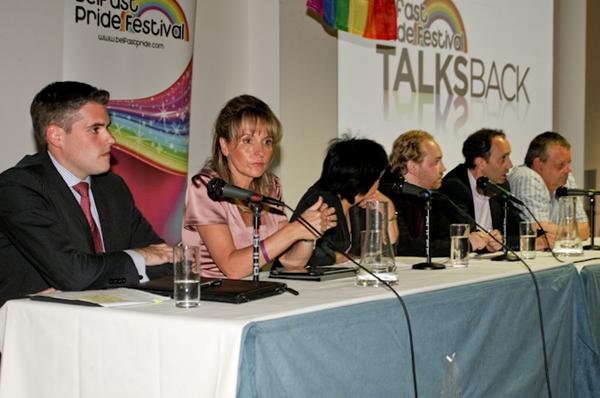 Photo by Phil O'Kane
(L-R: Gavin Robinson (DUP), Martina Anderson (Sinn Fein), Anna Lo (Alliance), Steven Agnew (Green), Conall McDevitt (SDLP), Michael Copeland (UUP)
In a move perhaps more unexpected than Marty McGuinness shaking the hand of Queen Lizzie, the Democratic Unionist Party, Northern Ireland's biggest party, sent a representative to an LGBT event for the first time last Tuesday night. A low-key announcement was made on Monday evening by organisers of the Belfast Pride Festival that a DUP representative was to attend the annual 'Pride Talks Back' political debate the following night.
The DUP's "near pathological obsession with homosexuality" (The Guardian) needs little introduction - but here's a very quick rundown. DUP representatives at various times have claimed that homosexuality is 'repulsive,' that it is akin to child abuse, that it can be 'cured,' that Hurricane Katrina was sent by god to punish gay people, and, perhaps most bizarrely (though it's a tough contest), that having a gay rugby team is 'a form of apartheid.'
So as you might imagine, there was some anticipation as to who the DUP might end up sending to the event. It turned out to be Gavin Robinson, the 27-year-old Lord Mayor of Belfast, who was elected a Belfast City Councillor last year.
At the event at Belfast's Europa Hotel, six of the Assembly parties are represented, but Robinson is everyone's silent focus. At first, even the room itself seems to be against him, the only candidate cast in shadow by the lighting. Every party representative speaks in favour of equal marriage, the first topic - apart from Robinson, who explains his party's opposition in biblical terms. Other representatives had just made comments about certain parties seeking to 'own' the equal marriage issue. Robinson wisely starts with a joke that breaks some of the tension with soft laughter - 'As you might be aware, this isn't an issue that my party has sought to claim ownership of...'
He stresses his friendships with many in the room. He is calm, lucid and performs well on this first question. His response reminds you more of Owen Paterson's opposition to equal marriage than the furious, hysterical pronouncements by other DUP representatives. Of course, when they spoke, they didn't have a few hundred LGBT people and their supporters sitting in front of them.
So began an interesting night where the focus was very much on Robinson. John O'Doherty, Director of The Rainbow Project, asked him if he would distance himself from the views of his colleagues. Unfortunately, this question was dodged almost entirely, but when pressed to answer, he simply said 'I believe in freedom of speech,' to some audible disappointment from the audience. When asked of his feelings on Civil Partnerships - 'It's the law of the land,' he stated bluntly.
As most of Robinson's answers revolved around Christianity, a memorable moment came when a gay Christian stood up and asserted to applause that he believed that "if Christ were alive, he'd be marching with us on Saturday (at the Belfast Pride Parade)." Ruth McCarthy, Director of the Outburst Queer Arts Festival, stated that despite initial hopes, "You broke my heart a wee bit, Gavin - I thought the DUP was changing. I was wrong." She hit the nail on the head squarely when she stated, "The attitudes that you and your party are propagating are quite simply damaging people's mental health."
Still, it has to be said that Robinson was calm and respectful despite his drastically differing beliefs. His presence, of course, was a move taken with obvious reluctance by the DUP - it's recognition of the fact that their position is becoming more and more untenable. And now that they've attended once, they will be expected to attend year-on-year.
Never before have the DUP been grilled so publically and in such a detailed way about LGBT issues. This could be a first, small sign of a DUP detente towards Northern Ireland's long-suffering LGBT community - long may it continue.
The DUP still have a long way to go, but you have to give it to them - they did turn up.