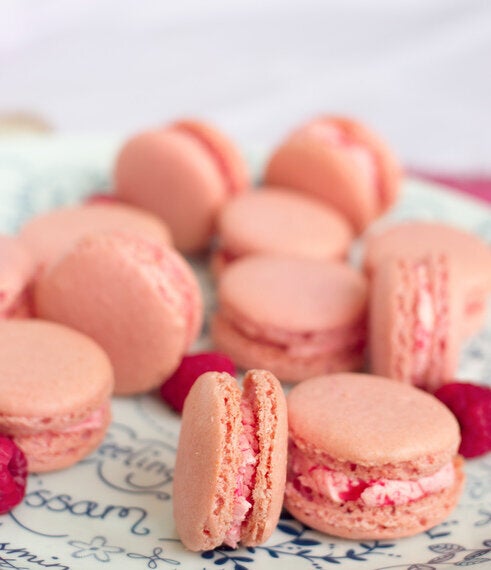 In my opinion the Christmas period covers the three days of Christmas Eve, Christmas Day and Boxing Day. After all, there's eating, drinking and indulging throughout these days and this year was certainly no exception.
I've been practicing this Raspberry Macaroons recipe throughout the run-up to Christmas, despite still needing to complete the Christmas shopping! (why I always leave it to the last minute is beyond me).
Anyway the practice was worth it and after a number of failed batches I finally came up with the right bake and these were presented as a little something to the hosts and hostesses of Christmas Eve and Christmas Day, which went down a treat!
I've carefully broken down this recipe and kept it as straight-forward as possible. I won't lie and say they're the easiest cookies to make, but they are so worth it and once you get the hang of them they'll become a kitchen favourite.
I will be posting many more exciting new recipes in the new year so for full details and to subscribe to my newsletter, click here.
Makes 20 Macaroons | Prep 50 Mins | Baking 15 Mins
3 Large Egg Whites (at room temperature, helps create a fluffy, stiff-peaked egg white)
2-3 Drops Raspberry Extract
For The Raspberry Filling
120g Unsalted Butter (break into small pieces)
Combine the ground almonds and icing sugar in a large bowl, mix well with a spoon then run through a sieve into a separate large bowl. This will help make the macaroon light and smooth.
In a separate bowl, whisk the egg whites to form stiff-peaks, then add the salt followed by the sugar and whisk again for a further minute.
Add the food colouring and raspberry extract, then incorporate with a metal spoon (it's better to add more than the desired amount of food colouring as the macaroons will lose some colour during baking).
Now add half the almond and icing sugar mixture to the meringue and mix well with a wooden spoon, then add the remaining half (be careful not to undermix as it will crack once baked). The batter will be mixed enough when you can no longer see any of the almonds and it's at a 'dropping-consistency'.
Transfer the batter to a piping bag that's fitted with a 1cm/large nozzle and line two large oven trays with baking sheets or use a silicon macaroon mat.
Pipe out from the middle about 1 inch mounds onto the sheet (about the size of a 2 pound coin).
Now pick up the tray and drop it back onto the surface from a small height to release all of the air, flip the tray around and repeat (you should see little air bubbles pop). Do this 3-4 times to ensure all the air has disappeared.
Leave the trays out for 30 minutes (if you bake them right away they will spread out instead of rise up).
With 10 minutes remaining, pre-heat the oven to 140C (fan-assisted) then when the 30 minute timer is up, bake for 15 minutes. Be careful not to underbake or they will stick to your tray.
Meanwhile make the raspberry filling. To a large bowl add the unsalted butter, along with the icing sugar and whisk to a crumb-like consistency.
Next take the raspberries and press them firmly through a sieve to extract the juice. Once you have about 3 tablespoons of the raspberry juice add it to the butter mixture and whisk until well-combined. If the mixture is too runny, add more butter and icing sugar.
Transfer the buttercream to a piping bag that's fitted with a slightly smaller nozzle (1/2 inch).
Remove the macaroon shells by carefully twisting them first before lifting them away from the baking sheet and turning upside down.
Fill both shells with about 1/2 inch of the filling (fill from the centre and leave a small gap to allow the buttercream to spread out without overflowing). Attach both halves together and leave to set on a wire rack for at least 20 minutes.
If you're not eating them right away, keep refrigerated.