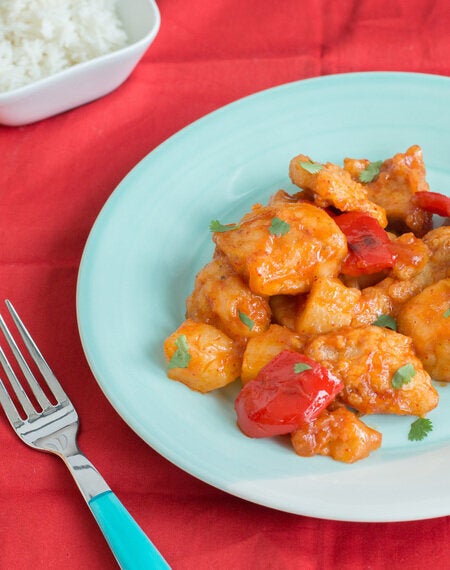 I've been working on this recipe for quite some time as I wanted to get it just right, not only for you guys but for myself too! This is because I absolutely adore Sweet and Sour Crispy Chicken.
I used to be quite a fussy eater growing up and my parents would often struggle to take me to restaurants because I'd find it difficult to choose something I'd actually enjoy and want to eat.
Somehow the Sweet and Sour Crispy Chicken was put in front of me and from that moment on I knew that I'd always love this dish.
So today I bring it to you, I have experimented with a number of different batters and ingredients just to find the one that replicates an authentic Chinese restaurant experience, and now you can enjoy it in the comfort of your home, at a fraction of the cost, any time you like!
I hope you enjoy it as much as I did and to check out the full range of my recipes, feel free to check out my blog!
Serves 2 | Prep 20 Mins | Cook 15 Mins
3 tablespoons Chilli Sauce
3 tablespoons Tomato Ketchup
1/2 teaspoon Worcestershire Sauce
1/4 teaspoon Rice Vinegar
1/2 teaspoon Oyster Sauce
1/4 teaspoon Ground White Pepper
2 tablespoons Sunflower Oil
2 Large Chicken Breasts (cut into similar sized cubes)
Salt & Freshly Ground Pepper
Sunflower Oil (enough to half-fill a saucepan)
2 Garlic Cloves (crushed)
1 Red Pepper (cut into squares)
3 Spring Onions (chopped)
Start by adding all of the sauce ingredients into a small bowl, mix well with a fork then set aside for now.
In a separate small bowl mix together the egg whites with the salt then coat each chicken piece in the mixture.
Place a large heavy-based saucepan on a medium-high heat and add enough oil so that the pan is half-full (do not add anymore than this for safety purposes).
As the oil is heating up, toss the chicken into the cornflour, remove any excess cornflour and place on a large enough plate whilst waiting for the oil to heat up.
To check the oil is hot enough, either use a probe thermometer and when the oil reaches 300F it is ready. If you don't have a thermometer, place a small amount of the cornflour into the pan and if the batter immediately sizzles and rises to the surface the oil is ready.
Carefully place each chicken piece into the hot oil, either by hand or using a slotted spoon and slowly lowering it in.
So that the temperature of the oil does not continue to rise, reduce the heat setting by one.
Cook the chicken for 7 minutes then remove onto a plate (using a slotted spoon) covered with kitchen roll to remove the excess oil (leave the oil in the saucepan until fully cooled before emptying).
Whilst the chicken is frying, heat a wok or large casserole dish with some oil on a medium-high heat and once the pan is hot add the garlic, red pepper and spring onions. Fry for 2-3 minutes.
Next add the crispy chicken and pineapple chunks along with the sweet and sour sauce.
Mix the ingredients well for a few minutes so that the sauce coats each chicken piece fully.
Related