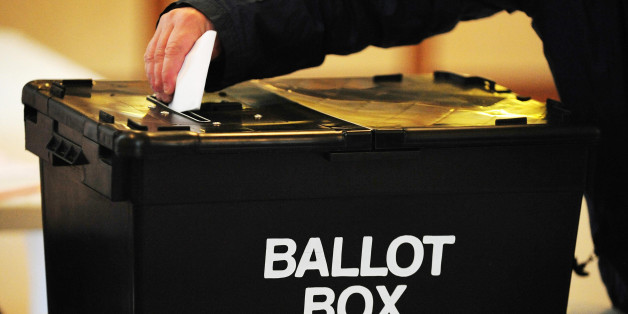 Rui Vieira/PA Wire
When I joined the Bite the Ballot team at the top of this year, I never imagined that three months into the job I would be thrown into a full on campaign while still scrambling to get to grips with my new role. Just like Brenda from Bristol, the idea of another election initially had me less than inspired and just plain exhausted.
As anticipated, media outlets and commentators trying to piece together election coverage were quick to pose the question: - will young people vote? or will we get distracted by the sound of an ice cream van on our way to the polling station and completely forget. I had a guy lecture me on social media who suggested that young citizens cared more about the Kardashians and football than we do about voting.
But if I've learned anything over the last 24 months it's that the culture is shifting and there is an authentic appetite for change amongst young citizens and the best places to witness this is at one of our DeCafe's and the support behind the #TurnUp campaign.
'DeCafe', (pronounced de-kaff) is an abbreviation of democracy café and is our re-invigoration of the 17th century practice of communities coming together in coffee shops and tea houses to discuss issues.
Fast forward to today and this former tradition involves a little more tech, style and drinks on the house courtesy of Starbucks.
Most importantly, DeCafe is about building confidence in all members of society to be part of positive social action and democratic participation. We're able to do this by providing a space where people can come along, share their thoughts, listen to others, constructively challenge misconceptions and explore solutions.
For some of the young citizens that I've spoken to - one of the key factors that keeps them away from discussing politics is rooted in just how intimidating it can appear to be. DeCafe for some will be their first experience into a series of skills that are key to becoming politically active and general self-awareness.
DeCafe is about remedying the absence of information and inspiration that has left some first time voters clueless about the value of their vote and what it means to select someone to represent you.
For instance, a 17-year-old sixth for student still has to ask for permission to use the toilet then a matter of months later becomes of legal voting age and is all of a sudden expected to commit to a decision as important as deciding who's vision for the country they like best.
In short- it doesn't add up, which is why we're excited to work collaboratively with Starbucks to mobilize young voters across the country.
DeCafe is also a brilliant model for exploring ideas outside of the London bubble. Something that even I've been guilty of in the past - the London bubble where I trade my mortgage money for avocado toast - forgetting what exists beyond the M25. Being able to host DeCafe collaboratively with local groups is key to maintaining a good understanding of another young citizen's experiences and challenges.
In the middle of the confusion and chaos that is another general election, it's never been more important for young citizens to show the decision makers exactly what our vote means. We are due to bear the long term impact of the major changes that we're seeing right now.
This isn't the time to stick our heads in the sand and hope that whatever happens on June 8 doesn't affect us because I've never heard of an example where apathy solved society's biggest problems and it definitely won't this time around.
What we do come June 8 will either cement the decisions that are already in play or take a wrecking ball (minus Miley Cyrus) to it - but either way, we want young citizens to feel confident enough to have their say.
Register to vote before the 22 May deadline here.
DeCafe's are taking place in the following cities:
• Cardiff
• Belfast
• Sheffield
• Edinburgh
• Birmingham
• Manchester
For further details, just Tweet us! @BitetheBallot