Twenty-nine year old Tibetan man, Orgyen Trinley Dorje - the 17th Karmapa - is currently on a two-month lecture tour of prestigious US universities, including Harvard, Princeton and Yale. Tickets for all events were immediately sold out. Who is this monk who, after visiting the headquarters of Google and Facebook, spoke about the need for a kinder internet culture? Why are so many people seeking his advice and inspiration in the 21st Century?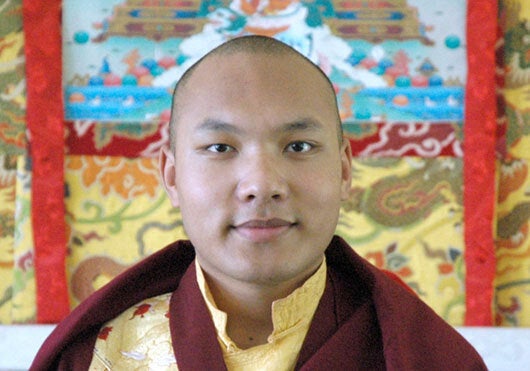 I first met the 17th Karmapa ten years ago at his monastery in the foothills of the Dhauladar mountains near Dharamsala, India. It was my first visit to India to study at a Hindu ashram on the Ganges. For the flight over, I spontaneously bought 'Dance of 17 Lives' by Mick Brown, a fascinating account of his life and the Karmapa lineage. It left a remarkable impression of a 'Living Buddha' and decided I had to visit him after the ashram. Even though I came from a secular, atheist background, when I met him it felt like coming home to the embrace of a long-lost friend. Here was a person who embodied wisdom, love and compassion in human form.
The Karmapa has been teaching in India since 2000, after escaping from increasing Chinese surveillance and restriction in occupied Tibet. His influence and wisdom are now becoming global with his first trip to Germany last year and his third trip to the US this month. He consistently speaks about the importance of compassion for animals, the environment and gender equality.
In terms of vegetarianism, he is one of the most vocal on this issue after abandoning meat himself a few years ago. Tibetans have a cultural tradition of eating meat, which has continued even in exile, sometimes leading to tension with Hindus and western Buddhists. In January 2007, at the annual Kagyu Prayer Festival in Bodh Gaya, India, I was present when the Karmapa gave a strong teaching advocating vegetarianism and forbidding monks and nuns eating meat by banning consumption of it in his exile monasteries. Citing Buddhist scripture and logic, he argued that eating meat was contradictory to compassion and not killing. Many meat-eating Tibetans and westerners came away 'shocked' by the clarity and strength of his teaching on it.
Again at Harvard, this week, the Karmapa spoke of his horror as a child witnessing Tibetan nomads suffocating animals slowly to death. Going on to describe how mass technology and farming methods have led to a situation where many people have completely lost touch with what meat is and how it comes to be in its packaged form in the supermarkets; how that innate, 'uneducated' form of compassion we feel as children is often lost as adults.
"I miss that degree of genuine, unfabricated feeling...In a sense, the most dangerous thing in the world is apathy. Unlike violence, warfare, and disease, which can be avoided, people cannot defend against apathy once it takes hold. I urge you to feel a love that is courageous -not like a heavy burden, but a joyous acknowledgement of interdependence."
The Tibetan Buddhist monastic culture, as opposed to the Buddhist teachings, also has a long history of patriarchal power and oppression of females. Only in the last few decades, after pressure from western female Buddhists such as Jetsunma Tenzin Palmo and Tsultrim Allione have changes begun to materialise. Until recently, female monastics were not educated to the same level as their male peers, were unable to receive the title Lama, Geshe or Khenpo and were generally excluded from the male-dominated tulku system, with a few notable exceptions. Recently, a German woman, Geshe Kelsang Wangmo was awarded the title 'Geshe' in India. A remarkable scholarly achievement for a non-native Tibetan speaker in itself, but even more so considering the numerous obstacles put in the way of nuns for centuries. The barrier has been broken and more female Geshes are on the horizon.
The 17th Karmapa has been instrumental in addressing gender inequality and the welfare of nuns not only through his words but actions. This year he stated:
"Monks and nuns are the same in being able to uphold the Buddha's teachings, and have the same responsibility to do so. However there has been a period when nuns have not really had the opportunity to uphold the teachings, and this has been a loss for all of us."
In 2014, he instituted the first annual debate gathering for nuns (normally only reserved for monks) and is pushing forward reforms to ensure full ordination rights too. At present, women in Tibetan Buddhism may take ordination as novice nuns, but they do not have the opportunity to take the highest level of ordination that the Buddha created for women: bhikshuni, or gelongma, ordination. While full ordination for women is available in Chinese, Korean, and Vietnamese traditions, and has recently been reestablished for nuns in the Sri Lanka Theravada tradition, Tibetan Buddhism lags behind on this issue.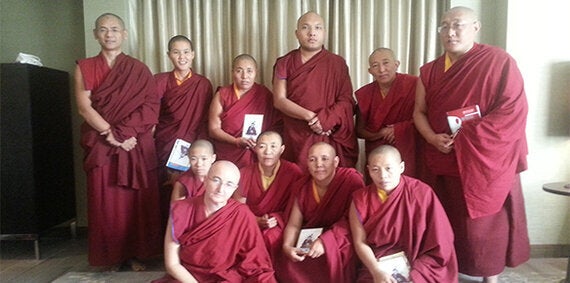 He has also undertaken to translate a volume of biographies of Chinese nuns from Chinese into Tibetan and is also planning to translate a collection of narratives of the lives of Buddha's direct female disciples from the literary Tibetan into colloquial Tibetan, in order to make the examples of these early nuns' lives more available to modern Tibetan readers.
These messages are also articulated in his excellent book,'The Heart is Noble' , a refreshing change from 'traditional' male religious leaders who still preach sexism, homophobia and intolerance. An authentic 21st Century spiritual leader who is kind, compassionate, wise and inclusive is one that everyone, regardless of race or religion, can feel joyously grateful about. In Karmapa's words:
It is time we truly recognize that the era of the hunter is past. This should be a more "feminine" era - an era when women make greater contributions to society. If we continue to devalue what women have to offer, we will continue harming women and continue overlooking and devaluing these virtues that are considered "feminine." And these are precisely the virtues that the world needs more now.