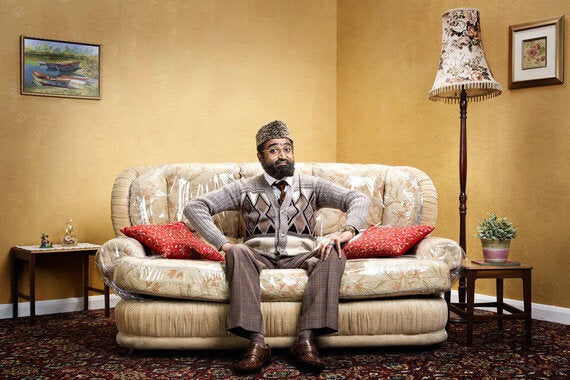 Most mornings I do almost pinch myself. I feel very fortunate to be filming a comedy on the BBC. It feels like a bit of a dream. However there's something missing - my first love. I know we can't have everything, but what I would give to be transmitted back to those hazy radio days for just a few hours.
I was recently chatting with a former radio colleague of mine and realised that it's 20 years this year since I began my career in 'legal' radio. Twenty bloomin' years! Where did that go?
Its actually 21 years if you include my pirate radio days. My first ever radio show was for Jive FM in my university town, Huddersfield. I would be shoved in the back of a windowless van. The van was backed up to a terraced house and the landlady would send me upstairs to the attic where I was locked in for two hours. I loved every second.
In 1995 I entered 'proper' radio. I still remember quite vividly walking into this small Asian radio station in Birmingham as part of my year out from University dressed in pleated blue trousers, a smart pale shirt and a paisley tie. Very much like I was intending to start a shift at Burton menswear. I reverted to jeans and a shirt by the end of the week. I was taken on to help with marketing and working in programming.
There wasn't much of the former going on so before long I was recording commercials, hosting a sports show and playing 'choons' two nights a week.
It was great except for the fact that most days I would often be the last to leave having just recorded an advert for the latest Asian fast food joint opening. Mr Ali, the proprietor (they were all called Mr Ali) would insist that we include his entire menu in a 30-second advert. This included everything from large chicken and chips to large chicken and chips with curry sauce and a can of diet Fanta. It wasn't long until I chickened out. Six months later I joined Choice FM to host their drive time show.
When I got back to Huddersfield University I returned to Brum every weekend to host the Choice FM Saturday breakfast show. I was paid £15 per show which didn't even cover the cost of the rail fare but hey I was playing Destiny's Child, Mary J Blige and a little bit of TLC to the cool cats of the Midlands. It was wicked at a time when it was ok to say wicked. I was at Choice FM for four years.
It was in 1998 that I plucked up the courage to contact Galaxy 105 in Leeds. Within a week I was driving the northern cocks and lasses home. It was one of the best periods of my life. Broadcasting to close to a million listeners a week. My first proper full time job out of University playing the coolest R&B, dance anthems and replicating it behind DJ booths in clubs across Yorkshire.
I remember most of my two hedonistic years there and its fair to say I feel a little shudder from time to time when I experience the odd '6am walk of shame' flashback. It was fun, really.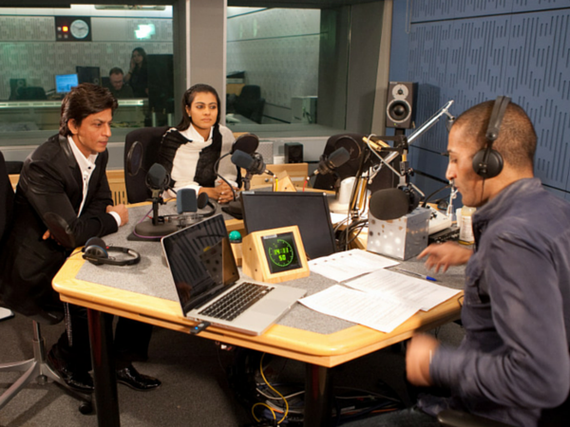 It was around 2000-2001 that the BBC came calling. I joined the BBC Asian Network where I remained for nearly 10 years.
What a journey that was. It was like a Pakistani International Airlines flight. Full of Asians not exactly certain where we'll end up, plenty of turbulence and baby screams, but hey the food was good. What mattered most that it was our PIA flight and we were in control of it. Yes it could go down at any moment but that was part of the thrill. In 2010, I hit eject and joined TV land to do the comedy.
Today I feel very grateful to have had the chance to create Citizen Khan and to work with such a great team to make it all happen. I don't think it has quite registered that we are about to go into a fourth series. I hope it continues.
But, I miss radio, despite the chaos that came with it there is something that radio has that no Twitter or Youtube will ever have. That's the ability to be with you in the room but not get in the way. The radio may be constantly on, but our ears can turn it on and off whenever we choose. Great broadcasters become our friends and family. They provide us with comfort like nobody else.
For me, arriving back from a holiday and the feeling of turning on your favourite station is second to none. I can't sleep unless Ritula Shah has given me her 'world tonight' lullaby. Yes it is a lullaby, despite the content being 'news'. It's reassurance I am after, reassurance that my presenter is there when I need her. Ah, Ken Bruce is being warm and funny again, must go.....