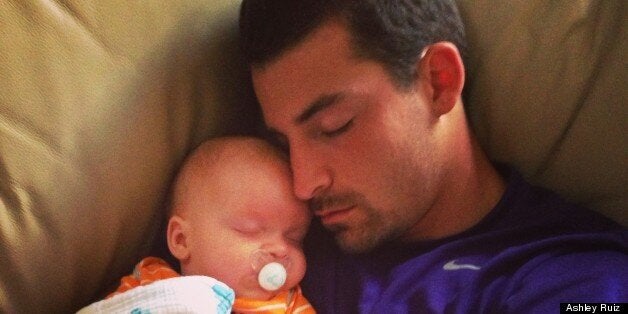 I am standing in The Residence piano bar, overlooking St. Stephen's Green in Dublin, with chef and father Neven Maguire and a group of guests gathered for the launch of The First 1,000 Days of life initiative, a movement to drive the awareness of the importance for nutrition for babies, when my phone rings.
"Daddy, daddy!" my teenage daughter says, "Your brother Mairtin, is on television with Barack Obama and they're having a good laugh together, and there's a picture of Mairtin on Facebook with Barack and Michelle and Malia and Sasha, and Michelle has her arm around uncle Mairtin."
I put my phone down and turn to Neven.
"How come my brother ends up greeting Barack Obama in front of the world's media - he's the Lord Mayor of Belfast - and all I get is three daughters to look after and an invitation to an event for the under-2s?"
Neven laughs and beams that big friendly smile of his. "Don't worry," he says. "If you look through that window, you might be lucky and catch a glimpse of Michelle Obama as she arrives at the Shelbourne Hotel later."
"That was my 13-year-old daughter on the phone," I say. "She's brilliant. She was out walking with me last week and I says to her, 'It's hard trying to put my new novel and website out there when I'm starved of the oxygen of publicity. Some people have all the luck! Your uncle Mairtin is meeting the Mayor of New York today,' and she says, 'Who is the Mayor of New York, daddy?' 'Mayor Bloomberg,' I said. 'Well, I haven't heard of him,' she says, trying to console me. 'Yes, but the half of America knows him,' I said. 'Well, I wouldn't worry about that, daddy. It'd be different if it were President Obama.' 'Oopsie!' I said. 'What?' she asked. 'He's meeting him next week.'" Neven laughs some more. "My daughter threw her arms around me," I continue, "and told me that my brother was good at politics and that being a stay-at-home dad was what I was good at."
"Awww, she sounds lovely," Neven says.
"She is," I say. "All three of them are. I've been at home with my three daughters for most of the past 15 years."
"Funny you should say that," Neven says. "I'm the father of 1-year-old twins and all I can think of is opening up my own cookery school at home so that I can spend as much time with them as possible."
He's right, I get to thinking on my way home, armed with The First 1,000 Days recipe book and a copy of Neven's Country Living, Volume 2. The more dads connect with their children, the happier partners are and the better the world is.
I turn the key in my front door. I rush into the utility room and throw on a wash, then flush all the toilets, feed the dog, open The First 1,000 Days recipe book on page 18 - Neven's Salmon Wraps - and switch on the television. My brother appears on the News. I admire him as I cook the dinner for my three kids. Then I get to thinking some more. What's stunning about the Obamas isn't the way that the First Lady encouraged young people in Belfast to forge ahead and succeed in their lives even when others doubted them, as she and Barack had done, but the way that they are a family. Not everyone gets to be President, but it is family that changes the world - people becoming who they are meant to be in their everyday lives, where they are loved and loving. I suddenly think of a woman I met at the launch. "Hi! Who are you?" I said. "Oh, I'm just a mum," she said.
Well, I'm not just a dad.
I change the world, like all dads and mums.
My novel, Tomayto Tomahto, the story of a couple whose marriage is on the rocks, and who swap roles for a week and begin to see the world completely differently, is on sale here