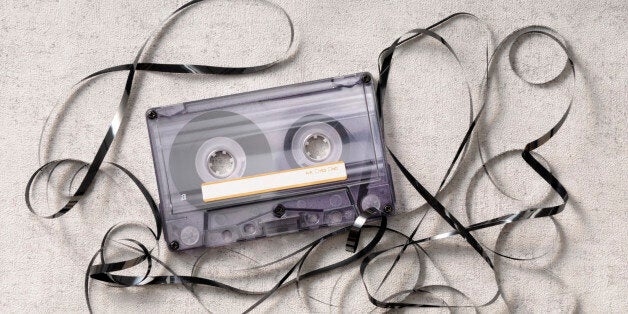 A few nights ago I finished binge-watching Netflix's new intense drama, 13 Reasons Why. A show that seems to have resinated with a copious amount of young people and for good reason too.
Although divulging into the dark and heavy truths surrounding suicide, bullying and sexual assault, the Netflix original boasts extremely compelling viewing, so if you haven't seen it - take this as an excuse to binge watch yet another incredible original drama. But you'll need tissues... and lots of them.
Debuting March 31st the fascination with this teen drama spread like wildfire through social media. In the days following its release, I discovered the huge obsession and thirteen hours later I was sobbing my heart out at five in the morning.
13RW addresses the difficulty of teenage life through incredible unflinching honesty and realism. Genuine and cultivated teen dramas are extremely hard to come by and with a show like this encompassing contemporary hardships such as revenge porn, cyberbullying, sexual assault and degradation, it's no wonder the tv adaptation of Jay Asher's novel is absolutely thriving. With over 58% of teens streaming content through the online video service, this isn't just about Netflix hitting the numbers with a cash-cow demographic - it's about the authentic exhibition of real life adversity.
It follows the life of 17-year-old sophomore, Hannah Baker who as we learn very early on, takes her own life due to the actions of her fellow peers.
As her own form of suicide note, Hannah records on cassette tapes, 13 reasons why she was pushed to the decision of taking her life. We follow the lead up to (and aftermath of) Hannah's death through the eyes of her former co-worker and crush, Clay Jensen, as he explores the actions of the people who happen to play a part in his love's tragic demise whilst discovering that he too, posed as a contributing factor - much to his dismay and confusion.
This hard-hitting series comes only weeks after MPs in the UK met to discuss the way suicide is portrayed on television - including increased restrictions on the showcasing of suicidal methods, which could put vulnerable people at risk of taking their own life. But being a Netflix original, the platform offers us an uncensored and credible insight into high school life which otherwise couldn't be portrayed so convincingly by terrestrial or satellite television providers.
The best thing to note about this series is that the producers aren't afraid to showcase the harsh reality of topics that are proving to be an ever-growing crisis in the real world. As viewers, we bare witness to two callous and remorseless rapes, merciless bullying and the harrowing suicide of a 17-year-old girl. But it's these events, as distressing and traumatic to watch as they are, which are the key driving forces to opening people's eyes - to make people realise that these problems are real and they do very much exist in abundance.
Whilst Hannah's problems start off with her experience of slut shaming, something which proves to be extremely common for young girls in high school, things take a much darker turn as we delve deeper into the actions of the inadvertent perpetrators.
Much of what is portrayed in 13 Reasons Why can be related to by a large proportion of the target demographic and whilst this probably has a substantial impact on the series' success, the pinnacle, for me, was the authentic depiction of suicide. There are very little things in life that would truly trigger me however the raw emotion and loss which stems from Hannah taking her own life really affected me. This may well be down to the fact that I have first-hand experience with suicide bereavement but I honestly believe you have to have a heart of stone to not be impacted by the poignant exit Hannah takes as she bows out of life.
Kate Walsh plays the part of a grieving mother as convincingly as one possibly can while realistically illustrating the pure emptiness that is left behind when you lose a loved one unexpectedly. This raw depiction of emotion and heartbreak clearly emphasises that suicide is not romantic nor glamorous - it breaks people and whilst Hannah is perceived to be a pretty and likeable character throughout the series, the final episode is a graphic disincentive to suicide.
However, the main message here is that you could know Hannah Baker. She could be a relative, a close friend or a fellow class mate. You may know someone who needs the help that Hannah Baker couldn't find. And although this may just be a tv series, bullying does exist and very often leads to suicide - no matter how much society encourages you to look the other way, it's real. Suicide is the second leading cause of death among 10-24 year olds in the US and the second leading cause of death in males aged 5-19 in the UK and this is why we shouldn't be considering 13 Reasons Why as "just another Netflix hit", we should be viewing it as an incentive to talk about suicide. Hannah's fictitious death isn't just a catalyst in a storyline, it's a significant reminder that there are substantial repercussions for our actions. You never know how your actions could affect someone, you can never determine someone's breaking point until it's too late.
With that, I am intrigued to see what a second series could bring and judging by the intense finale, a second series could very well be on the cards.